Myths America Lives by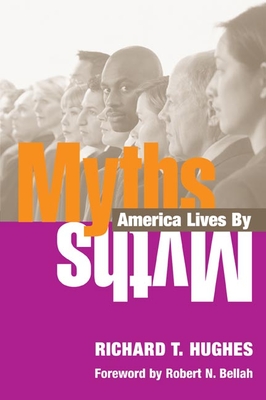 Myths America Lives by
University of Illinois Press, Paperback, 9780252072208, 203pp.
Publication Date: June 2004
* Individual store prices may vary.
Shop Local
Enter your zip code below to find indies closest to you.
Description
In this book Richard T. Hughes identifies the five key myths that lie at the heart of the American experience--the myths of the Chosen Nation, of Nature's Nation, of the Christian Nation, of the Millennial Nation, and of the Innocent Nation. Drawing on a range of dissenting voices, Hughes shows that by canonizing these seemingly harmless myths of national identity as absolute truths, America risks undermining the sweepingly egalitarian promise of the Declaration of Independence. The Chosen Nation myth led to the wholesale slaughter of indigenous peoples during the pioneer era. More recently the Innocent Nation myth prevented many Americans from understanding, or even discussing, the complex motivations of the 9/11 terrorists. Myths America Lives By demonstrates that Americans must rethink these myths in the spirit of extraordinary humility if the United States is to fulfill its true promise as a nation. Hughes locates the roots of each myth in a different period of America's development, and from each of these periods he finds stirring critiques offered by marginalized commentators--especially African Americans and Native Americans--who question the predominant myth of their age. Myths America Lives By is a dialogue between the mainstream mythmakers and the many critics--including Martin Luther King Jr., Ida B. Wells, Frederick Douglass, Black Elk, Anna J. Cooper, Booker T. Washington, Malcom X, Angela Davis, and W. E. B. Du Bois--whose dissent, rather than being un-American, was often grounded in a patriotic belief in the "self-evident" equality of America's fundamental creed.
About the Author
RICHARD T. HUGHES is Distinguished Professor of Religion at Pepperdine University. He has published many books, including Models for Christian Higher Education, Proclaim Peace, Reviving the Ancient Faith, The Primitive Church in the Modern World, and The American Quest for the Primitive Church, among other titles, and his numerous articles have appeared in various scholarly journals.

Recipient of the National Humanities Medal, Robert N. Bellah is Elliott Professor of Sociology Emeritus, University of California, Berkeley. Richard Madsen is Professor of Sociology, University of California, San Diego. William M. Sullivan is Senior Scholar at the Carnegie Foundation for the Advancement of Teaching. Ann Swidler is Professor of Sociology, University of California, Berkeley. Steven M. Tipton is Professor of Sociology and Religion at Emory University and the Candler School of Theology.