Petersburg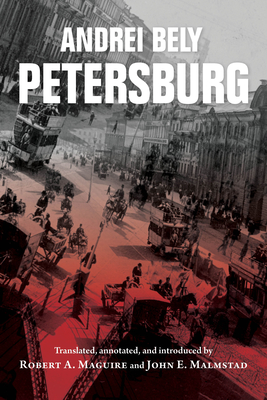 Petersburg
Indiana University Press, Paperback, 9780253202192, 384pp.
Publication Date: January 22, 1979
* Individual store prices may vary.
Buy Now
or
Shop Local
Enter your zip code below to purchase from an indie close to you.
Description
..". a translation that captures Bely's idiosyncratic language and the rhythm of his prose, and without doing violence to English, conveys not only the literal meaning of the Russian but also its echoes and implications." The New York Review of Books
"This translation of Petersburg finally makes it possible to recognize Andrei Bely's great novel of 1913 as a crucial Russian instance of European modernist fiction." Inquiry
"All people who go in for the B's Beckett, Brecht, Bunuel better get hold of Bely. He came first, and he's still the best." Washington Post Book World
..". a jewel-cutter's showcase." Kirkus Reviews
..". the most important, most influential and most perfectly realized Russian novel written in the 20th century." Simon Karlinsky
Here is the long-awaited, authoritative, unabridged translation of Petersburg, the Chef d oeuvre of Symbolist writer Andrei Bely. Nabokov has ranked Petersburg beside Joyce's Ulysses, Kafka's Metamorphosis, and Proust's A la recherche du temps perdu as one of the four great works of prose fiction of the twentieth century.
About the Author
Andrei Bely (1880 1934), was born Boris Nikolayevich Bugayev in Moscow. A leading symbolist, he had a close but stormy relationship with Aleksandr Blok. His poetry includes the four-volume "Symphonies" (1901 08); his prose include "The Silver Dove" (1910), "Petersburg" (1912), and "Kotik Letayev" (1922), an autobiographical novel in the manner of James Joyce. He experimented, often mixing realism and symbolism in complex forms. In his later years, Bely was influenced by Rudolph Steiner s anthroposophy. He accepted the Soviet regime, but his works were not well received by Soviet critics. By the mid-1970s, Western critics had discovered Bely, and several, including Vladimir Nabokov, proclaimed him the most important Russian writer of the twentieth century. He died in Moscow.