Occupy the Future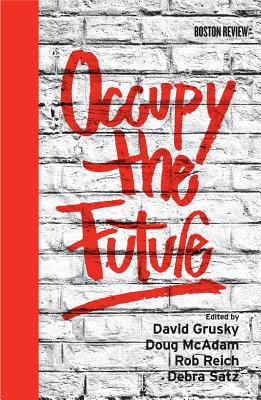 Occupy the Future
MIT Press (MA), Hardcover, 9780262018401, 280pp.
Publication Date: January 18, 2013
* Individual store prices may vary.
Buy at Local Store
Enter your zip code below to purchase from an indie close to you.
or
Not Currently Available for Direct Purchase
Description
The Occupy Wall Street movement has ignited new questions about the relationship between democracy and equality in the United States. Are we also entering a moment in history in which the disjuncture between our principles and our institutions is cast into especially sharp relief? Do new developments--most notably the rise of extreme inequality--offer new threats to the realization of our most cherished principles? Can we build an open, democratic, and successful movement to realize our ideals? "Occupy the Future" offers informed and opinionated essays that address these questions. The writers--including Nobel Laureate in Economics Kenneth Arrow and bestselling authors Paul and Anne Ehrlich--lay out what our country's principles are, whether we're living up to them, and what can be done to bring our institutions into better alignment with them.
Contributers David Grusky, Doug McAdam, Rob Reich, Erin Cumberworth, Debra Satz, Kenneth J. Arrow, Kim A. Weeden, Sean F. Reardon, Prudence L. Carter, Shelley J. Correll, Gary Segura, David D. Laitin, Cristobal Young, Charles Varner, Doug McAdam, Paul R. Ehrlich, Anne H. Ehrlich, Paul R. Ehrlich and Anne H. Ehrlich, Donald A. Barr, Michele Elam, Jennifer DeVere Brody, H. Samy Alim and David Palumbo-Liu.
About the Author
David B. Grusky is Professor of Sociology and incoming Director of the Program on Inequality at Stanford University. His recent books include" Occupational Ghettos: The Worldwide Segregation of Women and Men "(Stanford 2004) and" Mobility and Inequality "(Stanford 2005). Ravi Kanbur is T.H. Lee Professor of World Affairs, International Professor of Applied Economics and Management, and Professor of Economics at Cornell University.

Doug McAdam is Professor of Sociology at Stanford University and the former Director of the Center for Advanced Study in the Behavioral Sciences (CASBS). He is the author or co-author of 13 books and some 75 articles in the area of political sociology, with a special emphasis on the study of social movements and revolutions. Among his best known works are Political Process and the Development of Black Insurgency, 1930 1970, a new edition of which was published in 1999; Freedom Summer (1988), which was awarded the 1990 C. Wright Mills Award as well as being a finalist for the American Sociological Association's best book prize for 1991; and Dynamics of Contention (2001) with Sid Tarrow and Charles Tilly. He is also the author of the forthcoming book, A Theory of Fields (with Neil Fligstein). He is a two-time former Fellow of CASBS, a recipient of a Guggenheim Fellowship and a member of the American Academy of Arts and Sciences (2003).

Rob Reich is the faculty director of the Center for Ethics in Society, faculty co-director of the Center on Philanthropy and Civil Society, and professor of political science at Stanford University, with courtesy appointments in the Department of Philosophy and the School of Education. He is the author or editor of many books, most recently Education, Justice, and Democracy, published by the University of Chicago Press.