Rio Grande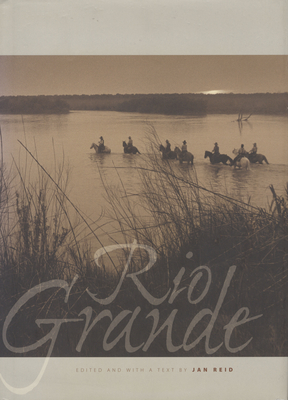 Rio Grande
University of Texas Press, Hardcover, 9780292706019, 337pp.
Publication Date: October 1, 2004
* Individual store prices may vary.
Not Currently Available for Direct Purchase
or
Shop Local
Enter your zip code below to purchase from an indie close to you.
Description
The liquid lifeline of an arid land, the Rio Grande has always been a vital presence in the American Southwest and Northern Mexico. A source of human sustenance for at least 15,000 years, the river has also been a site of conflict ever since exploring Spaniards first crossed its channel to colonize the Native Americans. Today, it is one of the frontiers in the war against terrorism in the Middle East. Yet the Rio Grande has a life independent of the people who use it as a border, or a hiding place, or an ever-diminishing source of irrigation water. This autonomous life of the river is what the writers and photographers included in this book seek to capture.
Rio Grande explores the ecology, history, culture, and politicization of the river. Jan Reid has assembled writings by an astonishing array of leading authors—Larry McMurtry, Tony Hillerman, Paul Horgan, Charles Bowden, John Graves, Woody Guthrie, John Reed, John Nichols, Robert Boswell, James Carlos Blake, Elena Poniatowska, William Langewiesche, Molly Ivins, Dagoberto Gilb, and Gloria Anzaldúa, to name but a few—who ponder the river's historical and contemporary meanings through short stories, essays, newspaper and magazine articles, and excerpts from novels, histories, memoirs, and nonfiction reporting. Reid also adds his own reflections on the river, drawn from years of traveling the Rio Grande, talking to its people, and conducting archival research.
In addition to the fine writing, historical and contemporary photographs by such well-known photographers as Laura Gilpin, Russell Lee, Robert Runyon, Bill Wittliff, W. D. Smithers, James Evans, Frank Armstrong, Ave Bonar, Earl Nottingham, and Alan Pogue create a stunning visual record of the stark beauty and elemental lifeways of the Rio Grande. As a whole, these voices and visions confirm the river's significance, not only as a real place, but even more as an object of the mythic imagination.
About the Author
A sixth generation Australian, Jan Reid's early years were not unlike many others born in the 1960's growing up on a wheat and sheep property in Central West, New South Wales. After the sun went down, almost every night she would be found reading a book, and under the bed covers with a torch when the lights were turned off. In 2009 Jan became a freelance writer, in 2011 a Kindle book author, and in 2013 she completed the Diploma of Professional Writing - Novel Writing and Publishing, with High Distinction. In March 2014, she completed her first novel (Deep Water Tears), and in November 2014, her second novel (Grace), during the National Novel Writing Month challenge (NaNoWriMo). She is currently planning her third novel to complete: The Dreaming Series. Jan is still an avid reader although she no longer needs to hide under the bed covers with a torch. When she is not writing or reading, she puts on her walking shoes and takes off on one of her many favourite walking tracks, savouring the beauty and tranquillity of the South Coast area of New South Wales.