Keeping It Living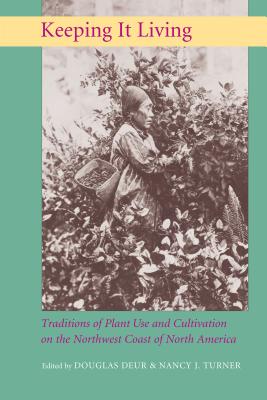 Keeping It Living
Traditions of Plant Use and Cultivation on the Northwest Coast of North America
University of Washington Press, Paperback, 9780295985657, 404pp.
Publication Date: October 10, 2005
* Individual store prices may vary.
Buy at Local Store
Enter your zip code below to purchase from an indie close to you.
or
Buy Here
Description
The European explorers who first visited the Northwest Coast of North America assumed that the entire region was virtually untouched wilderness whose occupants used the land only minimally, hunting and gathering shoots, roots, and berries that were peripheral to a diet and culture focused on salmon. Colonizers who followed the explorers used these claims to justify the displacement of Native groups from their lands. Scholars now understand, however, that Northwest Coast peoples were actively cultivating plants well before their first contact with Europeans. This book is the first comprehensive overview of how Northwest Coast Native Americans managed the landscape and cared for the plant communities on which they depended.
Bringing together some of the world's most prominent specialists on Northwest Coast cultures, "Keeping It Living" tells the story of traditional plant cultivation practices found from the Oregon coast to Southeast Alaska. It explores tobacco gardens among the Haida and Tlingit, managed camas plots among the Coast Salish of Puget Sound and the Strait of Georgia, estuarine root gardens along the central coast of British Columbia, wapato maintenance on the Columbia and Fraser Rivers, and tended berry plots up and down the entire coast.
With contributions from ethnobotanists, archaeologists, anthropologists, geographers, ecologists, and Native American scholars and elders, "Keeping It Living" documents practices, many unknown to European peoples, that involve manipulating plants as well as their environments in ways that enhanced culturally preferred plants and plant communities. It describes how indigenous peoples of this region used and cared for over 300 different species of plants, from the lofty red cedar to diminutive plants of backwater bogs.
About the Author
Based on the Oregon coast, Douglas Deur is a lifelong native plant user devoted to sharing information about the rich biological and cultural heritage of the Pacific Northwest. A research professor at Portland State University, he serves as cultural ecologist for American tribes and Canadian First Nations, and for the National Park Service and other agencies. With Nancy Turner, he coedited Keeping It Living, the first book-length treatment of Native American plant cultivation traditions in the Pacific Northwest.

Nancy Turner's specialty is ethnobotany - the uses of plants by man - and she has done extensive research into the Indians' use of plants for foods, materials and medicines.