I Hear Voices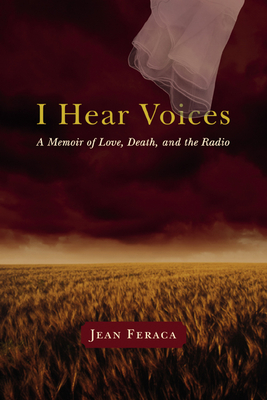 I Hear Voices
A Memoir of Love, Death, and the Radio
Terrace Books, Hardcover, 9780299223908, 164pp.
Publication Date: August 6, 2007
* Individual store prices may vary.
Buy at Local Store
Enter your zip code below to purchase from an indie close to you.
or
Not Currently Available for Direct Purchase
Description
Jean Feraca's road to self-fulfillment has been as quirky and demanding as the characters in her memoir. A twenty-five-year veteran of public radio broadcasting, Feraca is also a writer and a poet. She is a talk show host beloved for her unique mixture of the humanities, poetry, and journalism, and is the creator of the pioneering international cultural affairs radio program "Here on Earth: Radio without Borders."
In this searing memoir, Feraca traces her own emergence. She pulls back the curtain on her private life, revealing unforgettable portraits of the characters in her brawling Italian American family: Jenny, the grandmother, the devil woman who threw Casey Stengel down an excavation pit; Dolly, the mother, a cross between Long John Silver and the Wife of Bath who in battling mental illness becomes the scourge of a Lutheran nursing home; and Stephen, the brilliant but troubled older brother, an anthropologist who was adopted into a Sioux tribe.
While building a career and raising two sons, Feraca learns empathy when she faces her brother's cancer and her mother's dementia. As she finds her voice and sense of self, her story moves far afield: a sojourn in a Benedictine monastery, a courtship through the California wine country, a dip into Dante's hell in Italy's Appalachia, an expedition in the Peruvian Amazon, a day under a huppah as she marries a Jewish scientist.
Unique, eccentric, and distinctive, "I Hear Voices" is a memoir that tells a universal story of a woman evolving to fully embrace her life and the world. Best of all, from the many voices in Feraca's life emerges one that will be familiar to old fans and delightful to new ones leaping off the written page as compelling, eloquent, and surprising as ever.Outstanding Book, selected by the American Association of School Librarians, and Best Books for General Audiences, selected by the Public Library AssociationWinner, August Derleth Book-length Nonfiction Award, The Council for Wisconsin Writers.
About the Author
Jean Feraca is the author of three collections of poetry and the recipient of a National Endowment for the Arts Award, an Academy of American Poets Award, a Discovery Award from "The Nation," and two Hopwood Awards. Her newest book is "I Hear Voices: A Memoir of Love, Death, and the Radio," A resident of Madison, Wisconsin, she is the Distinguished Senior Producer with Wisconsin Public Radio, where she is host and executive producer of "Here on Earth: Radio without Borders,"
Praise For I Hear Voices…
"Public radio provocateur Jean Feraca has written that rarest of documents, a memoir of love and hate and grief as large and generous as the night sky, in which she is only one of the brilliant characters no fiction writer could ever have made up. Read it rejoicing."—Jacquelyn Mitchard, author of The Deep End of the Ocean and Still Summer

"A completely captivating memoir: the Voices of the title come from séances with dead family members, past marriages and beaux, listeners to Feraca's radio programs, a plurality of selves (including the current crew and some outgrown or castaway), among many others. Beautifully written, and wise, this book manages to be both tragic and funny, a combination hard to wrangle."—Diane Ackerman, author of An Alchemy of Mind


"If the great poet Federico Garcia Lorca had heard Jean Feraca on the radio, he might have said her voice had duende, a dark mysterious bravura power.  Now Jean Feraca infuses her brave magic into a series of remarkable, unpredictable­and wickedly funny­essays about life, loss, family, marriage, and the radio.  Always intense, always startlingly perceptive . . . Feraca explores the essential attachments of a life with a passionate courage that tears off defenses and leaves the woman as she is: the naked teller of tales desperately true."—Molly Peacock, author of Cornucopia