Interpreting Communicative Language Teaching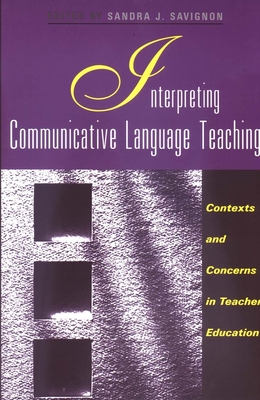 Interpreting Communicative Language Teaching
Contexts and Concerns in Teacher Education
Yale University Press, Paperback, 9780300091564, 256pp.
Publication Date: April 10, 2002
* Individual store prices may vary.
Buy at Local Store
Enter your zip code below to purchase from an indie close to you.
or
Not Currently Available for Direct Purchase
Description
The emergence of English as a global language, along with technological innovations and the growing need for learner autonomy, is changing language teaching rapidly and profoundly. With these changes come new demands and challenges for teaching education programs.
This authoritative collection of writings highlights some of the best work being done today in the United States and abroad to make communicative competence an attainable goal. The contributors examine what has come to be known as communicative language teaching, or CLT, from the perspectives of teachers and teacher educators.
The book documents current reform initiatives in Japan, the United States, Hong Kong, Taiwan, and continental Europe to provide a global perspective on language teaching for communicative competence. Four major themes recur throughout the volume: the multifaceted nature of language teaching; the highly contextualized nature of CLT; the futility of defining a "native speaker" in the postcolonial, postmodern world; and the overwhelming influence of high-stakes tests on language teaching. The book is a useful and valuable tool for language teachers, teacher educators, and policymakers.

About the Author
Sandra J. Savignon is Professor of Speech Communicaton and Director of the Graduate Program in English as a Second Language at The Pennsylvania State University. Prior to coming to Pennsylvania, she was founding dirctor of the multidisciplinary doctoral program in Second Language Acquisition and Teacher Education(SLATE). She was founding editor of Addison-Wesley Second Language Professional Library and served on the TOEFL (Test of English as a Foreign Language)Committee of Examiners for the Educational Testing Service and has been a consultant on language testing to various state and national commissions. Sheis past President of the American Association for Applied Linguistics and currently convenor of the Scientific Commission for Teacher Education of the International Association for Applied Linguistics. Among her previous publications is the first edition of Communicative Competence: Theory and Classroom Practice, winner of the Modern Language Association of America Kenneth W. Mildenberger Medal for a Distinguished Research Publication in the Teaching of Foreign Languages and Literatures. She lectures frequently and has offfered seminars and workshops for language teachers in the United States, Canada, South America, Europe and Asia. Her nonprofessional life revolves around her family: her husband Gabriel, their three children, Daniel, Catherine, and Julie, and grandchildren Joseph, Caitlin, and Madeleine.