Why Conservation Is Failing and How It Can Regain Ground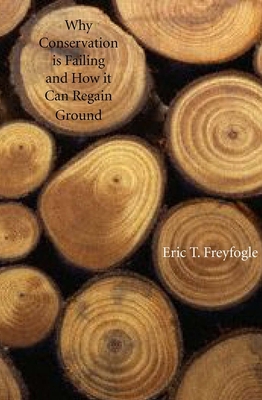 Why Conservation Is Failing and How It Can Regain Ground
Yale University Press, Hardcover, 9780300110401, 302pp.
Publication Date: April 2006
* Individual store prices may vary.
Shop Local
Enter your zip code below to find indies closest to you.
Description
Critics of environmental laws complain that such rules often burden people unequally, restrict individual liberty, and undercut private property rights. In formulating responses to these criticisms, the conservation effort has stumbled badly, says Eric T. Freyfogle in this thought-provoking book. Conservationists and environmentalists haven't done their intellectual homework, he contends, and they have failed to offer an understandable, compelling vision of healthy lands and healthy human communities.
Freyfogle explores why the conservation movement has responded ineffectually to the many cultural and economic criticisms leveled against it. He addresses the meaning of good land use, describes the many shortcomings of "sustainability," and outlines six key tasks that the cause must address. Among these is the crafting of an overall goal and a vision of responsible private ownership. The book concludes with a stirring message that situates conservation within America's story of itself and with an extensive annotated bibliography of conservation's most valuable voices and texts--important information for readers prepared to take conservation more seriously.

About the Author
Eric T. Freyfogle has written widely on the many links between people and land, and on the need for a more land-sensitive culture, including the recent books Agrarianism and the Good Society and Why Conservation Is Failing and How It Can Regain Ground. His nonlegal writings have appeared in various publications, from Conservation Biology, Wild Earth, and Orion to Dissent and The New York Times. Freyfogle has appeared widely as a speaker, not just at academic gatherings, but at land-related conferences sponsored by major federal agencies, major national conservation organizations, and such professional organizations as the Society of American Foresters, the George Wright Society, and the Natural Areas Association. In January 2004 he was appointed editor of the Leopold Conservation Papers Project, an effort to edit and publish in thematic volumes the conservation writings of Aldo Leopold. He teaches at the University of Illinois College of Law at Urbana-Champaign.
Praise For Why Conservation Is Failing and How It Can Regain Ground…
"I expect this book will be broadly appreciated by people not only in the conservation movement but people everywhere interested in securing a more human and sustainable world for us all."-Tim Clark, author of The Policy Process: A Practical Guide for Natural Resources Professionals
-Tim Clark

"Freyfogle seeks to surmount what he terms 'our dominant liberal ideology' to instill an alternative view of the human responsibility to nature, i.e., a conservation ethic."-Robert B. Keiter, author of Keeping Faith with Nature: Ecosystems, Democracy, and America's Public Lands
-Robert B. Keiter

"We've lost our way, but we can find our path again if we take seriously Eric Freyfogle's courageous and clear-headed assessment. His is at once a summons back to the core truths of conservation in law, democracy, and land health and a provocative call for cultural change that honors nature and posterity. Why lament the death of environmentalism when we have, right here, a clear vision of rebirth?"-David W. Orr, author of The Last Refuge
-David W. Orr