Joe Louis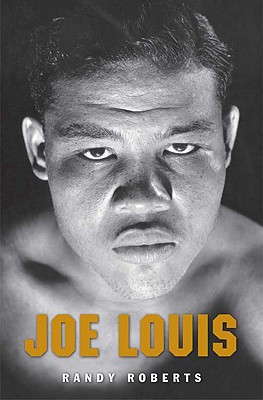 Joe Louis
Hard Times Man
Yale University Press, Hardcover, 9780300122220, 328pp.
Publication Date: October 26, 2010
* Individual store prices may vary.
Buy at Local Store
Enter your zip code below to purchase from an indie close to you.
or
Not Currently Available for Direct Purchase
Description
Joe Louis defended his heavyweight boxing title an astonishing twenty-five times and reigned as world champion for more than eleven years. He got more column inches of newspaper coverage in the 1930s than FDR did. His racially and politically charged defeat of Max Schmeling in 1938 made Louis a national hero. But as important as his record is what he meant to African-Americans: at a time when the boxing ring was the only venue where black and white could meet on equal terms, Louis embodied all their hopes for dignity and equality.
Through meticulous research and first-hand interviews, acclaimed historian and biographer Randy Roberts presents Louis, and his impact on sport and country, in a way never before accomplished. Roberts reveals an athlete who carefully managed his public image, and whose relationships with both the black and white communities including his relationships with mobsters were far more complex than the simplistic accounts of heroism and victimization that have dominated previous biographies.
Richly researched and utterly captivating, this extraordinary biography presents the fullrange of Joe Louis's power in and out of the boxing ring.
About the Author
Randy Roberts is professor of history at Purdue University. He is the author of "Papa Jack: Jack Johnson and the Era of White Hopes" and the co-author (with James Olson) of "John Wayne: American." Both books are published by The Free Press. He lives in Lafayette, Indiana.
Praise For Joe Louis…
"The author of superb studies of the boxers Jack Johnson and Jack Dempsey, Mr. Roberts spins a graceful and reliable narrative of Louis''s life. [He] also gets into the ring with the question: Why did Joe Louis matter so much to so many?"—Wall Street Journal

"Roberts is a fine match with his subject. He supports with powerful evidence his contention that Louis''s impact was enormous and profound."—Bill Littlefield, Boston Globe
-Bill Littlefield

"Well-researched, intelligent, and insightful. . . . [Roberts is] able to capture the drama, brutality, and pathos of Louis''s epic battles."—Glenn Altschuler, Philadelphia Inquirer
-Glenn Altschuler

"[This] new biography by Randy Roberts restores Louis to his proper place in the pantheon, both as an athlete and as a cultural icon."—Allen St. John, Dallas Morning News
-Allen St. John

"A sympathetic, moving life of the Brown Bomber by veteran cultural historian and biographer Roberts. . . . All legendary athletes should hope for treatment by such capable, compassionate hands."—Kirkus Reviews, starred review



"A biography to be savored. . . . Roberts'' narrative of the pugilist and the man is gripping. . . . He captures the spirit of the age, when boxing on radio fed the national imagination. . . . Roberts recovers a great story and makes it sing for him."—Andrew Burstein, Baton Rouge Advocate
-Andrew Burstein

"It''s a thrilling account of an extraordinary life, one that needed to be retold to a generation tow hom Joe Louis is no more than an occasional face on ESPN Classic. There was a giant in those days, and Roberts has reclaimed him for us."—Allen Barra, St. Petersburg Times
-Allen Barra

"[An] exciting account of the great champ''s life. . . . [The book] isn''t so much a biography as a cultural history of its subject''s life and times. . . . It''s a thrilling account of an extraordinary life, one that needed to be retold to a generation to whom Joe Louis is no more than an occasional face on ESPN Classic. He was a giant in those days, and Randy Roberts has reclaimed him for us."—Allen Barra, Pittsburgh Post-Gazette
-Allen Barra

"Louis''s story ghad been told by sportwriters and historians many times, but Roberts is a fine match with his subject. He suppports with powerful evidence his contention that Louis''s impact was enormous and profound. His explorations of the shameful social conditions and smug hyporcrisy poisoning the landscape over which Louis loomed for a time are incisive and convincing."—Bill Littlefield, New York Post
-Bill Littlefield

"Roberts has written a thoroughly researched, engaging book on African American heavyweight boxer Joe Louis. . . . This excellent book has much to say about race, nationalism, and identity."—A. Ejikeme, CHOICE
-A. Ejikeme

"Roberts''s book is a thoroughly researched beginner''s guide to boxing as well as an introductory course in 20th century politics that contains, at the heart of it, a stoic enigma of a fighter who wasn''t afraid to go toe-to-toe with the world."—Lance Hicks, Bama Escapes
-Lance Hicks

"[In this] concise, judicious biography, . . . Roberts vividly re-creates a bygone time when boxing enjoyed enormous popularity. . . . Roberts is superb at conveying the excitement that surrounded Louis'' exploits."—Richmond Times-Dispatch