Nudge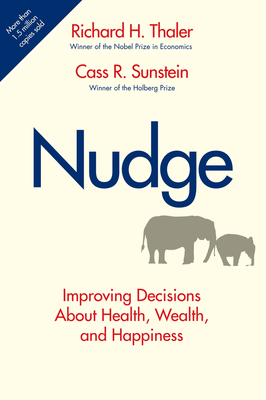 Nudge
Improving Decisions about Health, Wealth, and Happiness
Yale University Press, Hardcover, 9780300122237, 293pp.
Publication Date: April 8, 2008
* Individual store prices may vary.
Buy at Local Store
Enter your zip code below to purchase from an indie close to you.
or
Buy Here
Description
Every day, we make decisions on topics ranging from personal investments to schools for our children to the meals we eat to the causes we champion. Unfortunately, we often choose poorly. The reason, the authors explain in this important exploration of choice architecture, is that, being human, we all are susceptible to various biases that can lead us to blunder. Our mistakes make us poorer and less healthy; we often make bad decisions involving education, personal finance, health care, mortgages and credit cards, the family, and even the planet itself.
Thaler and Sunstein invite us to enter an alternative world, one that takes our humanness as a given. They show that by knowing how people think, we can design choice environments that make it easier for people to choose what is best for themselves, their families, and their society. Using colorful examples from the most important aspects of life, Thaler and Sunstein demonstrate how thoughtful choice architecture can be established to nudge us in beneficial directions without restricting freedom of choice. "Nudge" offers a unique new takefrom neither the left nor the righton many hot-button issues, for individuals and governments alike. This is one of the most engaging and provocative books to come along in many years.
About the Author
Richard H. Thaler is the coauthor of the best-selling book Nudge with Cass R. Sunstein, and the author of Quasi Rational Economics and The Winner s Curse. He is a professor of behavioral science and economics at the University of Chicago Booth School of Business and, in 2015, the president of the American Economic Association.

Cass R. Sunstein is Robert Walmsley University Professor at Harvard University, Massachusetts. From 2009 to 2012, he was Administrator of the White House Office of Information and Regulatory Affairs. He is the founder and director of the Program on Behavioral Economics and Public Policy at Harvard Law School. Mr Sunstein is author of many articles and books, including the best-selling Nudge: Improving Decisions about Health, Wealth, and Happiness (with Richard H. Thaler, 2008), Simpler: The Future of Government (2013), Why Nudge? (2014), Conspiracy Theories and Other Dangerous Ideas (2014), Wiser: Beyond Groupthink to Make Groups Smarter (2014), Valuing Life: Humanizing the Regulatory State (2014), Choosing Not to Choose: Understanding the Value of Choice (2015) and Constitutional Personae: Heroes, Soldiers, Minimalists, and Mutes (2015).
Praise For Nudge…
"I love this book. It is one of the few books I've read recently that fundamentally changes the way I think about the world. Just as surprising, it is fun to read, drawing on examples as far afield as urinals, 401(k) plans, organ donations, and marriage. Academics aren't supposed to be able to write this well."—Steven Levitt, Alvin Baum Professor of Economics, University of Chicago Graduate School of Business and co-author of Freakonomics: A Rogue Economist Explores the Hidden Side of Everything
-Steven Levitt

"In this utterly brilliant book, Thaler and Sunstein teach us how to steer people toward better health, sounder investments, and cleaner environments without depriving them of their inalienable right to make a mess of things if they want to. The inventor of behavioral economics and one of the nation's best legal minds have produced the manifesto for a revolution in practice and policy. Nudge won't nudge you—it will knock you off your feet."—Daniel Gilbert, professor of psychology, Harvard University, Author of Stumbling on Happiness

-Daniel Gilbert

"This is an engaging, informative, and thoroughly delightful book. Thaler and Sunstein provide important lessons for structuring social policies so that people still have complete choice over their own actions, but are gently nudged to do what is in their own best interests. Well done."—Don Norman, Northwestern University, Author of The Design of Everyday Things and The Design of Future Things

-Don Norman

"This book is terrific. It will change the way you think, not only about the world around you and some of its bigger problems, but also about yourself."—Michael Lewis, author of The Blind Side: Evolution of a Game and Liar's Poker

-Michael Lewis

"Two University of Chicago professors sketch a new approach to public policy that takes into account the odd realities of human behavior, like the deep and unthinking tendency to conform. Even in areas—like energy consumption—where conformity is irrelevant. Thaler has documented the ways people act illogically."—Barbara Kiviat, Time
-Barbara Kiviat

"Richard Thaler and Cass Sunstein's Nudge is a wonderful book: more fun than any important book has a right to be—and yet it is truly both."—Roger Lowenstein, author of When Genius Failed

-Roger Lowenstein

"A manifesto for using the recent behavioral research to help people, as well as government agencies, companies and charities, make better decisions."—David Leonhardt, The New York Times Magazine
-David Leonhardt

"How often do you read a book that is both important and amusing, both practical and deep? This gem of a book presents the best idea that has come out of behavioral economics. It is a must-read for anyone who wants to see both our minds and our society working better. It will improve your decisions and it will make the world a better place."—Daniel Kahneman, Princeton University, Nobel Laureate in Economics

-Daniel Kahneman

"Engaging, enlightening."—George Scialabba, Boston Sunday Globe
-George Scialabba

"The suggestions in Nudge provide fascinating examples of how tiny changes in context can cue radically different behaviour. Awareness of these cues empowers consumers, voters and decision-makers."—Rebecca Walberg, National Post
-Rebecca Walberg

"An essential read . . . an entertaining book. . . . The book isn't only humorous, it's loaded with good ideas that financial-service executives, policy makers, Wall Street mavens, and all savers can use."—John F. Wasik, Boston Globe
-John F. Wasik