The Maine Woods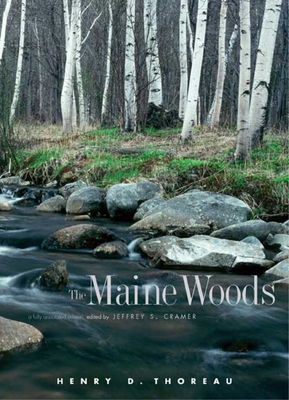 The Maine Woods
Yale University Press, Hardcover, 9780300122831, 360pp.
Publication Date: December 1, 2009
* Individual store prices may vary.
Buy Now
or
Shop Local
Enter your zip code below to purchase from an indie close to you.
Description
On the 31st of August, 1846, I left Concord in Massachusetts for Bangor and the backwoods of Maine thus begins "The Maine Woods," the evocative story of Thoreau's journeys through a familiar yet untouched land.As he explores Mt. Katahdin (an Indian word meaning highest land ), Lake Chesuncook, the Allagash River, and the East Branch of the Penobscot, Thoreau muses on his own vulnerability and the humility engendered by his solitude in the wilderness. Throughout Thoreau invokes the forest of Mainethe mountains, waterways, fauna, flora, and the peoplein his singular style. Echoing "Walden," Thoreau's passionate outcry against the degradation of the environment in "The Maine Woods" will resonate strongly today.This fully annotated gift edition of "The Maine Woods" makes a wonderful companion volume to "Walden: A Fully Annotated Edition" and "I to Myself: An Annotated Selection from the Journal of Henry D. Thoreau.
About the Author
Henry David Thoreau was an American author, poet, and philosopher, who is best known for his works Waldena treatise about living in concert with the natural worldand Civil Disobedience, in which he espoused the need to morally resist the actions of an unjust state. Thoreau s work heavily reflects the ideologies of the American transcendentalists, and he has long been considered a leading figure in the movement along with Ralph Waldo Emerson, Bronson Alcott, and, at first, Nathaniel Hawthorne (who changed his views later in life). In addition to his writing, which totaled more than twenty volumes, Thoreau was an active abolitionist, and lectured regularly against the Fugitive Slave Law. Thoreau died in 1862, and is buried along with Louisa May Alcott, Ellery Channing, and other notable Americans in Sleepy Hollow Cemetery in Concord, Massachusetts.

Jeffrey S. Cramer is curator of collections at the Thoreau Institute at Walden Woods, an independent research institution that holds the world's most comprehensive collection of Thoreau-related material. Cramer is the editor of "The Portable Thoreau" (Penguin), "Walden: A Fully Annotated Edition," and "I to Myself: An Annotated Selection from the Journal of Henry D. Thoreau," among other books.
Praise For The Maine Woods…
"Those who have long relished this earthy, adventurous book, as well as those who are discovering it for the first time, have reason to rejoice over this new edition, which has been so meticulously annotated by Jeffrey Cramer."—Scott Russell Sanders, author of A Conservationist Manifesto.
-Scott Russell Sanders

"Fresh access to The Maine Woods alone would justify this finely organized edition. Thanks to Jeffrey Cramer's scrupulous, devoted elucidation, we now have Thoreau's whole word- and thought-horde, as this great writer, steeped in natural history, ventures between vivid detail and rapture. Everything comes alive in these newly revealing pages, from the 'Vast, Titanic, inhuman Nature' Thoreau finds in climbing Katahdin to his respect for Maine's Native Americans."—John Felstiner, author of Can Poetry Save the Earth: A Field Guide to Nature Poems

-John Felstiner

"Having given us his beautifully annotated selections from Thoreau's journals, Jeffrey Cramer turns his attention to The Maine Woods. It is with great pleasure that we get to follow Thoreau down rivers, up mountains, and after moose, peaking with his famous experience of 'contact!' atop Mount Katahdin. Cramer, as our secondary guide, provides us with context, insights, and hard facts, annotations that are, to paraphrase Thoreau, clear, condensed and nut-hard. A joy to read."—David Gessner, University of North Carolina at Wilmington


-David Gessner

"Cramer has produced there of these handsome editions of Thoreau's work: a selection of the journals, Walden, and The Maine Woods. Thanks to the detailed glosses Cramer provides, each volume is a vade mecum for the Thoreauvian. . . . They are treasure troves of valuable information."—Robert E. Burkholder, The New England Quarterly
-Robert E. Burkholder