Web Style Guide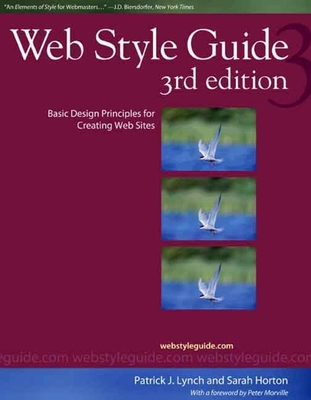 Web Style Guide
Basic Design Principles for Creating Web Sites
Yale University Press, Paperback, 9780300137378, 338pp.
Publication Date: November 1, 2008
* Individual store prices may vary.
Buy Now
or
Shop Local
Enter your zip code below to purchase from an indie close to you.
Description
Consistently praised in earlier editions as the best volume on classic elements of web site design, "Web Style Guide," now in its Third Edition, continues its tradition of emphasis on fundamentals. Focusing on the needs of web site designers in corporations, government, nonprofit organizations, and academic institutions, the book explains established design principles and how they apply in web design projects in which information design, interface design, and efficient search and navigation are of primary concern. New in this edition: --a full chapter devoted to Universal Usability--guidelines and techniques for creating universally usable designs--a full chapter on Information Architecture and how best to promote its robust development--information on Search Engine Optimization and the designs that improve it--techniques for using Cascading Style Sheets for layouts and typographic design--185 illustrations, all in full color.
About the Author
Lynch is design director of the Center for Advanced Instructional Media at Yale University School of Medicine.

Sarah Horton is Associate Professor of Anthropology at the University of Colorado, Denver.
Praise For Web Style Guide…
"Just as many writers reserve a space on their book shelves for the thin but essential work of William Strunk and E.B. White, a similar space should be hallowed out for The Web Style Guide."—John Mello, HR Today

-John Mello

"[Lynch and Horton] concentrate on the application of fundamental design principles that create a useful, educational, Web experience."—Sam McMillan, Communication Arts

-Sam McMillan

"Lynch and Horton offer an informative book for Web designers who want to go beyond HTML to consider specific information architecture issues. The discussion on the use of tables for creating editorial layouts is particularly well written and important."—Choice


"This is one of the best design books that I''ve seen, catering specifically to information-oriented sites. . . . The Web would be an easier world to navigate if all Web designers read this book."—Deborah Lynne Wiley, Online

-Deborah Lynne Wiley

"[A]n excellent, practical handbook. . . . [T]he book can be unreservedly recommended."—Tom Wilson, Information Research

-Tom Wilson

". . . It condenses common sense about what Web masters should think about before writing their first HTML tag. . . . [Lynch and Horton''s] concision and practicality seem sturdy enough to keep abreast of the Web''s velocity of change."—Gilbert Taylor, Booklist
-Gilbert Taylor

". . . covers all the basic elements of creating a Web site. . . . Authoritative factoids are sprinkled throughout . . . [and] serve to ground the book in logic while elevating it above some of the brightly colored hyperactive Web design manuals out there. . . . "—J. D. Biersdorfer, New York Times Circuits Section
-J. D. Biersdorfer

". . . a non-geeky Web-design primer—a rule-of-thumb guide that calmly introduces you to the issues involved in developing a Web site. . . . what you need to know about Web-site design in plain language, with understandable examples. . . . this . . . book is a gem."—Mary Creswell, Presentations
-Mary Creswell

"[A] highly readable guide to Web layout.  The book overflows with innumerable examples and basic design tenets . . . beneficial for either newbie or trained expert alike. . . . [A] book to be read and studied by anyone looking to design a Web site."—Stuart J. Brown, Student Affairs On-Line
-Stuart J. Brown

"The book has practical relevance for those of us who write and edit Web content. . . . a cohesive overview of the challenges and constraints that Web designers face and an insider's knowledge of the architecture that makes Web pages go. . . ."—Stephanie Deming, Science Editor
-Stephanie Deming

". . . There are many books available on . . . Web design, but few cover so much in such a concise and well-written fashion. . . . Web design is . . . an adventure to an unknown and wild land. Take this book along with you as a guide."—Greg Kearsley, Education Technology
-Greg Kearsley