Mozart's Third Brain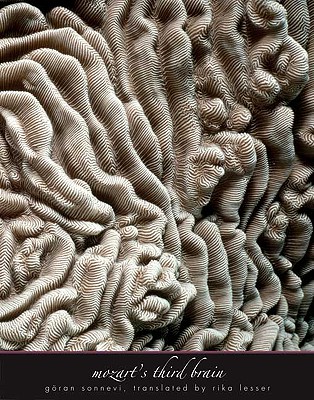 Mozart's Third Brain
Yale University Press, Hardcover, 9780300145809, 200pp.
Publication Date: October 1, 2009
* Individual store prices may vary.
Buy at Local Store
Enter your zip code below to purchase from an indie close to you.
or
Not Currently Available for Direct Purchase
Description
Winner of the 2006 Nordic Council's Literature Prize, Swedish writer Goran Sonnevi is undoubtedly one of the most important poets working today. In "Mozart's Third Brain," his thirteenth book of verse, he attempts "a commentary on everything" - politics, current events, mathematics, love, ethics, music, philosophy, nature. Through the impeccable skill of award-winning translator Rika Lesser, Sonnevi's long-form poem comes to life in English with the full force of its loose, fractured, and radiating intensity. A poetic tour de force that darts about dynamically and imaginatively, "Mozart's Third Brain" weaves an elaborate web of associations as the poet tries to integrate his private consciousness with the world around him. Through Lesser's translation and preface, and an enlightening foreword by Rosanna Warren, readers of English will finally gain access to this masterpiece.
About the Author
Goran Sonnevi (3 de Octubre de 1939) Poeta y traductor sueco. Ganador del Premio Nordico de la Academia Sueca (conocido como el "Pequeno Nobel") en el 2005 y del Premio de Literatura del Consejo Nordico en el 2006 por su antologia "Oceanen" de donde se desprenden los poemas incluidos en este libro. Ha estudiado literatura y lenguaje en la Universidad de Lund. La tematica abordada en los versos de Sonnevi suele ser de naturaleza contemporanea y de relevancia politica y actual, como las guerras de Vietnam e Iraq, la Globalizacion, la migracion, entre otros temas. Sonnevi trata con gran profundidad y sabiduria estos asuntos en su poesia. Sonnevi es uno de los poetas mas apreciados y valorados en Suecia y su trabajo ha sido traducido y editado en varios idiomas. Actualmente vive en Jarfalla, en las afueras de Estocolmo.

Rika Lesser is widely known for her prize-winning translation of poetry: Guide to the Underworld by Gunnar Ekelof, Rilke: Between Roots, and A Child Is Not a Knife: Selected Poems of Goran Sonnevi.

Rosanna Warren, the author of four collections of poetry, has received awards from the Academy of Arts and Letters and has won the Lamont Poetry Prize. She teaches at the University of Chicago and lives in Chicago.
Praise For Mozart's Third Brain…
"This ambitious, sprawling book-length poem from one of Sweden's leading lights aspires to consider almost everything. . . . Sonnevi's sentences sound admirably idiomatic in Lesser's rendering."—Publishers Weekly

"A massive poem that breaks almost every poetic convention. . . .The poem lures us, step by step, to suffer, to care, to mourn, and to live in an enlarged state of awareness. So large, finally, that it brings microcosm together with macrocosm, and brokenness together with wholeness, in a visionary ending that does not really end. . . . In this majestic, original, and painful poem, Göran Sonnevi has released a new form of fertility into the world."—Rosanna Warren, from the Foreword

-Rosanna Warren

"Göran Sonnevi is one of the most unique and most accomplished poets writing anywhere in the world. There is no one like him in terms of the scope, the magnificence of his ambition for his work, and few come close to what he can technically manage…Brilliantly translated, Rika Lesser's verse in English is supple and capacious."—C.K. Williams


-C.K. Williams

"Göran Sonnevi tries in this book something that's impossible and breathtaking: a poetic synthesis wherein our knowledge and emotions should merge. . . A synthesis is not possible but what we're given here is a wonderful meditation on the world of pain and beauty, of politics and music, nature and human relationships. A fantastic poem and fantastically translated by Rika Lesser!"— Adam Zagajewski

-Adam Zagajewski

"Just what we need, another poem that can never stop being read, only entered, continued, lived. . . Lesser (what a name for the translator of the latest "wisdom literature" to hit the fan!) had to hear Sonnevi's voice before she could (or would) do the work. In other words, loved the poem. And that is why we may read it, not well but as well: to hear the voice, in English now: entered, continued, lived. . . Yes, just what we need."—Richard Howard

-Richard Howard