December 1941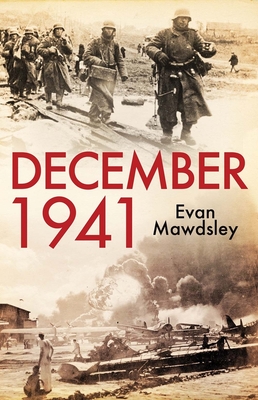 December 1941
Twelve Days That Began a World War
Yale University Press, Hardcover, 9780300154450, 347pp.
Publication Date: December 1, 2011
* Individual store prices may vary.
Buy at Local Store
Enter your zip code below to purchase from an indie close to you.
or
Not Currently Available for Direct Purchase
Description
In far-flung locations around the globe, an unparalleled sequence of international events took place between December 1 and December 12, 1941. In this riveting book, historian Evan Mawdsley explores how the story unfolded. He demonstrates how these dramatic events marked a turning point not only in the course of World War II but also in the direction of the entire century.
On Monday, December 1, 1941, the Japanese government made its final decision to attack Britain and America. In the following days, the Red Army launched a counterthrust in Moscow while the Japanese bombed Pearl Harbor and invaded Malaya. By December 12, Hitler had declared war on the United States, the collapse of British forces in Malaya had begun, and Hitler had secretly laid out his policy of genocide. Churchill was leaving London to meet Roosevelt as Anthony Eden arrived in Russia to discuss the postwar world with Stalin. Combined, these occurrences brought about a "new war," as Churchill put it, with Japan and America deeply involved and Russia resurgent. This book, a truly international history, examines the momentous happenings of December 1941 from a variety of perspectives. It shows that their significance is clearly understood only when they are viewed together.
About the Author
Evan Mawdsley is an international historian who has written extensively on the Second World War. Educated at Haverford College, the University of Chicago, and the School of Slavonic and East European Studies, his work for many years dealt with twentieth-century Russian history, where he wrote and taught on the revolution, the civil war, the Stalin period and the nature of the Soviet-era political elite. His Russian Civil War, originally published in 1987, remains in print as a standard work on the subject. In the past fifteen years his research and writing have concentrated on the Second World War. Thunder in the East: The Nazi-Soviet War, 1941 1945 was published in 2005. After completing that book he moved in two quite different directions, producing a broad-brush treatment of the whole global conflict in the form of World War II: A New History (2009), and zooming in to examine a critical two weeks of the conflict with December 1941: Twelve Days that Began a World War (2011). He is currently writing an overall naval history of the war, as well as preparing a second edition of Thunder in the East. He was Professor of International History at the University of Glasgow and since 2010 has been an Honorary Professorial Research Fellow there.
Praise For December 1941…
"A rigorous, sharp survey of this decisive moment in the war."—Kirkus Reviews