Behind Closed Doors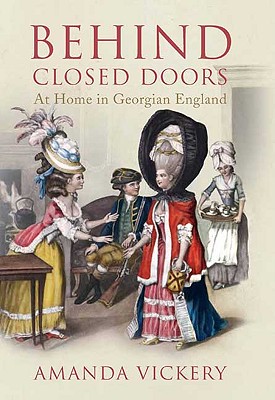 Behind Closed Doors
At Home in Georgian England
Yale University Press, Hardcover, 9780300154535, 368pp.
Publication Date: December 1, 2009
* Individual store prices may vary.
Buy at Local Store
Enter your zip code below to purchase from an indie close to you.
or
Not Currently Available for Direct Purchase
Description
In this brilliant new work, Amanda Vickery unlocks the homes of Georgian England to examine the lives of the people who lived there. Writing with her customary wit and verve, she introduces us to men and women from all walks of life: gentlewoman Anne Dormer in her stately Oxfordshire mansion, bachelor clerk and future novelist Anthony Trollope in his dreary London lodgings, genteel spinsters keeping up appearances in two rooms with yellow wallpaper, servants with only a locking box to call their own.
Vickery makes ingenious use of upholsterer's ledgers, burglary trials, and other unusual sources to reveal the roles of house and home in economic survival, social success, and political representation during the long eighteenth century. Through the spread of formal visiting, the proliferation of affordable ornamental furnishings, the commercial celebration of feminine artistry at home, and the currency of the language of taste, even modest homes turned into arenas of social campaign and exhibition.
About the Author
Amanda Vickery isprofessor ofhistory, Royal Holloway University of London, and the author of "The Gentleman s Daughter: Women s Lives in Georgian England," which won the Whitfield, Wolfson, and Longman "History Today" prizes."
Praise For Behind Closed Doors…
"If until now the Georgian home has been like a monochrome engraving, Vickery has made it three dimensional and vibrantly colored. Behind Closed Doors demonstrates that rigorous academic work can also be nosy, gossipy, and utterly engaging."—Andrea Wulf, New York Times Book Review


-Andrea Wulf

"Comparison between Vickery and Jane Austen is irresistible. . . This book is almost too pleasurable, in that Vickery''s style and delicious nosiness conceal some seriously weighty scholarship."—Lisa Hilton, The Independent


-Lisa Hilton

"This book takes an unstarchy look at domestic life in Georgian England and is full of delicious detail." — House and Garden



"Some of the considerable achievements of this important book are Vickery's sheer mastery of the sources, the originality of her materials and methodology, and the provocations contained in her seductive prose." — Helen Berry, Reviews in History
-Helen Berry

Shortlisted for the 2009 Hessell-Tiltman Prize for History: Behind Closed Doors was highly commended by the judges of the Hessell-Tiltman prize and described as "outstanding in every way."

Behind Closed Doors was highly commended by the judges of the Hessell-Tiltman prize for history and described as "outstanding in every way."

"To say something that is at once original to the expert and exciting to the common reader, the historian must combine a heightened mastery of the material with a clarity of prose. No wonder such works are rare; Amanda Vickery''s wonderful book should therefore be celebrated."--The New Republic


"Vickery crosses disciplinary divisions and pursues her subject through an array of sources, from diaries and letters and ledgers, to novels, pattern books and advertising. . . . Absorbingly narrated."—Eighteenth-Century Fiction