Little Book of Language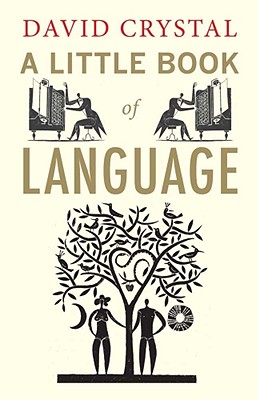 Little Book of Language
Yale University Press, Hardcover, 9780300155334, 272pp.
Publication Date: June 1, 2010
* Individual store prices may vary.
Buy at Local Store
Enter your zip code below to purchase from an indie close to you.
or
Not Currently Available for Direct Purchase
Description
With a language disappearing every two weeks and neologisms springing up almost daily, an understanding of the origins and currency of language has never seemed more relevant. In this charming volume, a narrative history written explicitly for a young audience, expert linguist David Crystal proves why the story of language deserves retelling.
From the first words of an infant to the peculiar modern dialect of text messaging, " A Little Book of Language" ranges widely, revealing language's myriad intricacies and quirks. In animated fashion, Crystal sheds light on the development of unique linguistic styles, the origins of obscure accents, and the search for the first written word. He discusses the plight of endangered languages, as well as successful cases of linguistic revitalization. Much more than a history, Crystal's work looks forward to the future of language, exploring the effect of technology on our day-to-day reading, writing, and speech. Through enlightening tables, diagrams, and quizzes, as well as Crystal's avuncular and entertaining style, "A Little Book of Language" will reveal the story of language to be a captivating tale for all ages.
About the Author
David Crystal is one of the world's foremost authorities on language, and as editor of the Cambridge Encyclopedia database has used the Internet for research purposes from its earliest manifestations. His work for the technology company AND Classification Data Limited has involved him in the development of an information classification system with several Internet applications and he has extensive professional experience of Web issues. Professor Crystal is author of the hugely successful Cambridge Encyclopedia of Language (1987; Second Edition 1997), Cambridge Encyclopedia of the English Language (1995), English as a Global Language (1997), and Language Death (2000). An internationally renowned writer, journal editor, lecturer and broadcaster, he received an OBE in 1995 for his services to the study and teaching of language. His edited books include The Cambridge Encyclopedia (1990; Second Edition 1994; Third Edition 1997; Fourth Edition 2000), The Cambridge Paperback Encyclopedia (1993; Second Edition 1995; Third Edition 1999), The Cambridge Biographical Encyclopedia (1994; Second Edition 1997) and The Cambridge Factfinder (1994; Second Edition 1997; Third Edition 1998; Fourth Edition 2000).
Praise For Little Book of Language…
"Demotic, lively, rigorous but unabashedly unpedantic David Crystal remind[s] us that living languages know no boundaries, that they adapt themselves joyously to new conditions. Here he indulges himself with great good humour in his little book of love for the pleasures of language and words worldwide." — Iain Finlayson, The Times (London)
-Iain Finlayson

"David Crystal is not just a great linguist, but a true champion and lover of language."—Benjamin Zephaniah
-Benjamin Zephaniah

"An excellent book to put in the hands of anyone first starting to think about the wonders of what we all take for granted, our shared capacity to talk and understand." - Nicholas Ostler, Empires of the Word
-Nicholas Ostler

''Crystal-clear, witty and informative, a book to bring out the linguist in us all.'' - Roger McGough
-Roger McGough

"A Little Book of Language is a paean to language in all its guises. Crystal has clearly thought long and hard about his subject. . . .[H]e is always revealing and thought-provoking."--David B. Williams, Seattle Times
 

-David B. Williams

"David Crystal. . . is a charming tour guide. . . . He is excited, not cranky, about how language is changing in the Internet age."--Jan Gardner, The Boston Globe
 

-Jan Gardner

"Crystal rolls the basics of language--plus a few quirky insights--into one neat little package."--Seed Magazine
 


"Crystal here writes for the true beginner, but does so with his usual clarity and authority, as he ranges from ancient etymologies to modern text-messaging. The chapters--again 40 of them--are made doubly engaging by Jean-Manuel Duvivier''s frolicsome, highly stylized black-and-white illustrations."--Michael Dirda, Washington Post

 


-Michael Dirda

"In his light and amusing A Little Book of Language, David Crystal treats the world''s 6,000 tongues—which are disappearing at an alarming rate—as a natural resource no less precious than our oceans and forests."
—The Daily Beast



"Delightfully approachable. . . [a] 101-level of study with a heavy helping of charm and nary a dash of condescension."--Megan Stride, PopMatters

-Megan Stride

"The prolific British language writer, David Crystal, has produced another winner."—Visualthesuarus.com
Tuesday, Jun 15, 2010
Some linguists lament that in the digital age, once-sacred grammar skills will be lost in the shorthand shuffle of texting and tweeting. But language expert David Crystal isn't worried. In A Little Book Of Language, he writes about how kids actually do love words. More at NPR.org