To Do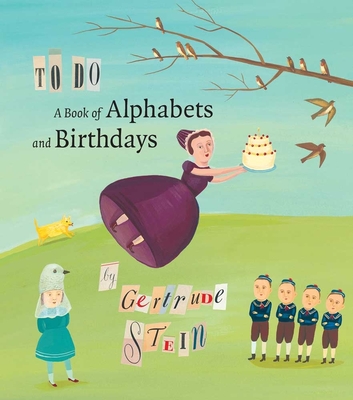 To Do
A Book of Alphabets and Birthdays
Yale University Press, Hardcover, 9780300170979, 128pp.
Publication Date: May 31, 2011
* Individual store prices may vary.
Buy Now
or
Shop Local
Enter your zip code below to purchase from an indie close to you.
Description
"Alphabets and names make games and everybody has a name and all the same they have in a way to have a birthday," muses Gertrude Stein in "To Do: A Book of Alphabets and Birthdays." Written in 1940 and intended as a follow-up to her children's book "The World Is Round," published the previous year, "To Do" is a fanciful journey through the alphabet. Each letter is represented by four names (including Gertrude for "G") and features a short story told in verse. " This is] a birthday book I would have liked as a child," said Stein of "To Do."
Publishers rejected the manuscript as too complex for children, and it remained unpublished during Stein's lifetime. A text-only version issued from Yale University Press in 1957. Now, more than seventy years after Stein penned the story, "To Do" is appearing with illustrations, realizing the author's original concept for the book. Giselle Potter's witty and stylish illustrations provide a perfect complement to Stein's uniquely whimsical world of words, creating a truly delightful, often hilarious book that adults and children alike can appreciate and love.
About the Author
Gertrude Stein (1874 1946) was born in Pittsburgh to a prosperous German-Jewish family. She was educated in France and the United States, worked under the pioneering psychologist William James, and later studied medicine. With her brother Leo she was an important patron of the arts, acquiring works by many contemporary artists, most famously Picasso, while her home became a popular meeting place for writers and painters from Matisse to Hemingway. Her books include Three Lives, Tender Buttons, and The Autobiography of Alice B. Toklas.

Giselle Potter has collaborated with Cari Best on books including" Beatrice Spells Some Lulus and Learns to Write a Letter" and "Three Cheers for Catherine the Great!", which was a "Booklist "Editors' Choice and selected a Best Book of the Year by both" Publishers Weekly" and "Child" magazine. Ms. Potter lives in Kingston, New York.

Timothy Young is a poet and retired educator in juvenile corrections. His book, Herds Of Bears Surround Us, was published by Red Dragonfly Press in 2010. He has recorded three CDs of poetry and his poem 'Mississippi Ecstasy' was set for a big band jazz suite by composer, Dan Cavanagh. He is chairman of the Board of Directors for Robert Bly's Minnesota Men's Conferences.
Praise For To Do…
"Gertrude Stein''s long-lost kids'' book is bizarre—and a great reflection of how children think. . . . As To Do proceeds through the alphabet, it becomes a book not just about language learning, but about pretending, about how children learn to distinguish the abstract from the concrete, the made-up from the real."—Stephen Burt, The Boston Globe
-Stephen Burt

"The highly original, repetitive, and sparely punctuated verse may be read rapidly for heightened effect. A one-of-a-kind book that will remind grown-ups how joyful it can be to put sentences together."—Fore Word