Prisoners, Lovers, and Spies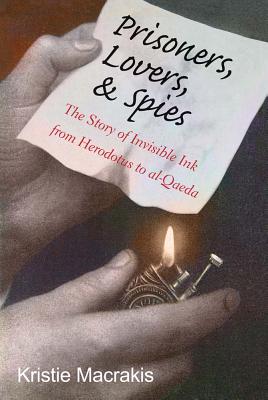 Prisoners, Lovers, and Spies
The Story of Invisible Ink from Herodotus to Al-Qaeda
Yale University Press, Hardcover, 9780300179255, 377pp.
Publication Date: March 2014
* Individual store prices may vary.
Buy Now
or
Shop Local
Enter your zip code below to purchase from an indie close to you.
Description
"Prisoners, Lovers, and Spies" is a book about concealing and revealing secret communications. It is the first history of invisible writing, uncovered through stories about scoundrels and heroes. Spies were imprisoned or murdered, adultery unmasked, and battles lost because of faulty or intercepted secret communications. Yet, successfully hidden writing helped save lives, win battles, and ensure privacy; occasionally it even changed the course of history.
Kristie Macrakis combines a storyteller's sense of drama with a historian's respect for evidence in this page-turning history of intrigue and espionage, love and war, magic and secrecy. From the piazzas of ancient Rome to the spy capitals of the Cold War, Macrakis's global history reveals the drama and importance of invisible ink. From Ovid's advice to use milk for illicit love notes, to John Gerard's dramatic escape from the Tower of London aided by orange juice ink messages, to al-Qaeda's hidden instructions in pornographic movies, this book presents spellbinding stories of secret messaging that chart its evolution in sophistication and its impact on history. An appendix includes fun kitchen chemistry recipes for readers to try out at home.
About the Author
Kristie Macrakis is Professor of the History of Science at Georgia Tech. She spent 2007 8 at Harvard University (where she received her Ph.D.) as a Visiting Scholar. Her previous books include Surviving the Swastika (1993) and Science under Socialism (1999).