Personal Memoirs of U.S. Grant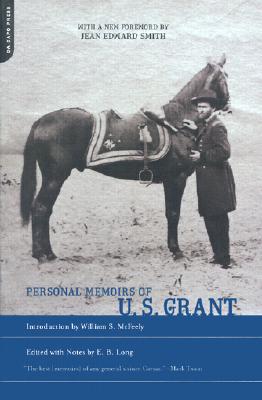 Personal Memoirs of U.S. Grant
Da Capo Press, Paperback, 9780306810619, 648pp.
Publication Date: October 4, 2001
* Individual store prices may vary.
Buy at Local Store
Enter your zip code below to purchase from an indie close to you.
or
Buy Here
Description
Among the autobiographies of generals and presidents, the "Personal Memoirs of U.U. Grant" ranks with the greatest. It is even more impressive in light of the circumstances in which it was created: Faced with terminal cancer, virtual bankruptcy, and a family he would leave without means of support, he took the advice of his publisher, mark Twain, and went to work. He completed the manuscript in eleven months-and died a week later, on July 23, 1885. Frank and unpretentious, Grant's memoirs tell the story of his boyhood in Ohio, his graduation from West Point, and the military campaigns in the West and Mexico that ended with his disgraceful resignation and a return to Illinois, where he ran the family store. Soon, however, began the rebellion that broke the Union and recast Grant's fortune, transforming him into the leader of the victorious Union armies in the War Between the States and giving him the perspective to describe intimately the capture of Fort Henry and Fort Donelson, the battles of Shiloh, Corinth, Vicksburg, the bloody Wilderness campaign, and Appomattox. Here is Grant the tactician, the alcoholic, the plain and tough professional soldier, the ideal commander-but most of all here is Grant the writer as he assesses himself and the events that forged his character, as well as that of the nation.
About the Author
Ulysses S. Grant was a successful military general and the eighteenth President of the United States. A graduate of the prestigious West Point military academy, Grant served in both the Mexican-American War (1846-1848) and the American Civil War (1861-1865), in which he was appointed commander of the Union Army. Grant's successful military campaign against the Confederate States, executed by Union Generals William Tecumseh Sherman, Philip Sheridan, and George Thomas, culminated in his acceptance of General Robert E. Lee's surrender at Appomattox courthouse on April 9, 1865.
First elected President in 1869, Grant's two presidential terms focused on reconstruction, further stabilizing the nation socially, politically, and economically following the end of the Civil War. His government successfully passed the Fifteenth Amendment, protecting voting rights for Africa-American citizens, pursued an Indian peace policy and created the Board of Indian Commissioners, and shut down the Whiskey Ring, recovering over $3 million in embezzled federal taxes. Grant died of cancer in 1885 and is interred at New York's Riverside Park in Grant's Tomb.
Elizabeth Long is an associate professor of sociology at Rice University. She is the author of "The American Dream and the Popular Novel and the editor of "From Sociology to Cultural Studies.