Party Animals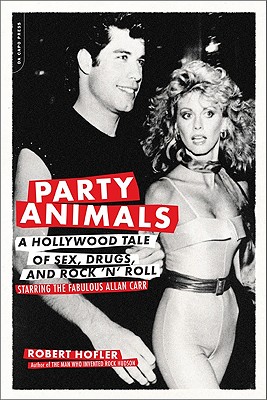 Party Animals
A Hollywood Tale of Sex, Drugs, and Rock 'n' Roll Starring the Fabulous Allan Carr
Da Capo Press, Paperback, 9780306816550, 308pp.
Publication Date: March 2, 2010
* Individual store prices may vary.
Not Currently Available for Direct Purchase
or
Shop Local
Enter your zip code below to purchase from an indie close to you.
Description
He produced Grease, brought the Tony-winning La Cage aux Folles to Broadway, and was banned by the Academy for producing the worst Oscars ever.
About the Author
Robert Hofler has spent more than forty years as an entertainment journalist, having worked as entertainment editor of Life and executive editor of Us magazine, and most recently at Variety, where he was a theater reporter and senior editor for fifteen years. His nonfiction works include the Henry Willson biography, The Man Who Invented Rock Hudson, Variety's "The Movie That Changed My Life," and Party Animals, a biography of Allan Carr. Hofler is the theater critic for The Wrap and lives in New York City.
Praise For Party Animals…
Kirkus Reviews, 12/15/09
"Hofler delivers a hell of a tour of Hollywood egotism, crassness and gross excess…[A] fast-paced, funny and occasionally horrifying portrait of a compulsive personality and the culture of excess that both created and destroyed him."

New York Post, 12/16/2009
"A good, gossipy read."

Connecticut Post, 12/18/09
"[A] juicy biography…Hofler's book will remind Hollywood that there was a lot more to this over-sized character than met the eye and that he is well worth remembering. The writer was able to talk with a wide array of people who were in Carr's orbit for a while—from Stockard Channing to Jerry Herman and Ann-Margret to Arthur Laurents—and they have lots of interesting things to say."

Publishers Weekly, 1/25/10
"A sex- and camp-fueled romp through the outrageous life of Hollywood producer and impresario Allan Carr (1937–1999). Eschewing the conventional biography model, Hofler instead chronicles Carr's lavish parties and equally audacious film work."

Q Syndicate, 3/8/10
"There's not a lot of affection in Hofler's biography of Allan Carr…But there is a lot of titillation…This candid, sometimes cruel account of hedonistic excess depicts the Hollywood that moral conservatives have nightmares about."

Instinct, March 2010
"Ever wish you could step back into the hedonistic days of '70s Hollywood? The sex, drugs, rock 'n' roll of it all? Party Animals may be your safest bet to revisit those days…More than just juicy gossip, we also get a look at gay Hollywood in the '70s."

Booklist Online, 2/17/10
"Those who open Hofler's biography of larger-than-life movie producer and party-giver Allan Carr, hoping for a closer look into decidedly decadent 1970s Hollywood, won't be disappointed…Hofler is after more than mere trash. His book also affords a fascinating look at the movie business and a moving portrait of a talented, complicated, self-destructive man…Hofler captures Carr, warts and all."
PittsburghStageandScreenExaminer.com, 2/26/10
"Hofler examines the glittery life and drug-riddled excesses of the overtly gay Carr in delightfully delicious, almost sinful, detail. Carr's was a notorious reign in an excess-laden era, and Hofler takes us behind-the-scenes, exposing scandal, sex and decadent sordid lives so sizzling and sordid you might want to reach for asbestos gloves."

People.com, 2/28/10
"[A] fair-minded new bio of the late impresario."

Hollywood Reporter, 3/1/10
"A dishy new biography."

Beverly Hills Courier Pick of the Week, 3/5/10
"Riveting…A warts-and-more portrait of the indulgent '70s…Hofler's is a welcomed assessment about a Disco Decade that was unforgettable…A juicy read of a time and a place."

Camp, 3/4/10
"Truly riveting…One genuinely sizzling read… Hofler paints a vivid picture of a larger-than-life legend who had a great fall…An engrossing, fast-paced narrative. Included along the way are plenty of interesting bits of trivia…Stories, ranging from mild to wild, are skillfully interwoven throughout. (The chapters dedicated to "Can't Stop the Music"—Allan's no-holds-barred salute to disco, starring The Village People—could by themselves turn this book into an instant "peek behind the celebrity curtain" classic!)…A must-read for show queens, movie buffs, or anyone who experienced those free-wheeling post-Stonewall, pre-AIDS times (not to mention those who wish they had)."

3/7/10
A Southern California Independent Booksellers Association paperback nonfiction bestseller.

Newsday, 3/7/10
"Energetically chronicling Carr's hits and misses, author Robert Hofler champions the completely apolitical but consistently outré Carr as an 'accidental gay activist,' whose 'unspoken goal' was 'to bring gay into the Hollywood mainstream.'…[A] breezy book…The story of how a spoiled, tubby, movie-mad only child born Alan Solomon in Highland Park, Ill., in 1937 became both the ringleader of Caligulan orgies and a shrewd showman."

Film Comment, March/April 2010
"[A] highly readable guilty-pleasure bio… Hofler's tome reads like an update of Hollywood Babylon."

Modern Tonic, 3/10/10
"Robert Hofler knows that drug- and sex-fueled parties sell books, and he doesn't miss one salacious bit in Party Animals."

EDGE Publications, 3/8/10
"Although Robert Hofler has written a biography, the trajectory reads like a classically schematic novel by Balzac or Stendhal…Hofler has spun a delicious tale of a Hollywood ego run amuck…For the most part, Hofler's book is as engrossing as his subject…This is a book by a Hollywood insider for those who want to know what Hollywood is like on the inside. Like most such books, it isn't very pretty, but it's delicious. Movies and Broadway shows are indeed like sausages: tasty, but you don't want to see how they've been made. In this case, however, you'll eat it up."

Bookgasm.com, 3/11/10
"[Carr's] Hollywood parties were legendary for their excess, so there's much to qualify as shocking…[Carr is] portrayed as compassionate, generous, giving and—psssst!—if you haven't heard, gay as a tangerine."

Internet Review of Books, March 2010
"Party Animals is a story of aesthetic over-indulgence…There are some juicy bits."

Angeleno magazine, "Book Look" column, April 2010
"Details the debauched Hollywood Hills lifestyle of producer and manager Allan Carr."

Bookviews.com, April 2010
"Shows how the overtly and proudly gay Carr broke social barriers and is a detailed, intimate look at Hollywood in that era." 

wowOwow.com, 3/30/10
"The tome is peppered with juicy anecdotes; fabulous names are dropped on every page. It reads like one of those glamorous train-wreck bios on Judy or Marilyn. And for sure, Allan would take this as a compliment!...Party Animals is a trip back to not-so-long-ago times when it seemed the party would never end, and Allan Carr was the ringmaster of a circus world where anything could happen, and often did."

January magazine, 3/29/10
"Seventies Hollywood excess is perfectly rendered in Party Animals…[Hofler] delivers a front row look at the crazy life that surrounded producer Allan Carr…If you enjoy tales from inside Hollywood, you'll like Party Animals, even if you never knew much about Carr."

The Onion's A.V. Club, 3/25/10
"Anyone with a taste for tales of Hollywood decadence will want to make a beeline for Party Animals…Party Animals is shamelessly entertaining—more so, in fact, than much of what Carr actually made."

Goldmine, 4/9/10
"Hofler's book is both a fun account of a man who enjoyed living large (in every sense of the word) and a poignant look at the pleasures and perils of excess."

Tucson Citizen, 4/14/10
"[A] sizzling, behind-the-scenes book…A detailed and intimate look at both Carr and the Hollywood of the 1970s." 

The John Shelton Ivany Top 21, 4/21/10
"Hofler shows how the overtly and proudly gay Carr broke Hollywood's barriers by brining together and celebrating the various sexual preferences of entertainment's biggest stars. Chronicling Carr's notorious reign over this excess-laden era, Hofler takes us behind-the-scenes to give us a detailed and intimate look at Hollywood in its heyday."

A Los Angeles Times paperback bestseller. (4/25/10)

Playbill, April 2010
"Hofler spares us few bumps on the way down (and on the way up, for that matter) in his new and properly tawdry tome."

Baltimore City Paper, 4/7/10
"The highs and lows of one man's life in the wickedly unforgiving entertainment industry…Party Animals offers an irresistible entry into some of the more decadent parties of one of the more decadent eras."

Sacramento Book Review, May 2010
"Hofler uses interviews with celebrities and Carr's high school friends to make readers feel as if they are walking through these excessive fetes. Party Animals captures the spirit of Allan Carr and hedonistic era of 1970s Hollywood. Just as Carr did for his productions and parties, Hofler leaves out no details."

South Florida Gay News, 5/2/10
"This book has all of the trappings, both magical and troubled, of Hollywood."

Chelsea Now and Gay City News, 4/30/10
"Will doubtlessly be on many a gay beach towel this summer, as it's a succulently trashy read about the stage and screen impresario who just possibly might have done more coke than anyone else in Tinseltown…A total page-turner."

EDGE Publications, 5/10/10
"Hofler provides a powerfully panoramic view of the '70s, and its aesthetic avatar. Fast, furious, and full of jaw-dropping details, it's a must-read for anyone with even a passing fascination with this dizzying decade of divine decadence."

Lost Angeles Times, 5/20/10
"Deliciously dishy…Hofler tells his story like a catty fly on a wall…But he also gives the man his due…Hofler's unflinching portrayal of Carr…is an amazing ride through an era dripping with self-indulgence."

HistoryWire.com, 5/18/10
"The story of Allan Carr's life is inevitably the story, as well, of a cocaine-addled, sexually indulgent era."
Los Angeles Times, 5/20/10

"Deliciously dishy…Hofler tells his story like a catty fly on a wall, a very good choice. But he also gives the man his due…Hofler's unflinching portrayal of Carr…is an amazing ride through an era dripping with self-indulgence." 
Times of Northwest Indiana, 6/20/10
"Hoffler's chronicle of the rise of big screen and Broadway producer Carr is…scandalous."
Windy City Times, 9/22
"Filled with big names and little scandals, Party Animals is exhaustively researched, over-the-top snarky, [and] sarcastically funny…[A] biography of tenacity, flamboyancy and debauchery."
Detroit Metrotimes, 11/30/10
"A decadent delight." 
Flavorwire.com, 12/16/10
"This superbly written bio makes the new Keith and Frank books look positively serene."

Windy City Times, "Looking Back at 2010" Roundup
"[A] juicy, tart biography…A great big trashy tell-all…A big fat tome of snark, juice and tons of dishy details."