Growing Up Dead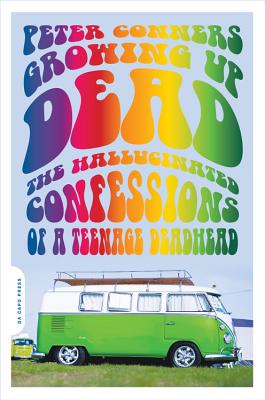 Growing Up Dead
The Hallucinated Confessions of a Teenage Deadhead
Da Capo Press, Paperback, 9780306817335, 274pp.
Publication Date: March 31, 2009
* Individual store prices may vary.
Buy at Local Store
Enter your zip code below to purchase from an indie close to you.
or
Buy Here
Description
A colorful journey from straight-laced suburban kid to Deadhead" nomad to mid-thirties dad, against the backdrop of the late '80s and mid-'90s
About the Author
Peter Conners was born September 11, 1970 in a small town called America. His published books include the prose poetry collection Of Whiskey and Winter and the novella Emily Ate the Wind. His memoir, Growing Up Dead: The Hallucinated Confessions of a Teenage Deadhead, will be published by Da Capo Press in March 2009. His next poetry collection, The Crows Were Laughing in their Trees, will be published by White Pine Press in 2010. He is also editor of PP/FF: An Anthology which was published by Starcherone Books in April 2006. His writing appears regularly in such journals as Poetry International, Mississippi Review, Brooklyn Rail, Fiction International, Salt Hill, Hotel Amerika, Mid-American Review, The Bitter Oleander, and Beloit Fiction Journal.
Praise For Growing Up Dead…
Publishers Weekly, 1/26/09
"Offers a perspective often missing from other Dead chronicles: that of one of the suburban teens who dropped out of high school and/or college to follow a band…Earnest and often hilarious…What really went on at a typical Dead show in the 1980s."

Kirkus, 2/1/09
"Insightful and entertaining."
Dennis McNally, author of A Long Strange Trip
"The hardest part of being the Grateful Dead's publicist was convincing the media that Deadheads were diverse, thoughtful, and not infrequently accomplished. If I'd just had a copy of Growing Up Dead, I could have simply handed it out. The Deadhead subculture was rich and fascinating, and this book is a terrific documentation of it."

Library Journal, 3/1/09
"Part memoir, part social history…[Conners has an] engrossing personal story and breezy style…Recommended for Dead followers and rock music fanatics."
David Gans, host of the Grateful Dead Hour
"This is a very important addition to the Grateful Dead bookshelf: an honest, articulate, celebratory, and inspiring account of life on Dead tour in the 1980s. Peter Conners does a great job of describing the magic."
Tucson Citizen, 4/9/09
"[Conners] attended nearly 100 Dead shows nationwide, traveling from place to place in a Volkswagen camper and, amazingly, lived to write about it."
New York Post, 4/12/09
"[Conners] tells of his 'long, strange trip.'"
The Onion (A.V. Club), 4/16/09
"What's most valuable about Growing Up Dead is how easily Conners delineates the Deadhead mindset…He's also good on the many, sometimes subtle ways this seemingly formless scene forms its own definite hierarchies…Growing Up Dead is a mixed bag, but an admirable one, not unlike The Grateful Dead itself."
Albany Times Union, 4/16/09
"Part memoir, part music appreciation."
Rochester Democrat & Chronicle, 4/24/09
"Isn't that a great title?...Anyone who ever loved any band or musician with a deep passion will identify with much in Conners' story…Also an entertaining look at a subculture."
Augusta Metro Spirit, 4/29/09
"Stunning narrative…A must have for Deadheads, art fans, and cultural fiends."
PopMatters, 3/30/09
"A Quick read precisely because Conners does not skimp on the riveting, less-than-flattering details…The narrative is exciting…As a personal memoir, Peter Conners' Growing Up Dead is readable and honest, revealing…A pretty, good story."
Rochester City Newspaper, 5/13/09
"The terms 'Grateful Dead' and 'memoir' don't usually mix, but in Peter Connors new book the two become synonymous…The book also tackles the psychedelic culture of love, music, and drugs."
Princeton Record Exchange blog
"Fun and fascinating book…Written with intelligence, insight and humor, here's a book that music buffs of any and every stripe can enjoy and appreciate."
Relix, Aug/Sept 2009
"[An] honest, thoughtful, and an entertaining read."

NPR: All Things Considered "Three Books" segment, by teacher writer Will Layman
"No music fan is more invested than a follower of the Grateful Dead. Peter Conners' new memoir, Growing Up Dead, chronicles the exhilaration of falling in love with music as if nothing else in life even remotely matters. Conners was an aimless 16 year old when he first heard the whirling, improvised rock of his heroes. He describes guitar runs that send "sparkler streams across the arena" and writes that the sound of a keyboard "swirls down your cochlea, expanding into warm chocolate behind your eyes." Music fans will understand: That's not LSD imagery but just the way music sounds when your surrender has no limit." 
Thursday, Aug 20, 2009
Books about music are notoriously poor at describing the abstraction and subtlety of a melody, but these three books sing like the real thing. More at NPR.org