Crazy for God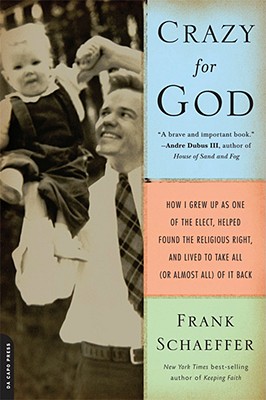 Crazy for God
How I Grew Up as One of the Elect, Helped Found the Religious Right, and Lived to Take All (or Almost All) of It Back
Da Capo Press, Paperback, 9780306817502, 417pp.
Publication Date: September 1, 2008
* Individual store prices may vary.
Buy at Local Store
Enter your zip code below to purchase from an indie close to you.
or
Buy Here
Description
New York Times-bestselling author Frank Schaeffer chronicles his coming of age as a rising evangelical star and his eventual journey out of the fold.
About the Author
Frank Schaeffer is a New York Times bestselling author whose books include Keeping Faith (as seen on Oprah) and Crazy for God. He lives in Salisbury, Massachusetts.
Praise For Crazy for God…
American Author's Association website, December 2008
"A story that needed to be told…A very personal and brutally honest memoir, that opens up and exposes the underbelly of the evangelistic movement…Gives the reader a rare and different look at some of various leaders of the fundamentalist moment...The book may open some eyes and minds about the dangers of politics and religion…A must read book for serious seekers looking for their own authentic path to enlightenment, or at least some inner peace."
De-conversion.com, 12/2/08
"A must read for the de-converting…It is brutally honest, eye-opening, at times laugh out loud funny, and heart breaking."
Princeton Packet, 2/13/09
"Mr. Schaeffer knows what he's talking about. He was there, and his book lays it all out, chapter and verse."
TCM Reviews
"[A] moving memoir…For those interested in a different perspective on Francis and Edith Schaeffer, l'Abri, and the fundamentalist right-wing evangelical movement, as well as the touching story of someone deeply involved in it all, this is a must-read."
Augusta Metro Spirit, 4/15/09
"In a witty recollection that takes a different path from the average evangelical story, Frank Schaeffer offers an intimate portrait of a life within and without the spotlight of mass congregations…Schaeffer is more than qualified to offer candid commentary concerning the religious right in these United States…Written with an intricate collection of detail, a smooth ability to turn elements of conflict into startling moments of realization, and a wonderful search for meaning."
Tallahassee Democrat, 7/25/09
"Part memoir, part biography, and part expose of a fundamentalist moment in U.S. religion and culture. As memoir it is at times funny, at times moving. As biography it provides an interesting, not to say intimate, perspective on Francis and Edith Schaeffer. As expose it provides revealing glimpses into the emergence of the religious right and some of its most visible leaders."
Evangelical Studies Bulletin, Spring 2008
"[A] breezy new autobiographical book…The inner story of young Frank(y)'s childhood, adolescence, meteoric phase as up-and-coming evangelical political activist, and subsequent career keep the pages turning…[An] entertaining and provocative read."

Semi-Autonomous Collective blog, 12/27/09
"Aggravating at times, frustrating by moments, but overall terribly touching, Schaeffer isn't hiding any flaws from the picture he paints of his own family. If there is one book to understand where the religious right comes from, it's that one."

Springfield News-Leader, 8/22/12
"Excellent resources for anyone interested in the strange history of the heretical anti-abortion doctrine being taught in American churches today for the purpose of garnering political support."