The Circumference of Home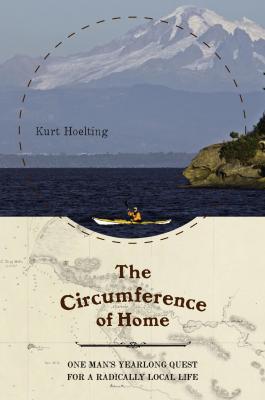 The Circumference of Home
One Man's Yearlong Quest for a Radically Local Life
Da Capo Press, Hardcover, 9780306817748, 262pp.
Publication Date: April 13, 2010
* Individual store prices may vary.
Buy at Local Store
Enter your zip code below to purchase from an indie close to you.
or
Not Currently Available for Direct Purchase
Description
In the spirit of Gary Snyder, one man's year spent traveling by kayak, bike, and on foot in his attempt to radically simplify his life
About the Author
Kurt Hoelting, commercial fisherman, wilderness guide, and meditation teacher, is the founder of Inside Passages, a sea-kayaking outfitter and guide business in Alaska. Hoelting lives with his family on Whidbey Island, Washington.
Praise For The Circumference of Home…
Parker J. Palmer, author of A Hidden Wholeness, Let Your Life Speak, and The Courage to Teach
"A wondrously compelling account of one man's yearlong adventure—written by a man gifted with a sharp eye, keen mind, and open heart. Hoelting tells his story in a way that is both intimate in detail and vast in its reach; contemplative in mood and yet challenging to the spirit; uniquely his story and yet rich with implications for the reader's life. This book sits on my shelf next to Thoreau, Annie Dillard, Wendell Berry, Terry Tempest Williams, and Aldo Leopold, because that is the literary ecosystem to which Hoelting's work belongs."

Bill McKibben, author of Eaarth: Making a Life on a Tough New Planet
"The world looks different when you're walking through it, not driving. You notice, and as this fine book makes clear, some of the things you notice are very sad. But you also see the world as it is, which can't help but be beautiful."

Jon Kabat-Zinn, author of Coming to Our Senses, Arriving at Your Own Door, and Letting Everything Become Your Teacher
"[A] moving and brave narrative of place, perception, and participation. . . . all this in the service of awakening to our predicament as a species, against the backdrop of one person deciding to radically explore his relationship to the living planet we call home and the mounting fever it is suffering because of us. The circumference of this circle includes us all."

Scott Russell Sanders, author of A Conservationist Manifesto
"Kurt Hoelting—fisherman, carpenter, mountain climber, storyteller, and Zen adept—is well-equipped for this adventure. He emerges from his low-carbon year feeling more fit spiritually as well as physically, and more hopeful about the human future. Readers will also come away feeling hopeful about our capacity for living more deeply in place and more conservingly on the planet."

Norman Fischer, poet and Zen priest, former abbot at the San Francisco Zen Center, author of Sailing Home: Using the Wisdom of Homer's Odyssey to Navigate Life's Perils and Pitfalls
"Beyond the disturbing news of climate change looms the inescapable fact that we are all personally, viscerally, involved. How to understand this. What to do. The Circumference of Home is one man's answer. Hoelting's love for the landscapes and seascapes of his native Pacific Northwest transforms the grief of global warming into an adventure of the body and spirit. Written in the best tradition of American nature writing from H. D. Thoreau to Gary Snyder, this wonderful book will bring you deep pleasure—and hope."

Booklist, 5/1/10
"What could have been a simple green guide to local living is deepened by Hoelting's keen observations, wry sense of humor, and willingness to consider a region's past and present when assessing its future. From biology to geology to the cultures of multiple nations, he cuts a broad swath through a relatively small area…More reflective then any rant against modern living, Hoelting's unique study of what local really means is accessible to any urban dweller."

EnergyTimes.com, 4/20/10
"If you've been wondering what practices could bring you closer to an earth-friendly lifestyle, reading The Circumference of Home would be a good place to start."

Curled Up with a Good Book, June 2010
"A wilderness guide and commercial fisherman, Hoelting is in a better position than most to track the rapidly growing damage to ecosystems. No doubt this firsthand knowledge makes him more keenly aware of how our actions impact the planet and future generations…Lest you fear that The Circumference of Home is another guilt-trip that you don't need or want, rest assured that Hoelting doesn't write with the sort of condescension that comes so easily from those who make remarkable sacrifices for a cause…[It's] not a how-to or a list of simple steps for saving the planet. It is an exploration of personal responsibility and discovery in the 21st century."

Taste for Life, June 2010
"[A] must read for men…Wonderfully engaging and written in the best tradition of American nature writing, The Circumference of Home is an inspiring guide." January, 6/19/10"A unexpectedly poetic story of one man's personal mission for change" Mother Nature Network, 7/26/10"[Hoelting] has a crafty way of sharing his explorations with others. His memoirs will thrill nature lovers and inspire travel enthusiasts to root out the last of the treasures surrounding their own homes. More than that though, The Circumference of Home challenges us to look deeper, and to see the real world around us so that we may change for the better…A fascinating story…[A] captivating tale of a man's yearlong quest to reacquaint himself with the beauty of his homeland, and make a dent in his personal oil dependence." E: The Environmental Magazine"Hoelting's outings are interspersed with historical and factual details, and his journey gives readers a sense of what it means to truly know one's home and to live sustainably." Tricycle Magazine, Spring 2011 "One hopes that after putting the book down, readers will be inspired to reexamine their lives and surroundings, in order to discover their own adventures."