I Want to Be Left Behind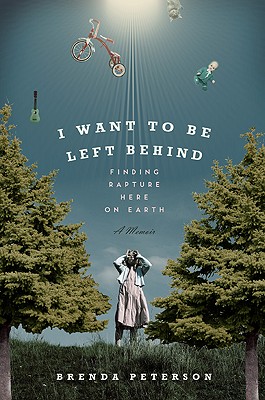 I Want to Be Left Behind
Finding Rapture Here on Earth
Da Capo Press, Hardcover, 9780306818042, 288pp.
Publication Date: February 1, 2010
* Individual store prices may vary.
Buy at Local Store
Enter your zip code below to purchase from an indie close to you.
or
Not Currently Available for Direct Purchase
Description
In Brenda Peterson's unusual memoir, fundamentalism meets deep ecology. The author's childhood in the high Sierra with her forest ranger father led her to embrace the entire natural world, while her Southern Baptist relatives prepared eagerly and busily to leave this world. Peterson survived fierce "sword drill" competitions demanding total recall of the Scriptures and awkward dinner table questions ("Will Rapture take the cat, too?") only to find that environmentalists with prophecies of doom can also be Endtimers. Peterson paints such a hilarious, loving portrait of each world that the reader, too, may want to be Left Behind.
About the Author
Brenda Peterson is the author of several novels including Duck and Cover, a New York Times Notable Book of the Year. She lives in Seattle.
Praise For I Want to Be Left Behind…
Booklist, 12/1/09
"[An] unusually affecting and radiant spiritual memoir… Peterson seeks a meeting of church and earth in this witty, enrapturing account of a spiritual journey of great relevance to us all."

Kirkus Reviews, 12/1/09
"The author offers a selective memoir that blends her unique autobiography with compassionate and levelheaded observations about family, food, religion, life and our relationships with living things…Peterson has a gift for describing her life's many adventures with disarming understatement and narrative poise."

Library Journal, 11/5/09
"This tender, lyrical account of turning away from her religious roots starts with the painful realization that there is no place in a fundamentalist heaven for her beloved animals and the growing sense that her love of the natural world is antithetical to those eagerly anticipating the Rapture. Charting her evolution into an environmental writer of fiction and nonfiction, Peterson always seeks common ground, eschewing fundamentalism of all kinds, whether religious or environmental."

Publishers Weekly, 1/11/10
"Talk of the rapture surrounds Peterson, and she engages this conversation with delicacy, humor, frustration, and, at times, a begrudging respect, in this memoir."

City Arts Seattle, February 2010
"Peterson's I Want to Be Left Behind is a tonic, the least acridly dogmatic of the new God books, pro or con...Her book has humor, which the divine debate could use more of. Instead of another volley in the God wars, her book can be seen as a kind of peace offering. She makes you think maybe everybody is in more harmony than they think."

Los Angeles Times, 1/31/10
"It is a rich and often lovely life—full of humor and Peterson's own unique brand of faith."

Cleveland Plain Dealer, 1/31/10
"Lovely, irreverent humor…Her journey is fascinating, and when she writes about spiritual revelation through nature, she's captivating...We are left with a good feeling: it is possible to have meaningful discussions with people we don't agree with and still love them."

Huffington Post, 2/10/10
"With this luminous, surprising memoir, Brenda Peterson completes her own assignment, giving us a story where no one is killed, dismissed, or left behind, where empathy is not only possible but imperative, where rapture can be ours here and now."

Hudson Valley News, 2/3/10
"A thought-provoking, beautifully written and challenging memoir."

North Kitsap Sun, 2/14/10
"[A] comedic spiritual memoir."

Seattle Times, 2/14/10
"[A] thoughtful, witty meditation…Peterson has distilled her life experiences to create the sense of a woman on an idiosyncratic spiritual journey."

Cleveland Plain Dealer, 2/18/10
"Lovely, irreverent humor…[Peterson's] journey is fascinating, and when she writes about spiritual revelation through nature, she's captivating."

Harborwalk Books, in the Columbus Dispatch, 2/28/10
"At once precocious and thoughtful, [Peterson] weaves her way through the contradictions of growing up to find her own spiritual place in the world. 'Glowing' would not be too strong of an adjective for this book!"

The Center of Progressive Christianity website, 3/9/10
"Talk of the rapture…surrounds Peterson, and she engages this conversation with delicacy, humor, frustration, and, at times, a begrudging respect, in this memoir about growing up among Southern Baptists and not quite fitting in."

HistoryWire.com, 3/8/10
"In a memoir that is truly sui generis, veteran author Brenda Peterson humorously recounts the dynamic tension between her nature-loving parents and her Southern Baptist relatives… [A] big hearted book... Peterson's memoir is more even-handed than Pollyanish, as she critiques both evangelicalism and holier-than-thou environmentalism. Through it all, the author expresses her deep love and appreciation for nature.

Christian Science Monitor, 3/15/10
"Peterson wraps her story in down-home warmth and a quick wit…Peterson's stories are gems."

Miami Herald, 3/21/10
"[An] outstanding memoir…[Peterson's] vivid imagination combined with a lilting writing style make the book a pleasure to read." 

Spirituality and Practice website, 3/22/10
"[A] well-written and consistently compelling spiritual memoir."

Portland Oregonian, 4/4/10
"[Peterson] merges her quest for spirituality with her love of nature…[She] writes with gentle humor of being a stranger in her own family, while highlighting both the beauty and the holiness of our physical world."

Curled Up With a Good Book, June 2010
"An often pointed, sometimes funny but always thoughtful history of a young girl's quiet rebellion against the noisy (to her) faith of her family."