The Last Founding Father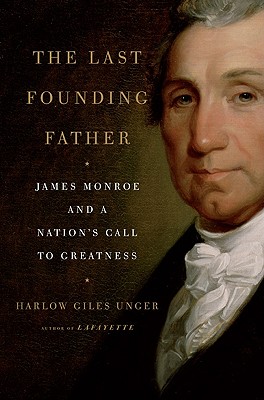 The Last Founding Father
James Monroe and a Nation's Call to Greatness
Da Capo Press, Hardcover, 9780306818080, 400pp.
Publication Date: September 1, 2009
* Individual store prices may vary.
Buy at Local Store
Enter your zip code below to purchase from an indie close to you.
or
Not Currently Available for Direct Purchase
Description
Award-winning author Harlow Giles Unger recounts the life of James Monroe, who dedicated himself to serving his country and building America's future.
About the Author
A veteran journalist, broadcaster, educator, and historian, Harlow Giles Unger is the author of fifteen books, including four biographies of America's Founding Fathers. He was recently named the 2008 Distinguished Visiting Fellow in American History at George Washington's Mount Vernon.
Praise For The Last Founding Father…
Kirkus, 8/15/09
"[A] cogent reexamination of a relatively neglected American icon…Unger makes a solid and cohesive argument for Monroe's importance in the early years of the United States…A worthy attempt to rescue Monroe from obscurity for a mainstream audience."

Library Journal, 9/1/09
"[A] well-written biography…Unger presents the fifth president as a man of independence and initiative rather than merely a disciple of Jefferson, Madison, and John Quincy Adams…Will appeal to a more popular audience, especially those who enjoy presidential history or studying the Founding Fathers. Historians and history students should read as well."
BookPage October 2009
"[A] compelling new biography… Unger deftly guides us through Monroe's pre-presidential period… Unger's outstanding biography of Monroe is consistently illuminating and a fine introduction to the subject."
Internet Review of Books September 2009
"An excellent biography that sweepingly captures the grand life of this statesman…A remarkably readable biography of a great statesman of the new nation. The book is in many ways worthy of its subject. The narrative has a smooth rhythm, blending the personal and the public man. The historical context of the times is nicely woven into the tapestry of the story and is rarely burdensome for the common reader and impressive for its scope."

The Washington Times, 9/27
"A workmanlike study of a workmanlike president."

Blogcritics.org, 9/26
"My lack of knowledge and interest in the first days of this great country have changed with the reading of The Last Founding Father. In the first five pages, I learned more about our fifth President, James Monroe, than I had learned in twelve years of schooling. Mr. Unger presents President Monroe in a way that makes him more real and accessible than high school textbooks…Mr. Unger has presented James Madison in the most human of ways…Monroe's story fills out our history. Mr. Unger has completed a well written biography of a most deserving subject."

Bookviews blog, October
"America was fortunate to have [Monroe] as president during a critical time of growth and readers are fortunate to have this extraordinary biography."
 
Booklist Online, 9/28
"In the pantheon of our Founding Fathers, James Monroe is, at best, given a place in the second row by most historians and in public consciousness. As Unger illustrates, that is both unfortunate and unfair…[Unger] makes a strong case for an acknowledgement of Monroe's greatness…This is a worthy reconsideration of the life and accomplishments of an outstanding American statesman."

The Oklahoman, 10/11
"Tells Monroe's story in a way that keeps the reader enthralled…It is a hard book to put down, and it flows extremely well."

Tucson Citizen, "Shelf Life" blog, 10/11
"[Unger] has given Monroe the credit he richly deserves. The foundation of this book is bedrock solid, the narrative crisply written, and the research first rate."

Curled Up With A Good Book
"Extremely fascinating and entertaining for both the general reader and the scholar. The veteran author has done well in researching and writing this book…A delight to read and highly recommended to those interested in either or both President James Monroe or early American history."

January magazine, 10/22/09
"Harlow Giles Unger is one of those authors with the talent and skill -- not to mention passion—to breathe life into history—Unger builds a case for the importance of a vastly overlooked and underrated figure, America's fifth President, James Monroe…Unger delivers his material on a wave of adventure and a compelling sense of importance. You won't ever see the early history of America in quite the same way."

Yale Alumni Magazine, November/December 2009
"Unger's biography, written for a popular audience, tells the story of one of the less familiar founding fathers."

Augusta Metro Spirit, 11/4/09
"If there was ever a biography for American history, American politics, and American patriotism fans, this is it…An incredible journey through an incredible life at an incredible time in history...Unger takes readers on a detailed ride through the interactions often lost in textbook portraits and made-for-TV-movies…Written with delicate prose and an easy to follow narrative, Unger's portrait of Monroe would make a great gift for the history buff in the family."

Charlottesville Daily Progress, 11/15/09
"[A] fascinating book…[that] has more to it than Unger's meticulous accounting of accomplishments and events. There are wonderful maps and illustrations."

InfoDad blog, 12/3/09
"Monroe emerges as more than 'just' a president: he comes across as a multifaceted human being…Both Monroe and this period of United States history come alive."

San Francisco Book Review and Sacramento Book Review, December 2009
"I appreciated Unger's clarity of expression. His descriptions of the American and French Revolutions, the events surrounding the Louisiana Purchase, and the War of 1812 are among the most lucid I've read."

Richmond Times-Dispatch, 11/29/2009
"The Last Founding Father is compelling both as a biography of a fascinating, unfairly neglected politician and a swift-reading account of the founding of a nation."

Bookreporter.com, 12/11/2009
"Supremely well-written and enlightening…Unger shows us much more than just a president…Unger goes a long way to opening up the eyes of a reader to the vast value Monroe had at the founding of our nation, and taking stock of all his achievements along the way brings a great sense of sadness that such a patriot should be so readily forgotten."

Boston Globe, 12/26/09
"Will do much to raise awareness of this accomplished statesman…Unger's skills as both a storyteller and political analyst enable him to convey the importance of the personalities and events of early-19th-century America in a detailed and enjoyable manner that will appeal to general readers."

Asbury Park Press, 12/20/09
"Those interested in a more thorough knowledge of the events and personalities that carried the nation through the early 19th century might well begin with Unger's lively portrait of the patriot of whom Thomas Jefferson said: 'A better man cannot be.'"

Smoke magazine, Fall 2010
"Acclaimed historian Harlow Giles Unger captures the magnitude of Monroe's contribution to the United States. The Last Founding Father traces the life of an extraordinary but often under-appreciated man who was born into the chaos of pre-revolutionary America but led it into its first period of peace—nearly forty years after it declared its independence."

American History magazine, April 2010
"Attempts to resuscitate…the last of the great men present at the creation of the republic."

Norfolk Virginian-Pilot, 2/21/10
"Readers unfamiliar with the two presidents—or those with a special interest in them—will be well rewarded by perusing these two well-crafted biographies."

Kick Ass Book Reviews, 5/6/10
"[A] fascinating book…Monroe was just as important as any other founding father, and this biography will let you explore the reasons why."

Magill Book Reviews
"The engaging story of an important but neglected president...If public memory has unfairly ignored him, The Last Founding Father: James Monroe and a Nation's Call to Greatness amply restores the deficit. This absorbing biography also generously details the early history of the nation's westward expansion…[A] highly readable history of a great American. A natural storyteller and appealing stylist, Unger skillfully interweaves his subject's private and public lives. He captures the milieu of the early nineteenth century, conveying its broad influence upon succeeding eras."
Choice, July 2010"[Unger] sympathetically assesses all phases of [Monroe's] life…Particularly well written, this is a worthy successor to Harry Ammon's 700-page James Monroe: The Quest for National Identity (1971), which focuses less on the private and more on the public Monroe…Highly recommended."