Seven Dirty Words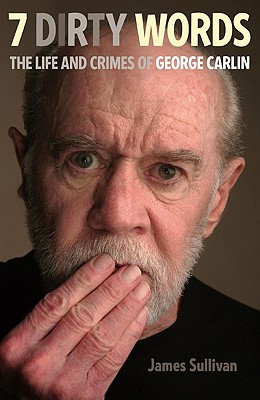 Seven Dirty Words
The Life and Crimes of George Carlin
Da Capo Press, Hardcover, 9780306818295, 280pp.
Publication Date: June 1, 2010
* Individual store prices may vary.
Not Currently Available for Direct Purchase
or
Shop Local
Enter your zip code below to purchase from an indie close to you.
Description
On the heels of George Carlin's bestselling memoir, Last Words, the definitive chronicle of the life and art of the legendary comic, provocateur, and social critic
About the Author
James Sullivan is a regular contributor to the Boston Globe. He previously served as the pop music and culture critic at the San Francisco Chronicle and has written for Rolling Stone and many other publications.
Praise For Seven Dirty Words…
La Crosse Tribune, 1/3/2010
"A critical biography, this is an insightful examination of Carlin's body of work as it pertained to its cultural times and the man who created it."

Library Journal, 3/1/10
"[A] well-written and thorough biography…A celebration of the life of George Carlin and how his comedy remade stand-up, this is a great companion to Carlin's recently published autobiography, Last Words. Highly recommended for readers interested in performing arts, George Carlin, comedy, and celebrity biographies."

Kirkus Reviews, 3/15/10
"The author meticulously chronicles Carlin's career, which intersected with many formative cultural trends of the '50s and '60s…Sullivan ably captures a sense of the entertainment industry at the time—glamorously competitive and fiercely insular…The author also dutifully covers Carlin's personal life…This is an apt, detailed memorial to a groundbreaking performer."

Booklist, 4/1/10
"Sullivan isn't interested in padding out his book with stand-up material. His focus is on exploring the man himself, with a sharp critical eye and a good feeling for the sociohistorical context of Carlin's comedy. An excellent account of the life and work of an important and greatly missed artist."

Publishers Weekly, 3/29/10
"In this linear summary of Carlin's career, Sullivan dissects the comedian's classic iconoclastic routines, probes his working methods and successfully captures his rocketlike ascent to fame from night clubs and the 1960s comedic cauldron of Greenwich Village to television acclaim, controversy, and creative conflicts."

Kirkus Reviews, 4/15/10
"Although volumes have been written about his contemporaries—his predecessor and mentor Lenny Bruce before him and his contemporary Richard Pryor, to name but a few—relatively little analysis has been done about the late, great George Carlin's mark on the 20th century. In his new book, journalist James Sullivan delves deep into the seven-decade history of one of America's most daring comics."

Sacramento Book Review, 5/27/10
"The book is an impressive effort…diligently researched, well-constructed, and showing great affection for the subject without ignoring Carlin's demons, missteps, or low times."

Los Angeles Magazine, June 2010
"This biography probes [George Carlin's] life and works."

Newark Star-Ledger, 6/6/10
"This portrayal, by former San Francisco Chronicle pop culture writer James Sullivan, ought to satisfy anyone who has ever laughed at a Carlin routine—and that takes in a lot of us. From his early days in Greenwich Village clubs through his epic legal battles over words you can't say on television, which he said anyway, Carlin's story is inspiring and hilarious. Sullivan correctly nails the reasons for Carlin's popularity…His spot-on judgment of Carlin's achievements is worth the read."

The A.V. Club, 6/3/10
"Offer[s] a broad overview of the formative American stand-up comic…Sullivan's light hand makes 7 Dirty Words a brisk read."

Bookslut, June 2010
"There were many iterations of Carlin's public personality, and Sullivan captures both ends of his life well in his cultural treatise."

Boston Globe, 6/10/10
"James Sullivan has done an outstanding job in his new book 7 Dirty Words positioning the late comedian George Carlin as a counterculture icon whose loathing of hypocrisy and love of language changed comedy forever…In his new biography, Sullivan manages to skillfully show us the drama of Carlin's performing career and how it blended with the larger cultural landscape."

AOL's Asylum, 6/7/10
"An engrossing tale of one of our greatest comedic minds."

Internet Review of Books, June 2010
"I can give no reason not to read 7 Dirty Words. Sullivan's book is an authoritative and well-researched chronicle of Carlin's professional career, with bits and pieces here and there devoted to his upbringing, his family, and other influences." "The Bookworm" column, June 2010"Sullivan digs deep into American entertainment circa 1950 to 1970, which means that lots of stars from a bygone era are in here: Flip Wilson, Merv Griffin, Danny Kaye, Ed Sullivan, Steve & Eydie, Lenny Bruce, and others you might not recognize if you're under 40. Still, there's enough for younger readers in this book to make it worth a peek. Be aware that Sullivan (James, that is) isn't afraid to liberally use Carlin's infamous Seven, so if profanity bothers you, pass on it. But if you can handle '7 Dirty Words,' the word you want is 'Y-E-S.'" Gene Lavanchy, Fox 25 News Boston, 6/25/10"Sullivan takes a look at the highs and lows, the up-bringing and occasional downfall of a comedy genius…It's a brilliant book, and if you love George Carlin you have to read it." Bookviews, July 2010"An inside look at Carlin's unique views as well as his personal battles with addiction, his scrapes with the law, and comedic routines that pulled back the curtain of political correctness to make audiences confront life as he saw it." New York Times, 7/9/10"It fills in and complicates our mental image of Carlin…This book gets the story told…Sullivan convincingly makes the case that for 50 years Carlin 'may well have produced more laughs than any other human being.'" Boston Phoenix, 7/2/10"Sullivan has exhaustively documented the rise of both blue jeans and James Brown, but perhaps his latest book, Seven Dirty Words, has the most to say about the evolution of American society." Salon.com, 7/16/10"Excellent…Insightful…7 Dirty Words deepens Carlin's posthumous memoir by putting his evolution in context. Sullivan deftly mixes quotes from Carlin's friends, rivals, protégés, collaborators and employers with impeccably researched overviews of trends in radio, TV, the record industry and the nightclub circuit. The result is at once an engrossing account of Carlin's life that rarely lapses into hero worship, and a highly readable survey of 20th century popular culture, stretching from the last gasp of vaudeville during the Depression through the rise of premium cable and the Internet. No matter how much you know, or think you know, about American show business, you'll still learn a lot from this book. The sections dealing with the 'dirty words' case are especially good." ForeWord, July/August 2010"Sullivan does far more than just record a period in American history when free speech was under assault. He tells the story of one of our funniest and sharpest comedic minds." Buffalo News, 7/18/10 (Editor's Choice)"Makes its own key contribution to the history of show business…Sullivan is so eloquent and lucid…A very wise and very good book." Creative Loafing Charlotte, 7/20/10
"Last year, a kind of posthumous autobiography, Last Words, was published…Now, journalist and cultural critic James Sullivan has published a more detailed look at Carlin's life, which helps fill in some of the gaps in the comedy legend's own version. Sullivan does a good job of presenting a linear rundown of the various incarnations Carlin went through in his 71 years…He's smart enough to let Carlin's story tell itself—and to put it in the context of how one man's inner growth matched the changes many people in America were going through at the same time…Sullivan's approach is that of the straightforward journalist. He doesn't pad the book with Carlin's comedy material, but instead focuses on how the man changed over the years, and how his influence grew…The author has a sharp critical eye."
Blogcritics.org, 7/28/10"Sullivan explores the life and times (crimes) of one of the most popular and controversial stand-up comedians in history…While some aspects of Carlin's material were controversial, Sullivan makes him likable…This biography is thorough, respectful, sensitive and appropriately funny!" Clark Isaacs (syndicated columnist), 7/22/10
"Sullivan is an accomplished author who is able to demonstrate how comedy changed when new faces entered the scene in the early l950s…One of the most outstanding features of this biography is the behind-the-scenes glimpses of the interrelationship between the comedians who were famous and how they would help aspiring hopefuls achieve their day in the spotlight…Sullivan has written a lasting tribute to this icon of American humor which was well researched, annotated, and most of all, entirely believable. This book is highly recommended for adults who want to have their memories refreshed about comedians of the past and present."
Under the Radar, July 2010"Follows Carlin's professional growth closely, and dwells meaningfully on the development and long-rippling effects of his comedy…Gives considerable insight into why comedians will still say, 'I'll bet Carlin would have done it.'" Book Bargains and Previews"This is really an outstanding book. It was so interesting to see how Carlin's craft developed over the years and what made him tick. This book really just solidified my opinion that he was the greatest comedic artist of our time."
 Minneapolis Star Tribune, 8/8/10"A fascinating and funny account of comedian George Carlin's career that explains his enduring contributions to American culture." Washington Times, 8/13/10
Makes a good companion piece to Carlin's posthumously published 2008 autobiography, Last Words: A Memoir…If you like/love George Carlin, you'll like/love the ride…Mr. Sullivan does a good job of citing the early influences, from Spike Jones to Bruce by way of Burns and Allen, Sid Caesar and Uncle Miltie…Mr. Sullivan wisely includes all the funny bits that Carlin loved…[A] very readable book." Reference & Research Book News, August 2010"Sullivan traces [Carlin's] tumultuous life, comedic evolution and legacy as a counterculture icon, and his role in battles over censorship that led to a landmark Supreme Court decision on broadcast indecency." Tucson Citizen, 8/27/10"This well-written biography…chronicles Carlin's life and career, from his earliest days as a struggling traditional comedian to his later years as the country's chief counterculture cynic." Charleston Post and Courier, 8/22/10"Sullivan covers all the juicy details of Carlin's rocky time in the Air Force, his decades of drug use and crusades against the 'corporation' that was Las Vegas." January, 8/19/10"[An] intimate look at Carlin's art and life…[Sullivan] delves beyond what was often an explosive public persona and brings us elements of Carlin the man. It's a rare and intimate portrait…Sullivan's portrait feels honest and his interpretations seem right on the mark." Infodad.com, 9/9/10"[Sullivan] does a good job of capturing Carlin's freewheeling style and underlying seriousness of purpose…As a book about Carlin and some of the societal issues he raised, 7 Dirty Words is, on the whole, effective." John Shelton Ivany Top 21, 10/7/10
"Provides an inside look at Carlin's unique views and his singular dedication to the perfection of his material." Magill Book Reviews
"Sullivan is particularly good at sketching the key influences that helped Carlin shape his comic style and persona."