Patience with God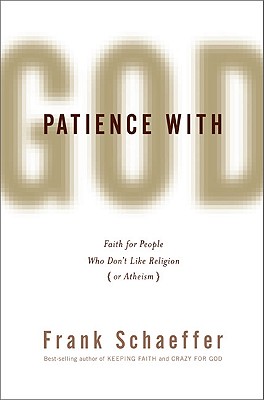 Patience with God
Faith for People Who Don't Like Religion (or Atheism)
Da Capo Press, Hardcover, 9780306818547, 256pp.
Publication Date: October 1, 2009
* Individual store prices may vary.
Buy at Local Store
Enter your zip code below to purchase from an indie close to you.
or
Not Currently Available for Direct Purchase
Description
From the bestselling and controversial author of Keeping Faith and Crazy for God, a spirited, witty, and provocative challenge to atheists and fundamentalists alike
About the Author
Frank Schaeffer is the author of the "New York Times" bestseller "Keeping Faith" and, most recently, the memoir "Crazy for God," which was featured on NPR's Fresh Air. His novels, including "Portofino," have been translated into nine languages. He and his wife, Genie, live in Massachusetts and have three children.
Praise For Patience with God…
Kirkus, 9/1/09
"A meditation on the follies of religious and atheist fundamentalism… [Schaeffer's] criticisms, buttressed by quoting his targets' own words, are on target."

Publishers Weekly, 10/12
"Schaeffer adopts a feisty tone in this essay about evangelical Christianity and aggressive atheism."

Booklist, 11/15
"[Schaeffer] suffers no one who advocates a devotion so rigid as to exclude any but the stanchest. He names names but is an equal opportunity assailant, laying into fundamentalist atheists and religious zealots alike…Make no mistake, Schaeffer is not proselytizing. He knows, or at least hopes, that with this book he is singing to the choir of millions fed up with or unable to commit to full-blown atheism or stiff-necked religion of any kind."

Internet Review of Books, October issue
"Schaeffer's voice is one among the cacophony of voices present in religious literature today. He's saying it's okay if you've never found a church to be comfortable with, and at the same time legitimizing a time-out for the exhausted religious. I enjoyed his perspective and his gentle nudge toward Christianity. It is also evident that Frank Schaeffer has led a remarkably interesting life, so the book is an enjoyable memoir as well."

ReligionandSpirituality.com, 10/20
"Schaeffer condemns the closed-minded intolerance of the Evangelical Christianity in which he was raised. This is something Frank does well, both as a storyteller and as a writer of non-fiction…This is religion that is more comfortable saying what it does not know than what it does know; this is a faith of humble, loving compassion that sustains the father who sends his son off to war, and that inspires even the hardest heart to give thanks for the beauty of a new day. It is faith for people who don't always know all the answers and who are tired of pretending they do. In short, this is my kind of religion, and I'm happy it's so well represented by as skilled and as admirable a writer as Frank Schaeffer."

Sacremento Book Review, November 2009
"A thoughtful and compelling guide for maneuvering between the twin poles of fundamentalist religion and atheism. It is a moderate approach that many people will find fits their actions and beliefs."

ForeWord, 11/11/09
"Even readers who struggle with their faith can find help from a new book, Patience with God."

Blogcritics.org, 11/8/09
"Schaeffer goes well beyond the typical pat answers of specious Christians who allude to Christianity as a 'relationship, not a religion' and deconstructs the eager certainty, venomous literalism, and widespread insincerity that taints and has since formed the mould for the modern evangelical and fundamentalist movements. Not content to merely strike at one side of the aisle, Schaeffer also volleys a fair-sized wad of equitable critique at many of the so-called New Atheists…This book is a war on the evil concept of certainty itself…Patience With God is part 'sermon' and part memoir…It is, indeed, a refreshing book and incredibly easy to read. While many atheists and religious people alike will feel targeted by Schaeffer, his is an even-handed approach that does well to strip away the childish shell of fighting over who's 'right' when the question can't be answered."

Newburyport Current MA, 11/20/09
"Schaeffer takes a hard look at the new atheists and concludes they are guilty of trafficking in the same zealous declarations of absolutes as the religious fundamentalist they so like to ridicule."

Curled Up with A Good Book, 11/15/09
"Schaeffer indulges in some personal reflections about his own relationship with God, whose presence in his life he perceives through loving relationships with his infant granddaughter Lucy, his son and his wife. He adds some reminiscences of his boarding school days in England and of the village stonemason in the Swiss village where he grew up. These vignettes, mildly interesting in their own right, deliver neat moral lessons."

BiblioBuffet.com, 11/15/09
"Schaefer tackles a lot of significant theological and philosophical issues…In short, he considers why we humans have such a great need for faith and such divergent views on what faith means…The real strength of Schaeffer's perspective, however, is not that he recognizes that there is uncertainty in faith but that he acknowledges that there is uncertainty in not having faith, too."

Captain's Blog, 11/21/09
"Schaeffer turns his eagle-eyed gaze from his religious past and focuses on the New Atheists—Dawkins, Hitchens, Harris & Dennett…Put[s] a couple of sharp, stinging whacks across the backsides of some of today's popular Christian leaders and their fear-based teachings that produce hate, hypocrisy and intolerance…Frank Schaeffer is a thoughtful and talented writer and I'm glad that he continues to share his journey with us."

starred review, Library Journal, December 2009
"Offers a hopeful vision for genuine faith in a messy, mysterious, and unexplainable world full of contradictions and paradoxes. The book effectively serves as an opening of dialog among those searching for something to hold onto, the devout but doubting members of the 'Church of Hopeful Uncertainty'…His is a humble and beautiful narrative that interweaves elements of memoir, popular theology, inspiration, and meditation. The end result is a deep and rich reflection on authentic faith in the contemporary world that focuses on how to live rather than on what to believe or not believe…Highly recommended for all general readers of religion, both believers and nonbelievers, who hunger for faith and meaning but are repelled by the polarizing exclusivity of new atheists and religious fundamentalists."

The Word, December 2009
"Schaeffer's critique, as we have come to expect, is biting, incisive, unrelenting and often humorous. He speaks as a man who has been in the belly of the beast and has lived to tell about it…Schaeffer's recent appearances on Huffington Post and MSNBC have placed him squarely in public view as a valued and original commentator on the state of American politics and an avowed nemesis of the so-called Christian Right and its step-child, the religion-haunted GOP…His honesty is both refreshing and unnerving…Schaeffer does not mince words or pull back from engaging and exposing what he sees as the simple-minded hypocrisy and arrogance with which so many have become so comfortable…Whatever one may think this is sure: Schaeffer presents the dilemma clearly and fearlessly and should not be ignored…A contemplative and often immensely moving account…Agree or disagree, Patience with God presents an alternative that we would do well to take note of. It is an Orthodox Christian appeal for sanity, compassion, tolerance and authentic spirituality."

Zoom Street magazine
"If you can relate to the subtitle here, this book has a lot to offer. It occupies a comfortable niche on the No Man's Land between Rick Warren's A Purpose Driven Life and Christopher Hitchens' God Is Not Great. It stands courageously between these two warring factions, yet doesn't wave a white flag. It levels passionate rants at both sides…Patience With God doesn't pretend to answer the great questions, but inspires us to consider them in a new light. Schaeffer's brief text manages to accomplish what few books do today: leave the reader feeling hopeful."

ReligionDispatches.org, 12/11/2009
"Through his story, Frank encourages other Christians to embark on a similar journey of self-discovery to see where God may be speaking to them these days…Patience with God serves as a powerful witness in helping turn down the white noise generated by both conservative Christians and the New Atheists, so that we can create a space to actually dialogue with each other."

Milwaukee Shepherd Express, 12/18/09
"An engagingly ardent, often humorous critique of the contemporary marketplace of bad ideas, Richard Dawkins through Rick Warren."

InfoDad.com, 12/24/09
"Schaeffer remains a preacher at heart, and in Patience with God he preaches a kind of 'middle way' that is intended to appeal equally to people dismayed by religious fundamentalism and to those fed up with the intensity and excesses of the so-called New Atheism."

Party of 1 blog, 1/24/10 "[Schaeffer's] life story, the shifts in his understanding of Christianity and of politics, and his reaction to contemporary Christianity and to atheism make for fascinating and thought-provoking reading."

South Cheatham Advocate, 11/21/09
"[A] persuasive and thought-provoking meditation…Frank and refreshingly open…Above all it makes us think and, if we have the courage for honest assessment of our own motives, open our minds to new and more inclusive directions." Midwest Book Review, May 2010"Spiritual libraries will find this revealing." Midwest Book Review, January 2010"Provides a powerful survey of polarizing forces that exist in both politics and religion." Covenant Companion, August 2010"Explores the failings of both the new atheists (Christopher Hitchens, Richard Dawkins, Sam Harris, et al.) and what he calls the evangelical/fundamentalists…Schaeffer ruthlessly exposes their inconsistencies and idiocies…He does not mince words."