Top of the Order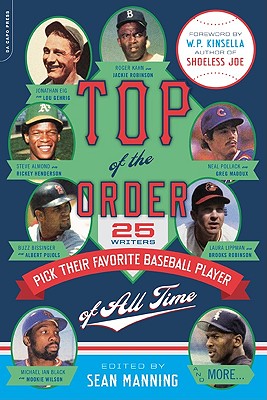 Top of the Order
25 Writers Pick Their Favorite Baseball Player of All Time
Da Capo Press, Paperback, 9780306818554, 240pp.
Publication Date: March 2, 2010
* Individual store prices may vary.
Not Currently Available for Direct Purchase
or
Shop Local
Enter your zip code below to purchase from an indie close to you.
Description
Today's top sports journalists, cultural critics, novelists, and humorists deliver memorable, never-before-published odes to their favorite baseball players
About the Author
Sean Manning is the editor of the nonfiction anthologies The Show I'll Never Forget and Rock and Roll Cage Match. He lives in New York.
Praise For Top of the Order…
Library Journal, 2/1/10
"Leading off this impressive lineup of fiction and nonfiction writers, journalists, musicians, etc., is W.P. Kinsella with a vivid foreword reminding baseball fans why they love the sport. Then the all-star contributors present their favorite ball player…On many occasions, the writer's explanation for his or her choice tells us much about the writer's own youth and subsequent career choices—thus the ultimate charm of this collection is how it tells us something about ourselves as well as our heroes."

Booklist, 4/1/10
"The profiles run the gamut from serious to whimsical; virtually all expose an element of baseball's quirky, often irrational fandom. Great fun for fans, who will be inspired to examine their own fond feelings for that over-the-hill middle reliever on the downside of a mediocre career."

BiblioBuffet.com, 3/21/10
"A wonderful addition to the baseball library…Twenty-five beautifully written, memory-evoking and all around gripping reminiscences of the players that have touched our lives…Features a diverse array of contributors…The selections of the writers is at times obvious and at other times idiosyncratic but that is one of the reasons Top of the Order is so special…The contributors to Top of the Order have been inspired to deliver some of the finest sports writing that I have read in recent years—and often from contributors who would not be considered 'sports writers.' Not just because the writing is beautiful, but because it resonates powerfully with the reader; it is as if the writers and the reader share a common past and common memories—the common ground of being fans of the sport…Each of the selections will evoke memories in the true baseball fan."

Boston Globe "A Reading Life" column, 4/4/10
"'Favorite,' unlike 'greatest,' covers a multitude of sins and allows for personal reflection which is what this book…is all about."
New York Post "Required Reading" column, 4/4/10
"A delightful reminder of why we love baseball. Top of the Order gets to players' quirks—what makes them individuals in a team game."

Louisville Courier-Journal, 4/3/10 and Newark Star-Ledger, 4/4/10
"Some writers chose the greats: Roger Kahn, a great himself, actually manages to find something new to say about Jackie Robinson. Some selections are quirky: actor and screenwriter Michael Ian Black chooses former Mets outfielder Mookie Wilson, inspired by a visit Mookie made to Black's hometown of Hillsboro, N.J., when Black was 11…Others, like editor Sean Manning's own choice, Michael Jordan—yes, that Michael Jordan, the great basketball player and mediocre minor leaguer—are so out of left field as to inspire awe."

Deseret News, 4/3/10
"An entertaining collection of writings that baseball fans will thoroughly enjoy."

Bookviews.com, April 2010
"Fun reading…Between its covers you will find some unusual choices among the writers who include singers, comedians and film critics. Their enthusiasm for those whom they think are the best players of a game is contagious and reveals why baseball continues to hold a place in the heart for many Americans."

Ron Kaplan's Baseball Bookshelf blog, 4/1/10
"There's an eclectic group of contributors here…Some essays cover foreign players and some aren't even real. Some are Hall of Famers, while others aren't exactly household names and one didn't even make it as a pro. But these players have one thing in common: for whatever reason, they were someone's favorite. The heart wants what the heart wants; there's not always a logical explanation."

Corduroy Books website, 4/6/10
"It's a hell of a book, funny and fast…Are there misses? Reader, please: I'm not gonna subject you to a baseball metaphor or anything (not every hit can be a homer; not every game can be a winner, etc. until blech), but yes, there are misses. More often, however, there's that great, great moment, that best term from both baseball and books: connect. There's contact made."

Sacramento/San Francisco Book Review, April 2010
"Top of the Order differentiates itself from the standard yearly crop of baseball biographies and statistical treatises by being a collection of essays…[A] wide range of contributing authors."

Heeb magazine
"Top of the Order is the early favorite for our Best Book of 5770."

CurledUp.com, 4/21/10
"Some of the players chosen are surprising, some not, but the real fun of Top of the Order comes from reading how and why these particular players were chosen…There is something in Top of the Order for everyone, even non-fans of the game." 

InternetReviewofBooks.com, April 2010
"If you're looking to gear up for the season, try Top of the Order, a nice collection of essays on favorite players…It's a lot of fun to learn a little about each of the favorites and why that particular player strikes a chord with the writer. Each essay is a nice bite-size piece of history in a sport that is nothing if not rich in history…The Top of the Order writers deliver the goods…Overall, Top of the Order is a good book for any baseball fan, casual or die-hard. There's a little something in it for everybody."

Tucson Citizen, 4/14/10
"The essays chosen for this collection help define what it means to be beset by that strange, incurable condition known as baseball fandom. This isn't just a book about RBIs or out-of-the-park homeruns but rather a tribute to the pitchers, catchers, and sluggers who connected with the hearts of their fans."

Asbury Park Press, 5/2/10
"You may—or you may not—know all of the 25 writers here, but if you're a fan of America's pastime, you're undoubtedly familiar with the names of the famed players."

Largehearted Boy, 4/29/10
"Baseball fans build their own personal relationship with the game and its players, and these relationships are portrayed exceptionally well in Top of the Order…Sean Manning has brought together a stellar group of writers, journalists, musicians, and entertainers, and each shares a story of a ballplayer who has touched their life."

Farther off the Wall, 4/14/10
"There's only 25 who made this first one. We'd love to see another 25 write their essays next year, and 25 more the year after." 

InfoDad.com, 5/6/10
"Devoted baseball fans will surely have their favorite players—and Top of the Order gives readers a chance to compare their picks with those of 25 writers...These 25 writers, making 25 choices, offer readers far more than 25 chances to argue, debate, agree, complain and then, hopefully, return to real-life pursuits."

BaseballAmerica.com, 5/12/10
"The concept of Top of the Order is a good one…[An] eclectic roster of writers."

ForeWord, 5/20/10
"Manning has assembled an eclectic group…All these different 'flavors' merely add to the enjoyment and will no doubt make the reader reflect on his or her own off-beat favorite."

AmericanProfile, 6/6/10
"Essays ranging from whimsical to weighty. The delicious diversity of the voices and the choices makes this a home run for baseball fans of all ages and affiliations, pop-culture junkies and anyone else who has ever fallen under the spell of America's favorite summertime sport."

Roanoke Times, 6/6/10
"The choices are surprising, and the essayists' reasons for loving them are delightful…You won't read about Babe Ruth, Hank Aaron, Ted Williams or Joe DiMaggio in this book. But you'll discover that even players who never won a World Series ring somehow managed to win a place in some fan's heart."

TheMorningNews.org, 6/9/10
"Some surprising inclusions."

Asbury Park Press, 6/13/10
"The contributors—not all sports writers—and the players they have chosen constitute an eclectic gathering…The well-told stories—fun in some cases and moving in others—illustrate once again the literary potential of the team sport that is most absorbed in the triumphs and failures of the individual player." Oxford American, 8/3/10"The majority of entries…are illuminating…A bonus in a collection of this sort is the unplanned way in which the views of authors converse or even debate one another…Stellar writers…What I got from this book was how unfair our feelings of both love and hate can be—there can be poor reasoning behind both. I also got from this book the quiet and self-reflection that wise writing can lead to." Acadiana LifeStyle, November 2010"Baseball fans will…find a lot to enjoy."
Bookgasm.com, 11/11/10"Sean Manning does a great job as editor pulling together some very fine writers to contribute some really excellent short essays on baseball players and what it all means to the writers as fans…This book [is] in the upper tier of sportswriting anthologies."