Living Downstream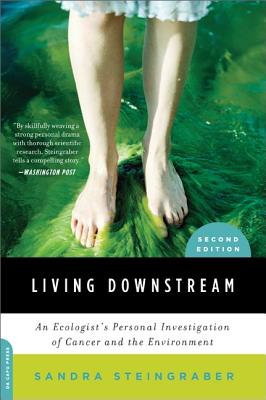 Living Downstream
An Ecologist's Personal Investigation of Cancer and the Environment
Merloyd Lawrence Books, Paperback, 9780306818691, 414pp.
Publication Date: March 23, 2010
* Individual store prices may vary.
Buy at Local Store
Enter your zip code below to purchase from an indie close to you.
or
Buy Here
Description
The first edition of "Living Downstream"an exquisite blend of precise science and engaging narrativeset a new standard for scientific writing. Poet, biologist, and cancer survivor, Steingraber uses all three kinds of experience to investigate the links between cancer and environmental toxins.
The updated science in this exciting new edition strengthens the case for banning poisons now pervasive in our air, our food, and our bodies. Because synthetic chemicals linked to cancer come mostly from petroleum and coal, Steingraber shows that investing in green energy also helps prevent cancer. Saving the planet becomes a matter of saving ourselves and an issue of human rights. A documentary film based on the book will coincide with publication.
About the Author
Sandra Steingraber, Ph.D., received her doctorate in biology from the University of Michigan and taught for several years at Columbia College, Chicago. Recently, she briefed U.N. delegates in Geneva on breast milk contamination. She is currently on the faculty at Cornell University.
Praise For Living Downstream…
The Sun, January 2009
"Steingraber's ability to meld literary prose with complex scientific information has made her a best-selling author. Like her hero Rachel Carson, whose 1962 book Silent Spring led to the ban on the pesticide DDT and kick-started the grass-roots environmental movement, Steingraber somehow finds language beautiful and compelling enough to seduce readers to sit through a science lesson."

The Ithacan, 2/12/10
"Jeff Cohen, director of the Park Center for Independent Media, said that Steingraber's expertise in writing and biology as well as her personal experience created an unbelievable combination. 'What she's brilliant at—almost in a league of her own—is mixing personal passionate stories with totally comprehensive and accurate science,' he said. 'It's not easy to do, it's not easy to make complex scientific issues interesting, but no one does it better than Sandra Steingraber.'"

TheSmartMama.com, 3/6/10
"I thought I would talk about two of the books that most moved me to do more, to do better, to live a less toxic life. The first is Rachel Carson's Silent Spring and the second is Sandra Steingraber's incredibly powerful Living Downstream: An Ecologist's Personal Investigation of Cancer and the Environment …Why these two books? Because they point out something very, very telling about the link between the lives we live and the cancers we get."

The Maine Organic Farmer & Gardener, Spring 2010
"Steingraber presents a clear, cogent and convincing case for the environmental roots of cancer."

Gaia Fitness blog, 3/11/10
"Living Downstream is a very well-written book by Sandra Steingraber about the status of the world in which we live and it's affects on our lives. If you haven't read it, I highly recommend picking it up. It will likely give you a whole new perspective on the health of our world and us."

Ithaca Journal, 4/2/10
"A part-memoir/part-scientific treatise about her battles with cancer, and the environmental roots of many cancers."

Ithaca Times, 3/31/10
"Part analysis and presentation of available scientific information on the links between cancer and the environment and part memoir."

Tuscon Citizen, 4/20/10
"In this second edition of a contemporary classic, Steingraber, a cancer survivor, biologist, and mother, builds a convincing case that many cancers can be prevented through environmental change…This spare, beautifully written book, originally published in 1997, presents a passionate, hopeful view, asserting that it's a good thing that the environment has such influence over cancer because, she insists, we can do something about it."

InfoDad.com, 4/29/10
"A book with a strong personal as well as societal orientation…The book's language is more plainspoken and thus more accessible than that of many other books warning of environmental hazards."

Energy Times, May 2010
"Beautifully written, Living Downstream blends [Steingraber's] own tale—a cancer diagnosis at age 20—with an environmental detective story…If you've ever wondered about the link between pollution and cancer, read Living Downstream."

Ms., Spring 2010
"In the film, as well as in her memoir of the same title, Steingraber moves to break the silence about chemical carcinogens by doing what Rachel Carson couldn't: use her own diagnosis to prove a scientific point."

Toronto Star, 5/19/10
"Ecologist Sandra Steingraber is the Rachel Carson of the new millennium": "A personal and scientific inquiry… They call her the poet laureate of the environmental health movement."

Utne Reader, 5/26/10
"One of the things I like most about ecologist Sandra Steingraber's writing is her ability to express big, substantive ideas with clarity, simplicity, and resolve."

Lab Matters, Spring 2010
"This book explores the issue objectively, with a unique perspective and honest voice."

Feminist Review, 6/9/10
"Steingraber makes some compelling arguments in favor of the precautionary principle, or the better-safe-than-sorry approach to chemicals…[She] has the expertise in science to give her the necessary authority to present an investigation of this scope and the impeccable writing to make it accessible to a wide audience. Although some environmental texts can be dry, Steingraber's writing and personal story make for a compelling read. Her drive and commitment to finding the missing pieces of the cancer jigsaw puzzle are humbling…In short, if you have ever thought that the environment may have played a role in the death of a loved one and would like to know more, this is the book for you."

SciTech Book News, June 2010
"In this compelling book, Steingraber uses her experience as a poet, a biologist, and a cancer survivor to lay out a persuasive case for the linkage between cancer and environmental toxins. Weaving scientific investigation with her own family's history, she shows how the increased incidence of cancer in the rural areas of her native Illinois (and in similar communities nationwide) has gone hand-in-hand with increased levels of human-caused poisons in the environment." Taste For Life, July 2010"This beautifully written, updated edition of a contemporary classic is even more compelling than the original." Bitch, October 2010"Steingraber has a style that combines lyrical anecdotes with statistics and research." Pacific Sun, 10/15/10
"Sandra Steingraber is our modern-day Rachel Carson." Chicago's WGN TV website, 10/19/10"The first edition of Living Downstream—an exquisite blend of precise science and engaging narrative—set a new standard for scientific writing…The updated science in this exciting new edition strengthens the case for banning poisons now pervasive in our air, our food, and our bodies. Because synthetic chemicals linked to cancer come mostly from petroleum and coal, Steingraber shows that investing in green energy also helps prevent cancer. Saving the planet becomes a matter of saving ourselves and an issue of human rights." Curve, December 2010"[A] gorgeous blend of science and personal narrative…[Steingraber's] new edition strengthens the case for banning poisons now pervasive in our air, our food and our bodies." Herizons, Fall 2010"A contemporary classic…Steingraber invites readers into the world of science, data and analysis with language and imagery that is not only accessible to the non-scientist but engaging, even inspiring in its lyricism." Utne Reader's, November/December 2010"Steingraber makes a passionate and lyrical case for eliminating carcinogens, which are ubiquitous in our environment." Thry'vors News, Winter 2010
"A wonder to read…As an American scientist and cancer survivor, Steingraber's courage and empathy shine through the deeply personal portions of her book…Tremendously moving…The poet in her makes the reading of her scientific documentation easier to grasp and a pleasure to read. Her ability to personalize and humanize the disease, whilst discussing epidemiological research, is humbling…Her ability to explain cancer and how it wreaks havoc in cells and bodies in clear and gentle language is awesome." Ms., Spring 2011
"Not since 1962, when [Rachel] Carson courageously challenged the chemical industry in Silent Spring, has a scientist woven so much revelation and research together with such gorgeous and persuasive prose."
Alternatives Journal (Canada) "A deep and wide-ranging examination…Steingraber's greatest gift is her ability to weave together personal narrative and scientific information…Elegantly written and well-researched."
InfoDad.com, 4/29/10
A book with a strong personal as well as societal orientationThe book's language is more plainspoken and thus more accessible than that of many other books warning of environmental hazards."