Becoming Jimi Hendrix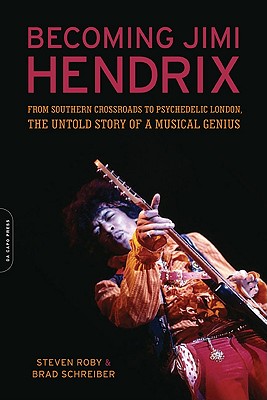 Becoming Jimi Hendrix
From Southern Crossroads to Psychedelic London, the Untold Story of a Musical Genius
Da Capo Press, Paperback, 9780306819100, 274pp.
Publication Date: August 31, 2010
* Individual store prices may vary.
Buy at Local Store
Enter your zip code below to purchase from an indie close to you.
or
Buy Here
Description
The first in-depth biography of the formative years of the greatest electric guitarist of all time, with 25 rare photos, complete sessionography, and tour itinerary
Praise For Becoming Jimi Hendrix…
New York Times Book Review, 10/17/10
"Hendrix's career as a superstar has been well chronicled; the more interesting details of how he became one are told here…[Becoming Jimi Hendrix] makes a case for the preparation that every originator should go through: follow your passion obsessively, so that when you encounter the person or thing that will change your life, you'll be ready."
Steve Coates, New York Times, 10/15/10
"It's a fascinating book for the story it tells, but I would pay the cover price just for its amazing photographs."
Rolling Stone, 8/19/10
3 ½ out of 4 stars "Most important, the book shows how Greenwich Village was crucial to Hendrix's 1966 breakthrough: With Harlem unable to hold him, MacDougal Street provides the launching pad for Hendrix's psychedelic genius."
Classic Rock (UK), September 2010
"[A] unique and fascinating book…The most thorough account yet seen of the years during which a shy, spacey, chronically untogether young guitarist learned his craft…Tells us more, and more deeply, than any previous volume about exactly what went into his Becoming Jimi Hendrix." (9 out of 10 stars) 
Booklist, 9/15/10
"An insightful look at an iconic star." 
L.A. Weekly, 9/23
"A crucial rock bio." 
Chicago Sun-Times, 9/19
"Steven Roby and Brad Schreiber's assiduously reported work illuminates the evolution of Hendrix from self-taught amateur to the guitar paragon whose stylings remain a rock hallmark… [They] seem to have tracked down almost everybody who crossed paths with Hendrix… [and] are to be thanked for a comprehensive bibliography, recommended listening, a sessionography including discography and TV appearances, and a chronology of 1961-1966 tours and events." 
Wolfgang's Vault, Ben Fong-Torres

"A well-researched book loaded with great stories."  
Mojo, November 2010
"One of the most intelligent and revealing biographies of an unsurpassable giant." 
San Francisco Chronicle, 10/04/10
"A compelling account of an artist whose idiosyncrasies earned him both respect and scorn in the black music establishment and eternal superstardom in the rock arena…Roby and Schreiber provide an insightful account of an artist who perceived his craft differently from any guitarist before or since, and who finally aligned the rock world with that perception, but never fully reaped the rewards of his efforts."

JimPress, September 2010
"If you read only one new Hendrix book this year, make it this one...You will still be drawn in and fascinated to hear how Jimi became the showman and musician that he did." 
Internet Review of Books, 10/29/10
"A must read for hard-core Hendrix fans." 
Popmatters.com, 11/11/10
"The first major fleshing out of the formative period during which Hendrix discovered not only who he was, but who he wasn't…Roby and Schreiber document a remarkably busy and pivotal stretch in Hendrix's career and life. Their digging through files, interviews and news clippings puts meat on the bones of his pre-fame chronology."

TheRoot.com, 11/4/10

"For a reader's first exploration into Hendrix's early years, Steven Roby and Brad Schreiber's well-researched book provides a solid start… What this book does well is bring a legend down to earth, if only so that readers can, 40 years after his untimely passing, better understand from whence he came." 
Houston Press ("Get Lit" blog), 11/22/10
"The authors contribute plenty of valuable and insightful stories about the music, moods, and outlook of perhaps rock's most inventive guitarist." 
Waterbury Sunday Republican, 12/5/10

"A worthy addition to the growing shelf of books on the man who redefined the role of electric guitar in rock music."
Curled Up with a Good Book, 12/21/10
"For hardcore Hendrix fans, it's worth reading."
Blues Revue, February 2011
"Stories about the chitlin' circuit experiences, about losing head cutting contests in Nashville to Johnny Jones, about not getting paid, and of course, about the young women who helped the sometimes-homeless Jimi to survive make this book come alive. The 25 black-and-white photographs offered here are fantastic and most of them never seen before…A very enjoyable book." 
Midwest Book Review, January 2011

"A key acquisition of any rock music history holding."  
Examiner.com, 2/9/11
"Well-written and chock full of the kind of new information and original interviews that make it a joy (and even a relief, given the regurgitated nature of so many recent books on Hendrix) to a Jimi-obsessive."

LosingToday.com, 5/22/11

"Well researched and well written, and the authors do a tremendous job of bringing both the subject and the era back to life for a whole new generation. Highly recommended."
Midnight to Six blog, 12/25/11
"While everyone knows the Hendrix that was the leading guitar player during the psychedelic era, most are unfamiliar with how he got there, and that's why this book is so valuable. The authors paint a very vivid picture of Hendrix's years of poverty as he bounced around from gig to gig, backing some of the day's top R&B stars (don't miss the wild stories from his stint in Little Richard's band!), while trying to find a way to get into the spotlight on his own merits…
Becoming Jimi Hendrix
is both well researched and well written, and the authors do a tremendous job of bringing both the subject and the era back to life for a whole new generation. Highly recommended."