The Quotable Hitchens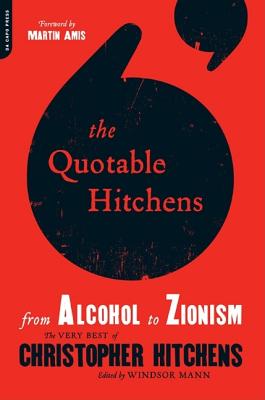 The Quotable Hitchens
From Alcohol to Zionism: The Very Best of Christopher Hitchens
Da Capo Press, Paperback, 9780306819582, 332pp.
Publication Date: May 10, 2011
* Individual store prices may vary.
Buy Now
or
Shop Local
Enter your zip code below to purchase from an indie close to you.
Description
A compendium of never-before-collected quotations from #1 New York Times-bestselling author Christopher Hitchens on hundreds of subjects
About the Author
Christopher Hitchens (1949-2011) is the author of God Is Not Great, Hitch-22, and Why Orwell Matters.



Enfant terrible des lettres britanniques, Martin Amis s est taille une reputation de romanciersulfureux, passe maitre dans l art de questionner notre morale et les exces de l Occident. Satiristepostmoderne, expert en usage de l ironie, de l humour et de la fantaisie, il est l auteur dedouze romans, sept essais et deux recueils de nouvelles. Le Times l a designe comme l un desplus grands ecrivains anglais depuis 1945
Praise For The Quotable Hitchens…
Vanity Fair, May 2011
"Quotable Hitchens presents a cavalcade of Vanity Fair's notorious provocateur-in-chief Christopher Hitchens's finest flaming arrows, mud balls, and political grenades."
Times Literary Supplement, UK, 3/18/11

"Without troubling to do the research, you could safely say that Hitchens, formerly the
TLS's
American correspondent, has a view on everything. Now you
can
do the research." 
Kirkus Reviews, 5/10/11
"The most memorable of Hitchens' work in an alphabetized guide to all things Hitch." 
New York Journal of Books, 5/10/11
"The book is great fun, whether sampled by dipping in or swallowed whole and digested slowly, as a snake might do…
The Quotable Hitchens
is and will remain an excellent means by which those of us who have long valued his work can celebrate it at a moment's notice and those new to his work now have a new source of material for their Facebook Page or for emblazoning on T-shirts." 
Hudson Valley News, 5/14/11
"A nice book for the bedside table—my copy is already getting dog- eared…The most scathing, inflammatory, hilarious and (fill in the blank) commentaries on life in all its manifestations." 
Forbes Magazine, 6/2/11
 "[O]ne of those books that you plan to devote five minutes to but end up burning two hours. It's a perfect summer read—you can pick it up and put it down as you quaff martinis and roll around the beach like Deborah Kerr and Burt Lancaster in
From Here to Eternity.
" 
The Economist, 6/1/11
 "[T]his book is a gleeful array of biting quips, twisty barbs and some disarmingly well-turned phrases….the book is amusing, and a poignant reminder of the man's rare talents." 
Buffalo News, 5/29/11
"[S]plendiferous compendium of Hitchens." 
Washington Times, 5/24/11
 "At first glance, the book reminds one of
Bartlett's Familiar Quotations
, but this volume is something more personal, more outre and more funny. Smartly organized by subject, it is a book to be enjoyed both as a long visit with the incomparable social critic and as a quick reference." 
Los Angeles Times, 5/22/11
"A collection of gem-like insights pared from the public intellectual and author's many books and other writings." 
New Statesman, 5/23/11

"It often seems as if Christopher Hitchens has spent his life writing and speaking with a collection such as this in mind." 
PopMatters.com, 6/12/11
"Over 300 pages of…verbal gold…Anyone interested in the art of turning a good phrase in the English language will want to give this volume a look." 
American Thinker, 6/13/11
"It's a stimulant to the mind and a tonic to the spirit. Anthony Weiner should read it…while in rehab." 
Word magazine (UK), July 2011

"Slings, arrows, withering one-liners—the immaculate quotes of Christopher Hitchens have been fondly anthologized…
The Quotable Hitchens
[is] a 300-odd-page chrestomathy of provocation, comedy and-all seeing fury."
Los Angeles Times, 7/7/11
"It makes for easy reading or perusing. Hitchens devotees will be most rewarded. But others, particularly curious types who haven't paid Hitchens much attention, can treat the book as a tip sheet."
Johannesburg Times, 7/18/11
"Look out for The Quotable Hitchens: From Alcohol to Zionism…which does what it says on the box."
American History, October 2011

"[Hitchens is] charming, inflammatory, brilliant, and abrasive."
The Economist (blog) "A display of the highest order of the potency and salability of pithiness…A gleeful array of biting quips, twisty barbs and some disarmingly well-turned phrases."