Summer of '68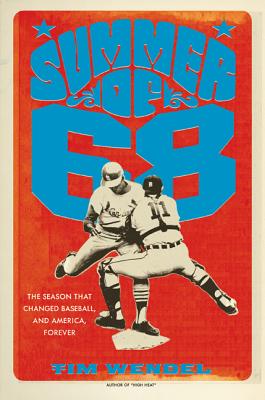 Summer of '68
The Season That Changed Baseball--And America--Forever
Da Capo Press, Hardcover, 9780306820182, 272pp.
Publication Date: March 13, 2012
* Individual store prices may vary.
Buy at Local Store
Enter your zip code below to purchase from an indie close to you.
or
Not Currently Available for Direct Purchase
Description
The extraordinary story of the 1968 baseball season--when the game was played to perfection even as the country was being pulled apart at the seams 
About the Author
Tim Wendel is an award-winning journalist and the author of Castro's Curveball, a novel about baseball in Cuba. Wendel is one of the founders of USA Today Baseball Weekly, where he served as an editor and writer. He teaches at Johns Hopkins University and lives, in Vienna, Virginia.
Praise For Summer of '68…
Ken Burns, filmmaker, creator of the Emmy Award–winning documentary series Baseball
"As always, Tim Wendel gets to the heart of this game and the complicated republic it so precisely mirrors."
David Maraniss, author of Clemente and When Pride Still Mattered
"Summer of '68 captivated me from the get-go: I was eighteen that summer, reeling from the chaos of an unforgettable year, awestruck by the ferocious beauty of Bob Gibson, rooting for Willie Horton and the Tigers from the city of my birth. Cheers to Tim Wendel for bringing it all back so vividly."
Hampton Sides, author of Hellhound on His Trail
"A year of great convulsion and heartbreak, 1968 was the closest we've come to a national nervous breakdown since the Civil War. But as Tim Wendel so deftly captures in this fine book, it was also a year when baseball soothed and thrilled us—and urgently reminded us why it's called the 'national pastime.'"
Tom Stanton, author of The Final Season and Ty and The Babe
"No book better captures how in 1968 sports changed America—and vice versa. In splendid fashion, Tim Wendel takes us on a rollicking journey through an unparalleled year of tumult, tragedy, and, too, joy. Summer of '68 reads like a novel brimming with surprising action, colorful characters, and fresh insights. I enjoyed every page."
John Thorn, Official Historian of Major League Baseball and author of Baseball in the Garden of Eden
"It seems like only yesterday when both our nation and its pastime seemed in mortal peril. Tim Wendel's Summer of '68 brilliantly evokes the glories and the grim realities of that time, when America and baseball came to a crossroads, and emerged for the better on the other side."
Library Journal, 2/1/12
"Wendel has interviewed many of the key participants to bring this crucial year to life. Transcending baseball history alone, this is recommended for baseball fans and students of the era."
Kirkus Reviews, 2/15/12
"[Wendel] charts the thrilling Series game by game. More intriguing, though, is the season's unique backdrop: the 'Year of the Pitcher' in baseball and the national turmoil surrounding the sports world…An appealing mix of baseball and cultural history." 
Publishers Weekly, 2/20/12
"Wendel mines one of baseball's more absorbing episodes in this rich chronicle of the 1968 season. It's a sociologically resonant account…Wendel provides telling color commentary…and sharp analyses of on-field strategizing and play-by-play." 
Cardial70.com, 2/6/12

"Wendel doesn't disappoint in
Summer of '68
…especially if you are a fan of the pitching side of the game…this is going to be a book that you are going to want on your bookshelf if you are a fan of baseball history in general or Cardinal history in specific.  It's a quick and entertaining read and one that you'll probably come back to time and time again." 
Relaxed Fit e-zine, 2/22/12

"A well-written, fast moving book…It would be useful for those who did not live through The Sixties to take a look back; it is useful for those of us who did to be reminded." 
PopMatters.com, 3/16/12
"[Wendel] tells the story…with verve, in the familiar cadences found in sports journalism. While the details of most of this book will understandably appeal to baseball fans, the added angle of how teams and players faced unrest in their own cities, and how they contended with each other on teams as well as on the field against their rivals, enriches this presentation." 
Niagara Gazette, 3/8/12
"A masterwork of sports sociology." 
Gazalapalooza(blog), 3/14/12

"Much more than strictly a book about the momentous baseball season of 1968. It's really a thoughtful and intriguing book about our whole world during that tumultuous year, and how the pivotal social, cultural and political events inside sports and out in 1968 echo loudly to this very day…An excellent and gripping true story."  
Seamheads.com, 3/20/12

"In 1968 baseball's golden era…went out with the bang of Bob Gibson and Mickey Lolich fighting it out in one of the great pitching duels ever, one that played out in the final game game of the '68 World Series…Tim Wendel's new book does that watershed moment justice and I found it deeply affecting…There are those rare occasions when sweeping change to the wider world walks in tandem with baseball, as it did in 1968. Tim Wendel's book captures the spirit of those times, the way that great players were humbled by the loss of their own heroes, how they recovered–as did the nation–and how they gained new strength to achieve greatness and walk away winners."
Booklist, 4/15/12
"Wendel details a terrific World Series…and he brings into relief the players, influenced by the political climate or not, who had a profound impact on the game."
Tampa Tribune, 3/26/12
"Wendel does a masterful job of putting sports and politics in their proper perspective…Wendel catches all the emotions of 1968 and has written a book that is as memorable as the year he chronicles." 
Redbird Rants (website), 3/26/12

"A must read for Cardinals' and baseball fans alike." 
USAToday.com, 4/5/12
"[From] a dugout's worth of new books about baseball…[one] of this season's most promising literary prospects…A look back at 1968, the year of political assassinations, urban riots and a classic World Series." 
New York Post, 4/1/12
 "Wendel shows that baseball really is part of the fabric of America." 
St. Louis Post-Dispatch, 4/1/12
"Cardinals fans who want to revisit the team's collapse and loss against the Tigers in the World Series will probably appreciate Wendel's detailed description in
Summer of '68
." 
Cleveland Sunday Plain Dealer, 4/1/12
"[Wendel] astutely marks this summer as a landmark year for baseball—the game, like the country, would be forever changed." 
San Antonio Express-News, 4/2/12
"Nostalgic, sure, but never sentimental or sappy, Wendel…sets a grand stage for a crucial year in sports, and produces an engaging, well-researched book that baseball fans can breeze through easily…If you miss players like Lou Brock and Luis Tiant,
Summer of '68
will remind you why." 
Milwaukee Sunday Journal Sentinel, 4/1/12
"Engaging…Bring[s] the season alive." 
San Diego Union-Tribune, 4/1/12
"
Summer of '68
shows that imperfect men can approach baseball perfection…Wendel recounts this matchless season with verve and you-are-there immediacy." 
Grand Rapids Press, 4/4/12
"A welcome memoir of a year the Tigers won the World Series while the world fell apart." 
Detroit Metro Times, 4/4/12
"[Wendel's] writing flows and it's an easy read…He nails what's best about the sport." 
Blogcritics.org, 4/3/12
"Wendel's analysis of the existing literature, newsreels, and his player interviews from that season give readers a taste of the turbulence while keeping the reader interested and turning pages." 
BleacherReport.com, 3/11/12
"A look back at one specific baseball season and the events in the culture surrounding it."
Shelf Awareness, 4/13
"A mesmerizing story."
Metro New York, 4/10
"If you're looking for the combination of the greatest year of baseball and most incendiary in American culture, here's your winner." 
Houston Chronicle, 4/8
"Wendel is one of the best baseball book writers…In
Summer of '68
he has a great subject…Wendel does a fine job of relating the tensions that were coursing through baseball at the time, set against the backdrop of national and international turmoil." 
BaseballReflections.com, 4/2
"Wendel meticulously tells the story of many of the players from both squads giving the reader a comprehensive understanding of how the 1968 Series came to be from many different perspectives…The extensive research that Wendel must have done in order to get the insight and perspective shared in this book is evident on every page. Even people who don't know much about baseball history may come off as an expert on this season after reading this book." 
New York Journal of Books
"Not only the story about the 1968 Major League Baseball season, but also a meticulous history lesson outlining the dawning of a new age in baseball—and in American history…Mr. Wendel engagingly presents the facts of what was a game-changing year in American history for baseball, but most importantly for the citizens of America who could see there was a wrong to right—and it was up to us to achieve that change." 
Detroit Free Press, 4/15/12
"[Wendel is] a passionate fan with the skill of a reporter…
Summer of '68
isn't a book about Detroit; it is bigger than that. But that year, the story of Tigers baseball resonated beyond the city's borders. Wendel ably captures both how, and why, it mattered so much." 
Lansing City Pulse, 4/11/12
"Wendel's book serves as a testament to a team that is credited with holding a city together and giving its residents something to cheer about after the devastating 1967 riots…Wendell also makes the case that the 1968 series represented the last pure games of baseball in a time before league playoffs and wild-card spots." 
Tonawanda News, 4/15/12
"The year 1968 was the bellwether for a lot of things, including baseball's dominance over football and society's admission that serious changes were in the wind. Wendel addresses it well." 
American Profile, 4/28/12
"This riveting account masterfully weaves the social turbulence of 1968 into a narrative of one of the game's most memorable seasons." 
McClatchy-Tribune News Service, 4/26/12
"Wendel is a master storyteller…Wendel skillfully ties the baseball season to domestic events." 
Savannah Morning News, 4/18/12
"The story of one baseball season and the players that made it fantastic, even as the world seemed to be falling apart around the field." 
Charleston Post and Courier, 4/15/12
"Wendel consistently gets to the heart of a changing world." 
Bookviews (blog), May 2012
"Wendel captures the spirit of the time and weaves together the stories of the year's events, the teams and players in a thoroughly entertaining fashion; particularly for anyone who loves the game. This book demonstrates the deep connection between the nation and its national game." 
Bookgasm.com, 4/30/12

"An exciting look at the year in MLB…There is real value here. It's instructive to learn what players of the time thought about historical and newsworthy events, and how some even had first-hand participation…If you're a baseball fan who remembers the glory days of Bob Gibson's frightening stare, the showbiz glitz of Denny McLain, the time when a manager could actually be named Mayo Smith, then you should enjoy
Summer of '68
."
SpliceToday.com, 5/10/12
"A splendid, cross-generational book that can satisfy not only the duffers who remember that year like it was yesterday, but also young and inquisitive baseball fans and history students."
Memphis Commercial Appeal, 5/12/12

"A wonderful book…[that] vividly recalls both a classic seven-game World Series and the political and social events that surrounded it." 
WomanAroundTown.com, 5/10/12

"Wendel does a masterful job of relating all the extraordinary events that year through baseball…Buy this book now, and next time you need a gift for that baseball nut in your life, you'll have it ready to give." 
Iron Mountain Daily News, 5/26/12
"Delivers a brilliant summary of that tumultuous year in America…Plenty of good information here for sports fans and historians." 
"The Bookworm Sez" nationally syndicated column

"[A] story of one baseball season and the players that made it fantastic, even as the world seemed to be falling apart…[A] home run!" 
Iron Mountain Daily News, 5/29/12

"In detailing how this season was more memorable than perhaps any other,
Summer of '68
illustrates the deep connection between America and its national game." 
NY Sports Day, 6/9/12
"One of the best baseball books that I have read in a long time…Wendel nicely weaves in the Mexico City Olympics, the terrific seven-game World Series played between the Cardinals and the Tigers, and the political upheavals going on in America in a seamless way that never seems forced." 
Reference and Research Book News, June 2012
"An historical account of a dramatic year for major league baseball."

Ogden Standard Examiner, 6/14/12
"A chronicle of that splendid season in that tumultuous time of tension and transformation…This is one of those rare baseball books in which figures as diverse as Bill Russell, Joe Namath and Tom Hayden march through its pages. The year 1968 marks us still, and Tim Wendel has reminded us why."
Tiger Stripes, April 2012
"Utterly involving…[Wendel] makes every word work….[He] left no stone unturned in his research."

Baseball America, 9/7/12
"An ambitious account of the unforgettable year."