Dog Company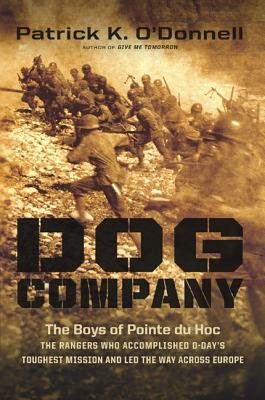 Dog Company
The Boys of Pointe Du Hoc--The Rangers Who Accomplished D-Day's Toughest Mission and Led the Way Across Europe
Da Capo Press, Hardcover, 9780306820298, 305pp.
Publication Date: November 6, 2012
* Individual store prices may vary.
Buy at Local Store
Enter your zip code below to purchase from an indie close to you.
or
Not Currently Available for Direct Purchase
Description

An epic World War II story of valor, sacrifice, and the Rangers who led the way to victory in Europe
It is said that the right man in the right place at the right time can make the difference between victory and defeat. This is the dramatic story of sixty-eight soldiers of the U.S. Army's 2nd Ranger Battalion, D Company Dog Company who made that difference, time and again.
From D-Day, when German guns atop Pointe du Hoc threatened the Allied landings and the men of Dog Company scaled the ninety-foot cliffs to destroy them; to the thickly forested slopes of Hill 400, in Germany's Hurtgen Forest, where the Rangers launched a desperate bayonet charge across an open field, captured the crucial hill, and held it against all odds. In each battle, the men of Dog Company made the difference.
"Dog Company" is their unforgettable story thoroughly researched and vividly told by acclaimed combat historian Patrick K. O Donnell a story of extraordinary bravery, courage, and determination. America had many heroes in World War II, but few can say that, but for them, the course of the war may have been very different. The right men, in the right place, at the right time Dog Company.

About the Author
Bestselling author Patrick K. O Donnell is a special operations historian who has written nine previous books: "First SEALs; Beyond Valor, ""Into the Rising Sun";"Operatives, Spies, and Saboteurs";"The Brenner Assignment";"They Dared Return";"We Were One"(selected for the Marine Commandant s Professional Reading List);"Give Me Tomorrow;"and"Dog Company". The author is the recipient of numerous awards including the prestigious William E. Colby Award and the OSS Society s John Waller Award. He has provided historical consultation for DreamWorks s award-winning miniseries"Band of Brothers"and for documentaries produced by the BBC, the History Channel, and Fox News. He served as a combat historian in a Marine rifle platoon during the Battle of Fallujah and is in demand as an expert speaker on WWII espionage, special operations, and counterinsurgency on the modern battlefield. Over the past twenty years, O Donnell has interviewed more than 4,000 veterans who fought in America s wars from WWI to Afghanistan and specializes in unearthing untold true stories that read like novels. Visit him online at PatrickKODonnell.com.
Praise For Dog Company…
Alex Kershaw, New York Times best-selling author of The Liberator
"Long admired for his powerful combat narratives, with Dog Company O'Donnell has produced his finest book yet. A fascinating tale of extraordinary heroism."

John C. McManus, author of September Hope
"An intimate history in the Band of Brothers tradition. Only a gifted combat historian like Patrick O'Donnell could bring Dog Company's story to life with such stunning immediacy and well researched accuracy. Chock full of pulse pounding action and keen insight, this book is a true page-turner."

Joseph Balkoski, author of Omaha Beach
"No World War II historian can tell the story of the U.S. Army Rangers better than Pat O'Donnell, and in his book Dog Company he has managed to relate the remarkable history of a single Ranger company in an informative and entertaining way. It is a great read, and I recommend it highly, both to history buffs and those with only a passing interest in America's past."

Flint Whitlock, author of If Chaos Reigns
"Wow! Another victory for Patrick O'Donnell, who really captures the spirit of this elite group of Rangers&mdashpossibly the toughest fighting force America has ever put together. Dog Company is every bit as good as Stephen Ambrose's Band of Brothers, and likely even better."

General Doug Brown USA (Ret.) Commander of U.S. Special Operations Command 2003-2007
"This is an incredible story of courage under fire, leadership at all levels and bravery beyond comprehension. The bravery and leadership of Dog Company lives on in today's Army Rangers as they take the fight to America's enemies in the Global War on Terror. This is the story of real American heroes and no one can tell the story better than Patrick K. O'Donnell."

Douglas Waller, author of Wild Bill Donovan: The Spymaster Who Created the OSS and Modern American Espionage
"Patrick O'Donnell has set the gold standard for war histories rich in color, drama and detail. With Dog Company, he's hit that high mark once more. Drawing on a trove of government reports plus hundreds of in-depth interviews with the men who fought, O'Donnell takes you from the scaling of Pointe du Hoc's murderous cliffs on the Normandy coast to the Battle of the Bulge and into the rubble of Germany. World War II comes to life through the eyes of this one company of intrepid U.S. Army Rangers."

Clive Cussler, New York Times bestselling author
"A great American writer."

Rick Atkinson, Pulitzer prize winning author of Day of Battle
"Remarkable and very readable...vivid."

Kirkus Reviews, 10/1/12"[An] inspiring story…O'Donnell engagingly describes how a dedicated team was built out of the specialist training it received, but he is at his best presenting the fortunes and shocks of battle as the months of planning and training were blown away in a series of mischances that also fortuitously safeguarded the unit from delayed pre-invasion bombing runs…A worthy tribute honoring each member of a small group of volunteers who responded to the call of duty."