True Strength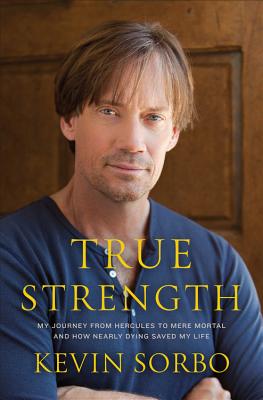 True Strength
My Journey from Hercules to Mere Mortal and How Nearly Dying Saved My Life
Da Capo Press, Hardcover, 9780306820366, 276pp.
Publication Date: October 11, 2011
* Individual store prices may vary.
Buy at Local Store
Enter your zip code below to purchase from an indie close to you.
or
Not Currently Available for Direct Purchase
Description
The star of TV's Hercules: The Legendary Journeys reveals how a series of debilitating strokes at the height of his career changed his life
About the Author
Kevin Sorbo is an actor, producer, and director, best known for his leading roles on "Hercules: The Legendary Journeys" and Gene Rodenberry's "Andromeda." He lives with his family in California.
Praise For True Strength…
Kirkus Reviews, 10/1/11
"Sorbo is candid about the hopelessness and resentment that characterized his slow recovery, his frustration with contradictory medical advice and holistic therapies of varying effectiveness and the stress his condition placed on his new marriage."
Booklist, 10/15/11
"[A] compelling memoir…Throughout his chatty tale, [Sorbo] drops enough Hollywood names to make any
Us Weekly
reader happy." 
Asbury Park Press, 9/25/11

"This actor has a real and really interesting story to tell…This is the story of a man who had taken from him that which made up the entirety of his persona: strength. And how he recovered."
Huffington Post, 10/19/11
"A gripping account of Sorbo's illness and gradual recovery." 
A.V. Club, 10/19/11
"As much an inspirational story as a narrative about the former model's rise to cable stardom, the often surprisingly candid memoir offers a look at the effects long-term debilitation can have on relationships and careers…A compelling look at a life temporarily derailed." 
Shelf Awareness for Readers, 10/21/11
"His story is no mythic journey; it's all too human, and well worth reading." 
ThirdOptionMen.org, 10/15/11

"A story of inspiration and hope through the most trying of situations. It should be read by everyone so that they can understand, even if just a little bit, how it feels to live through a stroke or other life altering medical issue, and come out on the other side spiritually renewed." 

Bookviews.com, November 2011
"Sorbo has written an interesting memoir…[that] will be of interest to his fans and others."
Mesquite Local News, 11/13/11
"If there's a Hollywood fan on your list this year, you can't go wrong with True Strength."
Pottstown Mercury, 12/6/11
"An informative, inspirational memoir…A very personal, realistic account of a devastating event to which we can all relate in some way, having faced adversities of our own. [Sorbo's] frank, casual narrative draws readers into his story."
WomanAroundTown.com, 12/15/11

"The story of his harrowing journey is told with humor and honesty. An inspiring book for everyone who's battled health issues, or watched a loved one suffer debilitating illness." 
American Profile, December 2011
"A powerful autobiography…An outstanding survey, highly recommended for any film or general lending collection strong in actors' stories and accounts of personal strength and recovery!"
Politics & Patriotism, 2/22/12
"He's got a conversational writing style that makes it easy to imagine his voice and mannerisms while you turn the pages. His presentation is passionate. His outlook is optimistic. He doesn't pull his punches…True Strength is more than the story of how Kevin Sorbo beat the odds, banished his demons, and went on to be a better man. It's a roadmap for others to follow, if they should ever find themselves in a similar situation." 
Kingman Daily Miner, 3/2/12
"This book is intended to give hope to those who have encountered unforeseen ailments and need encouragement to overcome their frailties. It shows that with the will to go on, following the advice of doctors, and most importantly accepting support from significant others, true strength emerges." 
WTBF Radio
"[Sorbo's] story is honest, inspiring, and cautionary: don't ignore your body when it warns you." 
Westlake Malibu Lifestyle, June 2012
"An inspirational read."
Midwest Book Review, July 2012
"A powerful testimony, this deserves ongoing attention and recommendation."