Dyn-O-Mite!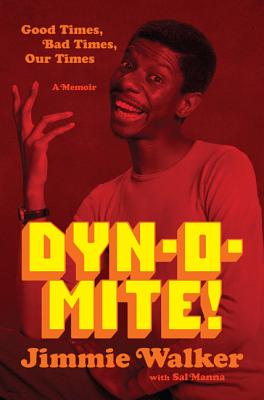 Dyn-O-Mite!
Good Times, Bad Times, Our Times--A Memoir
Da Capo Press, Hardcover, 9780306820830, 265pp.
Publication Date: June 2012
* Individual store prices may vary.
Not Currently Available for Direct Purchase
or
Shop Local
Enter your zip code below to purchase from an indie close to you.
Description
Jimmie Walker was raised in a violent and abusive home in the Bronx. Starting in small clubs and eventually opening for Black Panther rallies, he ultimately became an icon playing J. J. Evans on "Good Times." Walker was the first successful young black sitcom star, and his catchphrase--"Dyn-o-mite "--remains an indicator of the era. He saw sudden and enormous fame in everything from comic books and a talking doll to pajamas, trading cards, a bestselling album, and "TV Guide" covers. In "Dyn-o-mite ," Walker candidly talks about his rise and the considerable tensions on the set of "Good Times" that contradicted the show's image of a close-knit, blue-collar family struggling to survive in the projects.
Walker made "Dyn-o-mite " a catchword for the Baby Boomer generation. Today, "Dyn-o-mite " will inspire that same generation to rediscover what once made America great--the freedom of thought, the freedom of speech, and the belief in the individual.
About the Author
Jimmie Walker was born in 1947 in New York City. He began performing during the golden age of stand-up comedy before reaching pop culture immortality on the landmark sitcom Good Times. He continues to tour the country doing stand-up while living in Las Vegas. DynomiteJJ.com

Sal Manna co-authored the biography The King Of Sting: The Amazing True Story of a Modern American Outlaw following a career writing for magazines such as Time, Playboy, and Los Angeles, and newspapers such as the Los Angeles Times and Boston Herald. He lives in Northern California.
Praise For Dyn-O-Mite!…
Kirkus Reviews, 4/15/12
"A fast, funny and informative stand-up routine/memoir from one of the major comic stars of the 1970s…A unique perspective on the perils of modern comedy from a survivor with a long memory." Publishers Weekly, 5/21/12
"A solid, thoughtful, and provocative memoir about [Walker's] nearly four-decade long career."
Spittake.com, 6/27/12"Without a healthy dose of humility, he couldn't draw such a painfully honest portrait of life as a comic on the road. Whatever his reputation, he has persevered, and his story is thought-provoking and well worth the read."
Kingman Daily Miner"A dyn-o-mite read about a true pop culture icon and comedy legend…This is a fun read, a book, which you will remember, and one that might make you stop and pause for a moment as you ponder some of his pithy sayings. This is a five star book and one you will want on your bookshelf."

American Profile, 8/12/12"Paints a revealing self-portrait that also depicts the changing times of a socially charged era….It's a dyn-o-mite read."
Wednesday, Jan 2, 2013
Comedian Jimmie Walker is best known for his Good Times sitcom character J.J. Evans. But there's more to Walker than just laughs. For Tell Me More's Wisdom Watch series, host Michel Martin talks with Walker about his long career in showbiz, detailed in his memoir, Dyn-O-Mite: Good Times, Bad Times, Our Times. More at NPR.org