Unsinkable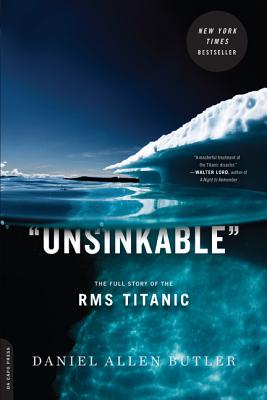 Unsinkable
The Full Story of the RMS Titanic
Da Capo Press, Paperback, 9780306820984, 310pp.
Publication Date: March 6, 2012
* Individual store prices may vary.
Buy at Local Store
Enter your zip code below to purchase from an indie close to you.
or
Buy Here
Description
Just before midnight on April 14, 1912, the ocean liner Titanic struck an iceberg. Less than three hours later, she lay at the bottom of the Atlantic Ocean, having taken with her more than 1,500 of the roughly 2,200 people on board. Even now, a century later, no other ship in history has attracted so much attention, stirred up such powerful emotion, or accumulated as many legends.
"Unsinkable" provides a fresh look at the Titanic's incredible story. Following the great ship from her conception to her fateful collision to the ambitious attempts to salvage her right up to the present day, Daniel Allen Butler draws on thirty years of research to explore the tragedy and its aftermath in remarkable depth and detail. The result is a must-read for anyone interested in the Titanic.
About the Author
Daniel Allen Butler, a military historian and internationally recognized authority on maritime subjects, is the author of The Lusitania and The Warrior Queens"
Praise For Unsinkable…
Tucson Citizen, 2/28/12
"Provides even more depth to a story we think we already know."
Hudson Valley News, 3/21/12
"This author's description of the boarding of the lifeboats is detailed and fascinating."
InfoDad.com, 3/29/12

"[Butler's] focus on detail provides fascinating bits of information…His combination of intimate detail, accurate narration and effective personalization of the tragedy remains as compelling today as at the time of the book's original release." 
"The Bookworm Sez" (nationally syndicated column), 4/1
"Nicely updated" 
Politics & Patriotism (blog), 4/9
"Written in a calm respectful narrative style that's easy to read."
Acadiana LifeStyle, April 2012
"Even if you thought you knew all there is to know about this tragedy, you will be surprised at recently discovered facts revealed in the new postscript and foreword updated by the author."
WomanAroundTown.com, 4/12/12
"Butler has included not only the latest theories and findings, but also an examination of why we still care so much today. Butler is a military historian and a renowned authority on maritime affairs; no one less knowledgeable could shed new light on a story we all thought we knew."

Midwest Book Review, June 2012
"Any collection interested in the Titanic's history will relish this revision."
Curled Up with a Good Book
"Unsinkable is a must-read for fans of the Titanic and buffs of plain old history. Butler's attention to detail and obvious research provides a brief glimpse into a bygone era. Titanic is ultimately a cautionary tale of the hubris of man, and Unsinkable an entertaining read."