America, You Sexy Bitch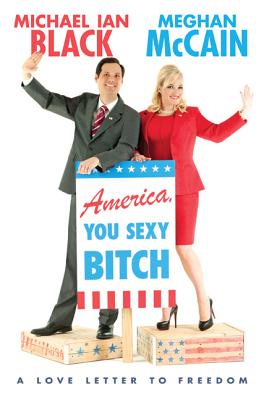 America, You Sexy Bitch
A Love Letter to Freedom
Da Capo Press, Hardcover, 9780306821004, 311pp.
Publication Date: June 12, 2012
* Individual store prices may vary.
Buy at Local Store
Enter your zip code below to purchase from an indie close to you.
or
Not Currently Available for Direct Purchase
Description
She is a single, twentysomething, gun-loving, Christian, Republican writer and blogger, the daughter of a Senator and 2008 Republican presidential nominee. He is a married, forty-year-old, gun-fearing, atheist, Democrat comedian, the son of a lesbian former Social Security employee. Meghan McCain and Michael Ian Black barely know each other. But they are about to change the way politics is discussed in America.Or at least the way politics are discussed in their crappy RV. In "America, You Sexy Bitch," Meghan and Michael embark on a balls-out, cross-country tour starting in California, the heart of liberal America, and ending in the state of Connecticut, the home of blue-blood Wall Street billionaires. Along the way, they visit such cultural touchstones as Graceland and Branson, party in Las Vegas and New Orleans, pretend to be Mormon in Salt Lake City (only for a second), and go to a mosque in Dearborn, Michigan. They tour the nation's capital; they fire semiautomatic weapons. But mostly Meghan McCain and Michael Ian Black talk to each other: about their differences, their similarities, and how American politics has gotten so divided.
About the Author
Meghan McCain is a blogger who documents life on the campaign trail with her father and muses about fashion, music, and pop culture. Check out her blog at McCainBlogette.com.
Meghan is the oldest daughter of John McCain, U.S. senator from Arizona and the 2008 Republican presidential nominee, and Cindy Hensley McCain. She was raised in Phoenix, Arizona, and graduated from Columbia University, where she majored in art history. McCain interned at "Newsweek" magazine and "Saturday Night Live".
Michael Ian Black is a writer, comedian, and actor who currently appears on "Another Period", "The Jim Gaffigan Show", and "Wet Hot American Summer: First Day of Camp". He created and starred in many television series, including "Michael and Michael Have Issues", "Stella", and "The State". He wrote the screenplay for the film "Run, Fatboy, Run" and wrote and directed the film "Wedding Daze". Michael regularly tours the country as a stand-up comedian and is the bestselling author of the book "My Custom Van (and 50 Other Mind-Blowing Essays That Will Blow Your Mind All Over Your Face)", the memoir "You re Not Doing It Right", and the children s books "Chicken Cheeks", "The Purple Kangaroo", "A Pig Parade Is a Terrible Idea", "I m Bored", "Naked!", and "Cock-a-Doodle-Doo-Bop". Michael lives in Connecticut with his wife and two children.
Praise For America, You Sexy Bitch…
Harvard Bookstore Bestsellers list, 8/03/12 and 8/10/12

Publishers Weekly, 1/16/12
"Sure to be one of the year's most entertaining political books."
Publishers Weekly, 5/7/12

"The book does an admirable job balancing each party's perspective…As stereotypical party associations and extremism boil down to a genuine concern for the future of America, the result is surprisingly heartfelt." 
New York Daily News, 5/6/12
"Hotly anticipated."
The Advocate, July 2012
"[Michael Ian Black is] so cool we believe the publisher when they call it Chelsea Handler meets Hunter S. Thompson." 
Politico.com, 5/29/12

"[McCain] uses the debates with Black to re-examine her relationship with the Republican Party. Along the way, a few political figures come under fire from the outspoken daughter of a former presidential candidate—including Clinton." 
Yahoo! News, 6/13/12
"A refreshing ride, one full of honesty and chocked-full of laughs." 
New York Journal of Books, 6/12/12
"Meghan McCain and Michael Ian Black just might bring the parties together. For at least a few hours, anyway…The book is written journal style, a sort of 'He said, She said,' page turner. And it works…The book's back-and forth banter is both funny and cringe worthy…They are candid and honest about their political views, sometimes uncompromising, yet often open minded." 
TheSpitTake.com, 6/11/12
"Black and McCain are both engaging, off-putting, thoughtful, dogmatic, loose and catty…there is a palpable sense that Black and McCain are trying to get along, if only for themselves. And also for America. No, really. Each truly believes in the concept of "America," and though their definitions vary wildly, they both agree it has something to do with inclusiveness…The book proves that people can get along if they put politics aside and treat each other as human beings." 
Edge, 6/12/12

"A serious (albeit comical) look at America's people and politics…A highly funny and empathetic endeavor that will leave the reader with a better understanding of American politics…
America, You Sexy Bitch
proves that Republicans and Democrats can find common ground." 
Roll Call, 6/11/12
"[A] he said, she said account of Michael Ian Black's and Meghan McCain's meandering pilgrimage across the U-S-of-A." 
Portland Monthly, June 2012
"An intriguing meditation on some of the very real elements that differentiate America's bipartisan ideologies." 
Time Out Chicago, 6/20/12
"Black has…established himself as a precise and honest comic writer. Though as a comedian he trades in snark…his commitment to this project finds him earnestly engaging with the people he meets, and trying to find in them case studies for the larger political talking points." 
Washington Post, 6/19/12
"She is funny and uncensored, and he is witty and sharply observational." 
20 Something Reads, 6/27/12
"Michael's writing bears his typical snarky cynicism, while Meghan's writing reflects her exuberance and zest for life…An excellent read and absolutely hilarious…Though it'll take much more than one book to fix America, Michael and Meghan show us that two very opposite people can find common ground, which gives us hope towards the future of Capitol Hill and American Politics." 
PR.com
"The book's quirky title belies its enlightening content." 
The Interrobang, 6/21/12
"The book is incredibly funny, really honest, and full of heart and soul…Smart and funny, it's a great summer read that entertains as much as it forces you to think." 
PolicyMic.com, 6/20/12
"[Black] knows how to make you laugh; and yet, through his humor, he was able to convincingly communicate his liberal rationale with ease…Presents some interesting thoughts about politics and culture."

Tucson Citizen, 7/3/12
"Readable and appealing…Insightful…A surprisingly fun summer read." 
Examiner.com, 6/29/12
"An enjoyable, often funny little travelogue…An entertaining bipartisan road trip diary."
MediaBistro's GalleyCat Blog, 7/10/12
"[A] bipartisan Thelma and Louising of the American landscape."

San Francisco Bay Guardian, 7/10/12
"[The] point made by
America, You Sexy Bitch
is: politics don't make the person."
"
New Day Northwest" (Seattle, KING TV), 7/18/12
"One of my favorite books of the summer…A hilarious look at trying to find common ground in uncommon territory."
Louisville Courier-Journal, 7/14/12
"The most entertaining road trip you'll take this year…Black and McCain make elegant spokespeople, and they share uproarious and enlightening tales about who we are and what we want."
SF Weekly, 7/16/12
"[Black and McCain] may seem like an odd couple at first…[but] they show that despite their differences, they are just Meghan McCain and Michael Ian Black: Two Slices of American Pie."
Bay Area Reporter, 7/19/12
"Humorous but often thought-provoking."
San Francisco Book Review, August 2012
"A book examining preconceived notions and the long, difficult road toward dispelling some of them. McCain and Black pull no punches…Not just funny as hell, but thought-provoking and occasionally challenging…I loved it."
InnocentWords.com, 7/28/12
"The concept behind
America, You Sexy Bitch
is a pretty interesting experiment and comes at just the right time with the country more polarized politically than at any time in recent decades…Highly entertaining."
Midwest Book Review, September 2012
"A social and political romp recommended for any general lending library."
SLUG, October 2012
"Vivid and often hilarious…Extremely enjoyable. Not only does this social experiment provide an entertaining look at people from all walks of life, it's a reminder that the stereotypes that are perpetuated—especially during an election year—are seldom correct."