Without Precedent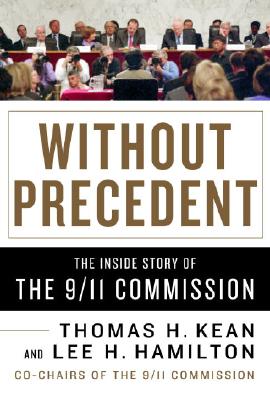 Without Precedent
The Inside Story of the 9/11 Commission
Knopf, Hardcover, 9780307263773, 384pp.
Publication Date: August 15, 2006
* Individual store prices may vary.
Not Currently Available for Direct Purchase
or
Shop Local
Enter your zip code below to purchase from an indie close to you.
Description
In the words of the commission's co-chairmen, this is the compelling inside story of how the National Commission on Terrorist Attacks Upon the United States—more commonly known as the 9/11 Commission—managed to succeed against all odds in producing a report that made clear what went wrong and why.

The mandate of the 9/11 Commission was daunting and all-encompassing. In its investigation of the events leading up to and including September 11, 2001, the commission had to examine U.S. diplomacy, military policy, intelligence agencies, law enforcement, border and aviation security, and congressional oversight, as well as the immediate response to the terrorist attacks, while also investigating the lethal enemy al Qaeda.

The creation of the 9/11 Commission was blocked for months by the Bush administration, and after its inception in December 2002 the commission spent months mired in a series of controversies—the resignation of its first chairman, Henry Kissinger, and vice-chairman, George Mitchell; an inadequate budget; an extraordinarily polarized atmosphere leading up to the 2004 presidential election; the conflicting demands of various interest groups; the distrust of the victims' families; difficulties in obtaining access to highly classified documents and to al Qaeda detainees; and a media eager to record stumbles and gaffes. The obstacles were great, and the expectations for a blue-ribbon panel are never high—yet somehow the 9/11 Commission overcame everything that might have thwarted it and succeeded beyond anyone's greatest expectation, holding a series of hearings that riveted the nation, producing a unanimous and widely heralded report that became a national best seller, and issuing recommendations that led to the most significant reform of America's national security agencies in decades.

The 9/11 Commission report slaked the national thirst for accountability. Here for the first time is the story of how the commission came together to produce its landmark document.
About the Author
Thomas H. Kean was governor of New Jersey from 1982 to 1990, and from 1990 until 2005 he was the president of Drew University. He has served on numerous national committees and commissions, and has worked tirelessly for over a quarter century on behalf of environmental and educational organizations. He lives in Bedminster, New Jersey.

Lee H. Hamilton is president and director of the Woodrow Wilson International Center for Scholars. He was a congressman representing Indiana's Ninth District from 1965 to 1999, during which time he was chairman and ranking member of the House Committee on Foreign Affairs, chairman of the House Permanent Select Committee on Intelligence, and chair of the Joint Economic Committee. He lives in Alexandria, Virginia.
Praise For Without Precedent…
"Terrific. . . an incisive overview about how our country makes national security policy."—Denver Post

"Compelling.... The issues the commission wrestled with–official incapacity to prevent disaster, the government's use and misuse of intelligence, presidential accountability–are still in the headlines, which makes this lucid, absorbing account of its work very timely." —Publishers Weekly

"Captivating.... Candid... Kean and Hamilton disclose disturbing information about breakdowns at the FBI, CIA, FAA, military commands and the White House that made it easier for terrorists to mount their attacks." —Philadelphia Star-Telegram