Swamplandia!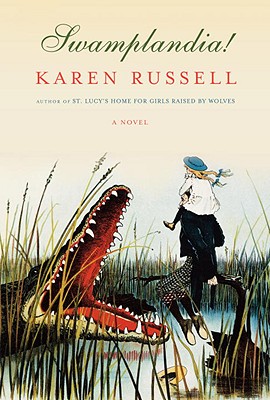 Swamplandia!
Knopf Publishing Group, Hardcover, 9780307263995, 315pp.
Publication Date: February 1, 2011
* Individual store prices may vary.
Shop Local
Enter your zip code below to find indies closest to you.
Description
From the celebrated twenty-nine-year-old author of the everywhere-heralded short-story collection "St. Lucy's Home for Girls Raised by Wolves" ( How I wish these were my own words, instead of the breakneck demon writer Karen Russell's . . . Run for your life. This girl is on fire "Los Angeles Times Book Review") comes a blazingly original debut novel that takes us back to the swamps of the Florida Everglades, and introduces us to Ava Bigtree, an unforgettable young heroine.
The Bigtree alligator-wrestling dynasty is in decline, and Swamplandia , their island home and gator-wrestling theme park, formerly #1 in the region, is swiftly being encroached upon by a fearsome and sophisticated competitor called the World of Darkness. Ava's mother, the park's indomitable headliner, has just died; her sister, Ossie, has fallen in love with a spooky character known as the Dredgeman, who may or may not be an actual ghost; and her brilliant big brother, Kiwi, who dreams of becoming a scholar, has just defected to the World of Darkness in a last-ditch effort to keep their family business from going under. Ava's father, affectionately known as Chief Bigtree, is AWOL; and that leaves Ava, a resourceful but terrified thirteen, to manage ninety-eight gators and the vast, inscrutable landscape of her own grief.
Against a backdrop of hauntingly fecund plant life animated by ancient lizards and lawless hungers, Karen Russell has written an utterly singular novel about a family's struggle to stay afloat in a world that is inexorably sinking. An arrestingly beautiful and inventive work from a vibrant new voice in fiction.
About the Author
Karen Russell, a native of Miami, has been featured in both "The New Yorker's" debut fiction issue and "New York" magazine's list of twenty-five people to watch under the age of twenty-six. She is a graduate of the Columbia MFA program and is the 2005 recipient of the Transatlantic Review/Henfield Foundation Award; her fiction has recently appeared in "Conjunctions," "Granta," "Zoetrope," "Oxford American," and "The New Yorker," Twenty-five years old, she lives in New York City.
Praise For Swamplandia!…
Praise for Karen Russell's Swamplandia!
 
"Karen Russell is young and talented, and has been given just about every age-appropriate honor there is—Best Young American Novelists, 20 Under 40, 5 Under 35. With her debut novel, though, she's leaving the kids' table forever. The bewitching Swamplandia! is a tremendous achievement for anyone, period. . . . Effortless prose and [a] small, beautifully drawn cast of characters . . . as densely organic as the swamp in which it is set."
—Keith Staskiewicz, Entertainment Weekly, A–
 
"If no such thing as the Great Floridian Novel already existed, consider it done. Karen Russell, anointed by Granta and The New Yorker as one our most brilliant young writers, fulfills the promise of her fiercely original 2006 story collection [with] a novel of idiosyncratic and eloquent language; hyperreal, Technicolor settings; and larger-than-life characters who are nonetheless heartbreakingly vulnerable and keenly emotional. It's a tour de force. . . . Near-hallucinatory in its intensity—not only in it's dark, sad, enthralling plot, but in its descriptions of the swamp: gorgeous, precise, lush poetry. The book becomes sharply suspenseful as Russell's fearless eye and voice go deep into the swamps of adolescence, of what it is to lose a mother, and of Florida itself."
—Kate Christensen, Elle
 
"Karen Russell is a fine purveyor of the unexpected, humorous and razor-sharp description . . . Exactly often enough, her vivid description gives way to a deftly inserted truth. . . . Swamplandia! flashes brilliantly—holographically—between a surreal tale brimming with sophisticated whimsy and an all-too-realistic portrait of a quaint but dysfunctional family under pressure in a world that threatens to make them obsolete. . . . Ava is a true contemporary heroine and not easily forgotten."
—Pam Houston, More
 
"This impressively self-assured debut novel may bet the best book you'll ever read about a girl trying to save her family's alligator-wrestling theme park."
—Karen Holt, O, The Oprah Magazine
 
"Winningly told . . . rambunctious."
—Megan O'Grady, Vogue
 
"Russell does what she does best here—presenting a world we recognize and imbuing it with magical mysticism—and does it brilliantly. The surreal is never a prop, and there's a heart to the writing that goes beyond the sensational. The novel's backbone is in the nuanced intricacies of its characters, in their hopes and fears whether tangible or touchingly naïve. . . . Russell's sentences are well-crafted miniatures building to create a world so enchanted that we are both comforted and devastated to realize that it's our own. Swamplandia! is a dizzying cocktail of heartbreak and humor, a first novel worthy of celebration."
—Laurie Ann Cedilnik, Bust
 
"[A] cunning first novel. . . . Russell's willingness to lend flesh and blood to her fanciful, fantastical creations gives this spry novel a potent punch and announces an enthralling new beginning for a quickly evolving young author."
—Publishers Weekly (starred review)
 
"Brilliant, funny, original . . . also creepy and sinister . . . Karen Russell's Swamplandia! is every bit as good as her short stories promised it would be. This book will not leave my mind."
—Stephen King
 
"A wonderfully fertile novel by an unfairly talented writer."
—Joseph O'Neill, author of Blood-Dark Track: A Family History
 
"Karen Russell's worlds, like her protagonists, are fierce and wondrous and hilarious and heartbreaking, and Swamplandia! features everything a reader could want, from bears with bad rhythm to Live Chicken Thursdays to as visceral and dazzling a portrait of south Florida's now almost destroyed wilderness as you're likely to read. But mostly it's a gorgeous and wrenching portrait of sibling love in all its helpless and furious and panicked indefatigability, and of one girl's determination to do what she can to hold what's left of her family together."
—Jim Shepard, author of Like You'd Understand Anyway
 
"I would cross even the most crocodile and yellow-fever infested swamp just to spend an hour with Russell's prose. She has an imagination like Calvino, an ear like Tennyson, a heart like Carson McCullers, an observing intelligence like Marianne Moore; what I really mean to say is she is a strange and wonderful writer like none other I know."
—Rivka Galchen, author of Atmospheric Disturbances
 
"Lavishly imagined and spectacularly crafted. . . . Ravishing, elegiac, funny, and brilliantly inquisitive, Russell's archetypal swamp saga tells a mystical yet rooted tale of three innocents who come of age through trials of water, fire, and air."
—Donna Seaman, Booklist (starred review)
 
"A love song to paradise and innocence lost. This wildly imaginative debut novel . . . delivers."
—Sally Bissell, Library Journal (starred review)
 
Praise for St. Lucy's Home for Girls Raised by Wolves
 
"How I wish these were my own words, instead of breakneck demon writer Karen Russell's, whose stories begin, in prose form, where the jabberwocky left off. . . . Run for your life.  This girl is on fire."
—Susan Salter Reynolds, Los Angeles Times Book Review
 
"Already a master of tone and texture and an authority on the bizarre, Karen Russell writes with great flair and fearlessness. . . . The way Russell beds mundane detail in surrealist settings makes her work exceptionally evocative. . . . Russell's astonishing gifts augur well for a novel of maturity and complexity.  It's only a matter of time."
—Carlo Wolff, The Denver Post
 
"Karen Russell is a storyteller with a voice like no other. . . . Laced with humor and compassion."
—Lauren Gallo, People
 
"One of the strangest, creepiest, most surreal collections of tales published in recent memory. . . . Her writing bristles with confidence."
—June Sawyers, San Francisco Chronicle
 
"Twenty-five-year-old wunderkind Karen Russell . . . proves herself a mythologist of the darkest and most disturbing sort. . . . Ten unforgettable, gorgeously imaginative tales."
—Jenny Feldman, Elle
 
"The landscapes of Russell's imagination are magical places. . . . [A] casual blend of insight and, well, whimmerdoodle. . . . The fablelike settings Russell invents throw the very real absurdity of childhood into relief. . . . Charming and imaginative. . . . [O]ne can sense Russell's enthusiasm and playfulness, both of which she has in spades."
—Francesca Delbanco, Chicago Tribune
 
"With this weird, wondrous debut, 25-year-old Russell blows up the aphorism 'Age equals experience.'  She also suggests 'Write what you know' is similarly useless, unless she's a girl living on a Florida farm, two brothers who dive for the ghost of their dead sister, and children at a sleep disorder camp.  These stories are part Flannery O'Connor, part Gabriel Garcia Marquez, and entirely her own."
—Rebecca Ascher-Walsh, Entertainment Weekly
 
"Endlessly inventive, over-the-top, over-the-edge stories, all delivered in the most confident, exquisitely rambunctious manner.  Fabulous fun."
—Joy Wililams
 
"Edgy-lit lovers will adore this debut short-story collection set in imaginative venues like icebergs."
—Glamour
 
"Hallelujah!  Karen Russell's work sweeps the ground from beneath your feet and replaces it with something new and wondrous, part Florida swampland, part holy water. A confident, auspicious, uncomfortable debut."
—Gary Shteyngart
 
"Most writers her age haven't yet matched Russell's chief achievement: honing a voice so singular and assured that you'd willingly follow it into dark, lawless territory. Which, as it happens, is exactly where it leads us."
—Caroline McCloskey, Time Out New York
 
"This book is a miracle.  Karen Russell is a literary mystic, channeling spectral tales that surge with feeling.  A devastatingly beautiful debut by a powerful new writer."
—Ben Marcus
 
"In spare but evocative prose, the 25-year-old conjures a weird world of young misfits and ghosts in the Everglades."
—Jenny Comita, W Magazine
 
"A marvelous book in the tradition of George Saunders and Katherine Dunn."
—Quentin Rowan, New York Post
 
"Karen Russell's fresh and original voice makes this a stunning collection to savor."
—Pages
 
"Karen Russell's startlingly original collection features graceful and seductive prose that transports the reader into surreal and yet utterly plausible realms."
—Harvey Freedenberg, Bookpage
 
"Russell makes her sparkling debut with these 10 curious, sophisticated and whimsical stories."
—Lindsey Hunter, OK! Weekly
 
"Russell's first story collection is a thing of beauty. . . . This startingly original set of stories, which feels as though it might have been written by Lemony Snicket and Margaret Atwood, is nto to be missed, and author Russell, whose fiction debuted in The New Yorker and who was chosen by New York magazine as one of 25 People To Watch Under 25,' is poised to become a literary powerhouse.  Recommended."
—Amy Ford, Library Journal
 
"25-year-old wunderkind Karen Russell—whose house-afire prose has already lit up the pages of Granta and The New Yorker—proves herself a mythologist of the darkest and most disturbing sort. . . . [U]nforgettable, gorgeously imaginative tales. . . . With a flair for transforming common aspects of local culture—from gators to sand-sledding—into wondrous miracles, Russell also cuts straight to the heart of adolescence."
—Jenny Feldman, Elle
 
"Armed with a subversive sense of humor and a wicked turn-of-phrase, a young writer sets out to redefine the Southern gothic."
—Brendan Lemon, Interview
 
"This unusual, haunting collection confirms that the hype is well deserved. Like the people in Gina Oschner's stories, Russell's characters are caught between overlapping worlds—living and dead, primal and civilized, animal and human—and the adolescent narrators are neither children nor adults. . . . [U]nforgettable. Russell writes even the smallest details with audacious, witty precision. . . . Her scenes deftly balance mythology and the gleeful absurdity of Monty Pytho with a darker urgency to acknowledge the ancient, the infinite, and the inadequacies of being human. . . . Original and astonishing, joyful and unsettling, these are stories that will stay with readers."
—Gillian Engberg, Booklist (starred review)
 
"[Karen Russell] merges the satirical spirit of George Saunders with the sophisticated whimsy of recent animated Hollywood film. . . . Russell has powers of description and mimicry reminiscent of Jonathan Safran Foer . . . and her macabre fantasies structurally evoke great Southern writers like Flannery O'Conner."
—Publishers Weekly
 

Monday, May 30, 2011
Some of the best summers are those filled with journeys, reunions and good food � three themes that factor prominently in the books recommended by our independent booksellers. More at NPR.org
Wednesday, Feb 9, 2011
Author Karen Russell talks to All Things Considered co-host Melissa Block about her eclectic literary tastes, life in the Everglades and other influences for her debut novel, Swamplandia! � about a gator-wrestling, theme-park-owning family More at NPR.org