Spade & Archer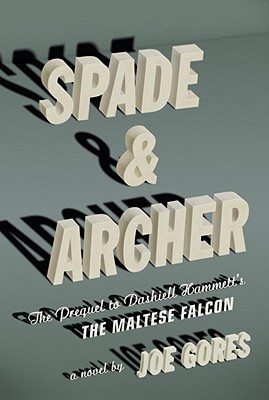 Spade & Archer
The Prequel to Dashiell Hammett's The Maltese Falcon
Knopf, Hardcover, 9780307264640, 352pp.
Publication Date: February 10, 2009
* Individual store prices may vary.
Buy at Local Store
Enter your zip code below to purchase from an indie close to you.
or
Not Currently Available for Direct Purchase
Description
When Sam Spade gets drawn into the Maltese Falcon case, we know what to expect: straight talk, hard questions, no favors, and no way for anyone to get underneath the protective shell he wears like a second skin. We know that his late partner, Miles Archer, was a son of a bitch; that Spade is sleeping with Archer's wife, Iva; that his tomboyish secretary, Effie Perine, is the only innocent in his life. What we don't know is how Spade became who he is. Spade & Archer completes the picture.

1921: Spade sets up his own agency in San Francisco and clients quickly start coming through the door. The next seven years will see him dealing with booze runners, waterfront thugs, stowaways, banking swindlers, gold smugglers, bumbling cops, and the illegitimate daughter of Sun Yat-sen; with murder, other men's mistresses, and long-missing money. He'll bring in Archer as a partner, though it was Archer who stole his girl while he was fighting in World War I. He'll tangle with a villain who never loses his desire to make Spade pay big for ruining what should've been the perfect crime. And he'll fall in love—though it won't turn out for the best. It never does with dames . . .

Spade & Archer is a gritty, pitch-perfect, hard-boiled novel—the work of a master mystery writer—destined to become a classic in its own right.
About the Author
Joe Gores, formerly a private eye, is the author of sixteen other novels, including "Hammett, " which won Japan's Falcon Award. He has received three Edgar Awards--one of only two authors to win in three separate categories: Best First Novel, Best Short Story, and Best Episode in a TV Series.
Praise For Spade & Archer…
Early praise:

"No one understands Dashiell Hammett better than Joe Gores, and no one but Joe Gores could have produced such a masterful and faithful rendering of the prequel to The Maltese Falcon. Spade & Archer stands on its own as a taut, engrossing existential crime saga set in San Francisco's vibrant 1920's, and as an evocation of Hammett's style and plots is a triumph. Gores's wondrous talent shines and the shadow it casts of Hammett is smiling."
–James Grady, author of Six Days of the Condor and Mad Dogs

"Seventy-nine years after The Maltese Falcon was first published, the other (gum)shoe drops. It's called Spade and Archer and it's fabulous."
–Michael Harvey

"It took guts for Joe Gores to attempt a prequel to one of the great American novels. Guts or nuts, had to be one or the other. Lesser writers have attempted to ape Hammett's style and come off like mannered tough guys wearing their big brothers' double-breasted suits, but Gores manages to be both true to Hammett's vision and true to his own considerable gifts. Spade & Archer is a triumph–intricately plotted, deft and strongly written, and perhaps most exciting, he shows us Sam Spade at the beginning of his career, deepening our appreciation of the character. I loved it."
–Robert Ferrigno

"I was amazed at Joe Gore's Spade & Archer. He's got Hammett's style down, and the story he tells is every bit as engrossing as anything Hammett ever wrote. I adored it."
–Joe R. Lansdale

"Edgar-winner Gores has not only pulled off the Herculean task of writing a prequel to The Maltese Falcon but also created a rip-roaring yarn of his own that will please even the crustiest of Hammett devotees . . . The author, who does a brilliant job of bringing Prohibition-era San Francisco to life with street-level detail and a native's perspective, also captures Hammett's spare style and tone perfectly."
–Publishers Weekly (starred)

"Veteran Gores spins the straw of an origin story for the firm of Spade & Archer, violently dissolved in the opening chapters of The Maltese Falcon, into storytelling gold . . . Along with the obligatory pleasures of watching Spade dealing with familiar supporting characters for the first time, Gores, a far more virtuoso plotter than Hammett, keeps multiple pots boiling furiously while providing a pitch-perfect replica of his master's voice."
–Kirkus Reviews (starred)

"Here's another chance to walk the streets of San Francisco with the city's most memorable fictional character . . . Gores not only creates a compelling backstory for Spade but also does it so completely in the Hammett style that we suspend disbelief in an instant. Rather than marveling at how much Gores sounds like Hammett, we forget all about who's doing what and let the mood take over. From the clipped dialogue to the emphasis on the geography of San Francisco to the carefully detailed recounting of what a PI does, Gores nails it. He's equally on the mark with Hammett's characters."
–Booklist (starred)