Kazan on Directing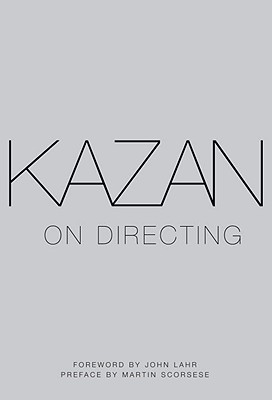 Kazan on Directing
Knopf, Hardcover, 9780307264770, 368pp.
Publication Date: April 21, 2009
* Individual store prices may vary.
Buy at Local Store
Enter your zip code below to purchase from an indie close to you.
or
Not Currently Available for Direct Purchase
Description
Elia Kazan was the mid-twentieth century's most celebrated director of both stage and screen, and this book shows us the master at work.

Kazan directed virtually back to back the greatest American dramas of the era—by Arthur Miller and Tennessee Williams—and revolutionized theatre and film with dynamic action, poetic staging, and rigorous naturalism. His list of Broadway and Hollywood successes—A Streetcar Named Desire (stage and screen), All My Sons, Death of a Salesman, Cat on a Hot Tin Roof, On the Waterfront, East of Eden, Baby Doll, America America, to name only a few—is a testament to his profound impact on the art of directing. Kazan's insights into these and other classic stage works shaped their subsequent productions—and continue to do so. There is no directorial achievement in America equal to his.

This remarkable book, drawn from his notebooks, letters, interviews, and autobiography, reveals Kazan's method: how he uncovered for himself the "spine" or core of each script and each character; how he analyzed each piece in terms of his own experience; how he determined the specifics of his production, from casting and costuming to set design and cinematography. And we see how he worked with writers on scripts and with actors on interpretation.

The final section, "The Pleasures of Directing"—essays Kazan was writing in his last decade—is informal, provocative, candid, and passionate; a wise old pro sharing the secrets of his craft, advising us how to search for ourselves in each project, how to fight the system, and how to have fun doing it.

Published in Kazan's centenary year, this monumental, revelatory book, edited by Robert Cornfield, is essential reading for everyone interested in American movies and theatre.
About the Author
Elia Kazan was born in 1909 in Istanbul. He graduated from Williams College and attended the Yale School of Drama before joining the Group Theatre. He was the founder of the Actors Studio, and he won three Tony Awards for direction (for "All My Sons, Death of a Salesman, "and "J.B.") and two Academy Awards (for "Gentleman's Agreement "and "On the Waterfront"), as well as an honorary Oscar in 1999 for lifetime achievement. He died in September 2003.

Robert Cornfield worked with Joshua Logan on Logan's autobiography, "Josh, " and edited "The Dance Writings of Edwin Denby"; his reviews and articles have appeared in "The New York Times Book Review, The Wall Street Journal, "and the "New York Observer."
Praise For Kazan on Directing…
"A wonderfully conflicted yet curiously confident self-portrait of a great director. . . . Before starting to direct a new play or movie, Elia Kazan would purchase a little school notebook and, as rehearsals and early performances proceeded, fill it with his thoughts. Taken together, these notebooks constitute a unique (and as far as I know unparalleled) record of an uncommonly passionate and acute directorial mind at work, and in edited form, they are the fascinating and unsparing core of Kazan on Directing"
            —Richard Schickel, Los Angeles Times

"A comprehensive survey of Kazan's directorial genius. . . . This book is a lot of things. It is a fascinating account of how a master director works, much of it in detailed passages too long to quote. It offers abundant insight into the unique psyche and mentality of a genius. It affords often shocking revelations of the prudishness and parochialism of yesterday's Hollywood. It sheds light on well-known actors. It is also, quite simply, a good read, as when Kazan says a director must know 'how to direct a chicken to enter a room on cue. I had that problem once and I am ashamed to tell you how I did it.' Left unexplained, this stimulates the imagination. Not a bad thing for a book to do."
            —John Simon, The New Criterion
"Kazan stands alone in his work both on stage and screen. This book provides an excellent opportunity to deepen our understanding of Kazan's achievements."
            —Alec Baldwin

"Remarkable . . . a portrait of the artist in his own words as he planned (and plotted, too, in what we see was his conspiratorial style) how best to bring a play or film to life. . . . Kazan on Directing is much more than just a seminal director's paean to his craft: It is a marvelous dissection and explanation of how Kazan brought to life some of America' s greatest pieces of drama, and at what personal price."
            —Eric Lax, truthdig.com

"Unusually entertaining . . . partially because it has a continuing theme: relentless and unyielding self-examination . . . Does the book confirm [Kazan's] greatness with actors? Oh, yeah. . . . It's not just his insights, it's the incisive way he expresses them. . . . Kazan's energies may have lagged, but not his great gifts."
            –Scott Eyman, New York Observer

"This is Kazan the professional speaking, a giant of the Method spilling his secrets. We are granted admission to the inner sanctum, and made privy to his creative process in the most intimate details. . . . An indispensable resource for anyone hoping to understand the direction of actors and the differences between stage and screen direction in the molten middle of the 20th century. . . . Styles may have changed, but Kazan still has plenty to say about directing that remains revelatory and instructive today." 
            –John Patterson, Directors Guild of America Quarterly

"Includes surprising revelations . . . Given Kazan's tremendous stature in 20th-century drama, this is an essential purchase for most large film and theater collections."
            –Library Journal

"Fascinating . . . There is no denying that Kazan was an important artistic force in mid-twentieth-century America. An invaluable resource for American theater and film aficionados."
            –Booklist (starred review)

"What this book–full of Kazan on his plays and films– can't help but restore is the thoroughness and penetration of the man who may be the most influential director of his time after Hitchcock. Along with his extraordinary autobiography A Life, they comprise a unique cinematic self-explication. If only every living American director would read this."
            —Jeff Simon, The Buffalo News

"To read this book is to sit with Kazan as he talks about his work. You feel his energy, devotion, and openness. You are given rare and fascinating access to the insights and techniques of a great director."
                        —Sidney Lumet

"Elia Kazan possessed a treasure trove of knowledge about acting and storytelling. What a gift it is to have his ideas between covers in Kazan on Directing–a wonderful compilation of Kazan's shrewd insights and vast experience."
            –George Stevens, Jr.

"Kazan has been called the greatest actor's director. In this illuminating book he details his methods. A must-read for everyone in show business."
            –Carroll Baker

"Elia Kazan—who gave me my first job in New York—was an inspiration to me. No one understood the complexities of American theatre and film the way he did. His riveting book is Kazan talking to us—pushing us, lifting us, motivating us. Every student of stage and film should read it."
                        —Karl Malden

"Anyone who saw Elia Kazan in the role of Eddie Fuselli in Clifford Odets' s Golden Boy would have been able to foresee the trajectory that would take him to the very heights. His performance was unforgettable. His experience as an actor in the Group Theatre helped train him to become one of the greatest directors of actors in the twentieth century. This amazing book demonstrates his rich understanding of the actor as an artist."
                        —Ellen Adler, Stella Adler Studio of Acting

"An astounding book; I was riveted. I have read a lot of books about directors or directing, or by directors; I have never, ever read anything as clear and personal and detailed (not to mention well-written) as this book. The research, care, personal identification, and passion that Kazan put into every play and film will instruct and inspire all who read Kazan on Directing. I devoured it."
                        —André Bishop, Artistic Director, Lincoln Center Theater

"Kazan on Directing displays Kazan's interpretive genius at work, analyzing each major play and movie, working with writers on scripts and actors on interpretations. Kazan had a profound impact on the art of directing. . . . . Invaluable."
—Jeanne Nicholson, The Providence Journal