Ghosts by Daylight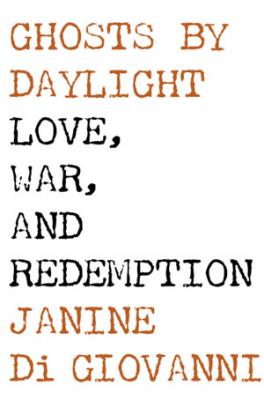 Ghosts by Daylight
Love, War, and Redemption
Alfred A. Knopf, Hardcover, 9780307265586, 285pp.
Publication Date: September 20, 2011
* Individual store prices may vary.
Buy at Local Store
Enter your zip code below to purchase from an indie close to you.
or
Not Currently Available for Direct Purchase
Description
An enthralling, deeply moving memoir from one of our foremost American war correspondents.
Janine di Giovanni has spent most of her career more than twenty years in war zones recording events on behalf of the voiceless. From Sarajevo to East Timor, from Sierra Leone to Afghanistan, Iraq, and Somalia, she has been under siege and under fire.
Along the way she meets Bruno, a French reporter whose spirit and audacity are a match for her own. Their love affair spans nearly a decade and a dozen armed conflicts before they settle in Paris to raise a family. But Janine soon learns that a life lived in war is inevitably haunted. Bruno struggles with physical and emotional pain, and Janine, a new mother and wife in Paris, is afraid both for Bruno and herself and for the work that they do and doubtful that she can hold their lives together.
With stunning scenes of action, heart-wrenching accounts of profound love, personal loss, and redemption," Ghosts by Daylight "tells the unforgettable story of a passionate life lived to the fullest.
About the Author
Janine di Giovanni, the Middle East editor of Newsweek and a contributing editor of Vanity Fair, has won four major journalistic awards, including the National Magazine Award. She lives in Paris.
Praise For Ghosts by Daylight…
"Everyone knows life in a war zone must be harrowing and soul-threatening, and that becoming a mother for the first time is deeply fulfilling, right? In her keen, passionate memoir, Janine Di Giovanni illuminates just how easily these two can be swapped."
—Kate Tuttle, Boston Globe
 
"Ghosts by Daylight is a story infused with love: di Giovanni's love of her job as a war correspondent, love of the one man who could frustrate, but also delight her, and unequivocal love of her son. The book also shows that seemingly invincible and unflappable war correspondents are human, just like the rest of us."
—Phyllis Hanlon, New York Journal of Books
 
"In this sweeping memoir, di Giovanni offers a portrait of a love story abloom in wartime . . . [An] exotic tale of love gone awry."
—Kirkus Reviews
 
"[A] beautifully written memoir about the pain of adjusting to normal life after being exposed to the intensity of battle . . . Ghosts by Daylight is no misery memoir, but a powerful lesson. Two people can love each other deeply, have a child, but still, in the end, not make it together."
—The Economist
 
"Di Giovanni writes with sadness, love and generosity about endings: about losing friends, colleagues, her father, her brother and her marriage. She is that unfashionable thing, a high romantic. Fortunately, she possesses a technique formidable enough to carry it off . . . [She has] turned the harsh facts of a life full of extremity and chaos into a story of defiant elegance"
—Jane Shilling, The Telegraph
 
"Janine di Giovanni writes with unblinking courage about war, death, marriage, motherhood, loss, love, redemption, fear—indeed, about all the world's most pressing risks and dangers. She has seen far more of life than the rest of us, so she knows more than we do—and yet she lays down her memoir with touching and deeply honest humility. Her writing here (as ever in her remarkable career) is a great and important achievement."
—Elizabeth Gilbert, author of Eat, Pray, Love
 
"With a gripping narrative that spans much of the globe, Ghosts by Daylight captures poignantly the romance of the war correspondent's life as well as its physical and psychological hardships. Di Giovanni's is a lyrical tale, haunted and haunting, of a passionate love affair that comes apart under fire, both on assignment abroad and at home in the quiet of living room and kitchen. She's been in all the hot spots of our era, and has suffered the cruel consequences, but she triumphs in the end over pain and trauma to dwell in a newfound contentment of her own devising."
—Amy Wilentz, author of The Rainy Season
 
"Only a writer as tender and intuitive as Janine di Giovanni can offer herself as a witness to some of the world's most barbarous and nightmarish wars while also deconstructing the very private unraveling of a once-beautiful love story. Ghosts by Daylight, just like its author, is brave, heroically and elegantly told, and brutally honest."
—Fatima Bhutto, author of Songs of Blood and Sword
 
"Janine di Giovanni has written a profound and beautiful book about the two great human struggles: love and war. That so much hope could shine through a story of such violence and destruction is testimony to the human spirit and, of course, the breathtaking clarity of Di Giovanni's prose. It is a brilliant book about things that concern us all."
—Sebastian Junger, author of War