The Best of Wodehouse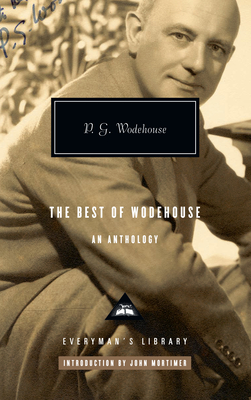 The Best of Wodehouse
An Anthology
Everyman's Library, Hardcover, 9780307266613, 796pp.
Publication Date: June 19, 2007
* Individual store prices may vary.
Buy at Local Store
Enter your zip code below to purchase from an indie close to you.
or
Buy Here
Description
P.G. Wodehouse (1881-1975) was perhaps the most widely acclaimed British humorist of the twentieth century. Throughout his career, he brilliantly examined the complex and idiosyncratic nature of English upper-crust society with hilarious insight and wit. The works in this volume provide a wonderful introduction to Wodehouse's work and his unique talent for joining fantastic plots with authentic emotion.
In "The Code of the Woosters," Wodehouse's most famous duo, Bertie Wooster and his unflappable valet Jeeves, risks all to steal a cream jug. "Uncle Fred in the Springtime," part of the famous Blandings Castle series, follows Uncle Fred as he attempts to ruin the Duke of Blandings while he is preoccupied with his favorite pig. Fourteen stories feature some of Wodehouse's most memorable characters, and three autobiographical pieces provide a revealing look into Wodehouse's life.
With his gift for hilarity and his ever-human tone, Wodehouse and his work have never felt more lively. With a New Introduction by John Mortimer
(Book Jacket Status: Jacketed)
About the Author
Sir Pelham Grenville Wodehouse (P. G. Wodehouse) was an English humorist and writer best known for his Jeeves and Blandings Castle novels. Educated at boarding schools, Wodehouse turned to writing at a young age, demonstrating great skill at humorous sketches and musical lyrics. He continued to write part-time while pursuing, at the behest of his father, a career in banking, and successfully contributed numerous pieces to Punch, Vanity Fair, and The Daily Express, among other publications. In addition to his literary work, Wodehouse was incorporated into the Songwriters Hall of Fame in recognition of his collaboration with Cole Porter on Anything Goes, his lyrics to the song Bill from Show Boat, and his work on the musicals Rosalie and The Three Musketeers.
While interned along with other British citizens in Germany during the Second World War, Wodehouse made a series of radio broadcasts for which he was accused of being a collaborator; and, although later cleared of the charges, he never returned to England. His work has influenced many other writers including Evelyn Waugh, Rudyard Kipling, J. K. Rowling, and John Le Carr?. P. G. Wodehouse died in 1975 at the age of 93.
John Mortimer was the author of the Rumpole series, many of which formed the basis for the PBS-TV series Rumpole of the Bailey. The first book featuring his most famous character, Horace Rumpole, was published by Penguin in 1980. His work also includes many novels and plays and three acclaimed volumes of autobiography. A former barrister, Mortimer, who was knighted in 1998, lived in Oxfordshire, England. He died in January of 2009.
Praise For The Best of Wodehouse…
"Wodehouse is the greatest comic writer ever." –Douglas Adams

"Mr. Wodehouse's idyllic world can never stale. He will continue to release future generations from captivity that may be more irksome than our own. He has made a world for us to live in and delight in." –Evelyn Waugh

"The very definition of British humor." –Entertainment Weekly

"It is impossible to be unhappy while reading the adventures of Jeeves and Wooster. And I've tried." –Christopher Buckley

"Timelessly funny and mean." –David Foster Wallace

"Wodehouse can be extremely funny, of course, and Bertie and Jeeves are echt-Englishmen, but the surprising and surpassing pleasure of these books is their cheerful humanity." –Kurt Andersen