Half the Sky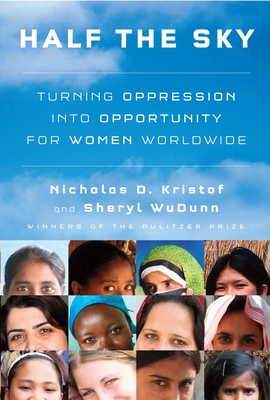 Half the Sky
Turning Oppression Into Opportunity for Women Worldwide
Knopf Publishing Group, Hardcover, 9780307267146, 294pp.
Publication Date: September 8, 2009
* Individual store prices may vary.
Buy at Local Store
Enter your zip code below to purchase from an indie close to you.
or
Buy Here
Description
From two of our most fiercely moral voices, a passionate call to arms against our era's most pervasive human rights violation: the oppression of women and girls in the developing world.
With Pulitzer Prize winners Nicholas D. Kristof and Sheryl WuDunn as our guides, we undertake an odyssey through Africa and Asia to meet the extraordinary women struggling there, among them a Cambodian teenager sold into sex slavery and an Ethiopian woman who suffered devastating injuries in childbirth. Drawing on the breadth of their combined reporting experience, Kristof and WuDunn depict our world with anger, sadness, clarity, and, ultimately, hope.
They show how a little help can transform the lives of women and girls abroad. That Cambodian girl eventually escaped from her brothel and, with assistance from an aid group, built a thriving retail business that supports her family. The Ethiopian woman had her injuries repaired and in time became a surgeon. A Zimbabwean mother of five, counseled to return to school, earned her doctorate and became an expert on AIDS.
Through these stories, Kristof and WuDunn help us see that the key to economic progress lies in unleashing women's potential. They make clear how so many people have helped to do just that, and how we can each do our part. Throughout much of the world, the greatest unexploited economic resource is the female half of the population. Countries such as China have prospered precisely because they emancipated women and brought them into the formal economy. Unleashing that process globally is not only the right thing to do; it's also the best strategy for fighting poverty.
Deeply felt, pragmatic, and inspirational, "Half the Sky" is essential reading for every global citizen.
About the Author
Nicholas D. Kristof and Sheryl WuDunn live outside New York City.

WuDunn is married to Nicholas D. Kristof and they were the first married couple to win a Pulitzer Prize for journalism. As longtime foreign corresponents for the New York Times, they won the prize for their coverage of the Tiananmen studient movement in China and its bloody suppression; they have won many other rizes as well, including the George Polk Award and the Overseas Press Club prize for best foreign reporting. She is a third-generation Chinese-American who holds graduate degrees from both Harvard Business School and Princeton, works for the Times in their business operations.
Praise For Half the Sky…
"Opens our eyes to an enormous humanitarian issue."
            -Washington Post 10 Best Books of the Year
 
"Vitally important . . . Heartbreaking, galvanizing, and unforgettable."
            -Publishers Weekly Top 100 Books of 2009
 
"This book isn't a sermon . . . These stories are electrifying and have the effect of breaking down this enormous problem into segments the reader can focus on. Suddenly, these horrendous problems begin to seem solvable . . . Again, this book is not a sermon about victims. Its range is wide, and sometimes it's even funny . . . Half the Sky is a call to arms, a call for help, a call for contributions, but also a call for volunteers. It asks us to open our eyes to this enormous humanitarian issue. It does so with exquisitely crafted prose and sensationally interesting material . . . I really do think this is one of the most important books I have ever reviewed."
            -Carolyn See, The Washington Post
 
"Passionate yet practical . . . [Half the Sky] is both stirring and sensible . . . This wonderful book combines a denunciation of horrible abuses with clear-eyed hope and some compelling practical strategies.  The courageous women described here, and millions more like them, deserve nothing less."
            -Martha Nussbaum, The New York Times
 
"Half the Sky is a story of empowerment . . . This book takes a sad song and makes it better, so to speak."
            -Yoko Ono, O: Oprah Magazine
 
"Women facing poverty, oppression, and violence are usually viewed as victims.  Nick Kristof and Sheryl WuDunn's Half the Sky shows that unimaginable challenges are often met with breathtaking bravery.  These stories show us the power and resilience of women who would have every reason to give up but never do.  They will be an inspiration for anyone who reads this book, and a model for those fighting for justice around the world.  You will not want to put this book down."
            -Angelina Jolie
 
"I read Half the Sky in one sitting, staying up until 3 a.m. to do so.  It is brilliant and inspirational, and I want to shout about it from the rooftops and mountains.  It vividly illustrates how women have turned despair into prosperity and bravely nurtured hope to cultivate a bright future.  The book ends with an especially compelling 'What you can do' to exhort us all to action."
            -Greg Mortenson, author, Three Cups of Tea
 
"If you have always wondered whether you can change the world, read this book.  Nicholas Kristof and Sheryl WuDunn have written a brilliant call to arms that describes one of the transcendent injustices in the world today—the brutal treatment of women.  They take you to many countries, introduce you to extraordinary women, and tell you their moving tales.  Throughout, the tone is practical not preachy and the book's suggestions as to how you can make a difference are simple, sensible, and yet powerful.  The authors vividly describe a terrible reality about the world we live in but they also provide light and hope that we can, in fact, change it."
            -Fareed Zakaria, author, The Post-American World
 
"I think it's impossible to stand by and do nothing after reading Half the Sky.  It does what we need most, it bears witness to the sheer cruelty that mankind can do to mankind."
            -George Clooney
 
"It's impossible to exaggerate the importance of this book about one of the most serious problems of our time: the worldwide abuse and exploitation of women.  In addition to describing the injustices, Kristof and WuDunn show how concerned individuals everywhere are working effectively to empower women and help them overcome adversity.  Wonderfully written and vividly descriptive, Half the Sky can and should galvanize support for reform on all levels.  Inspiring as it is shocking, this book demands to be read."  
           -Anne Rice
 
"Half the Sky is a passionate and persuasive plea to all of us to rise up and say 'No more!' to the 17th-century abuses to girls and women in the 21st-century world.  This is a book that will pierce your heart and arouse your conscience.  It is a powerful piece of journalism by two masters of the craft who are tireless in their pursuit of one of the most shameful conditions of our time."
            -Tom Brokaw
 
"The stories that Kristof and WuDunn share are as powerful as they are heartbreaking.  Their insight into gender issues and the role of women in development inspires hope, optimism, and most importantly, the will to change.  Both a brutal awakening and an unmistakable call to action, this book should be read by all."
            -Melinda Gates
 
"An unblinking look at one of the seminal moral challenges of our time.  This stirring book is at once a savage indictment of gender inequality in the developing world and an inspiring testament to these women's courage, resilience, and their struggle for hope and recovery.  An unexpectedly uplifting read."
            -Khaled Hosseini, author, The Kite Runner
 
"While we rightly roared at racial apartheid, we act as though gender apartheid is a natural, immutable fact.  With absolutely the right Molotov cocktail of on-the-ground reporting and hard social science, Kristof and WuDunn blow up this taboo . . . A thrilling manifesto for advancing freedom for hundreds of millions of human beings."
            -Johann Hari, Slate.com
 
"The most important book of the year . . . Half the Sky is the kind of book that could change the course of history."
            -William Petrocelli, The Huffington Post
 
"How many books make a significant difference in matters that concern everyone who lives on earth?  Nicholas D. Kristof and Sheryl WuDunn have certainly written such a book.  Half the Sky is the most important book that I have read since Rachel Carson's Silent Spring, published in 1962 . . . Half the Sky is a groundbreaking, eye-opening book, stunning in every sense."
            -Charles R. Larson, CounterPunch
 
"Urgent . . . Passionate . . . Compelling . . . Half the Sky is a grab-the-reader-by-the-lapels wake-up call."
            -Bill Williams, The Boston Globe
 
"Superb . . . As Rachel Carson's Silent Spring once catalyzed us to save our birds and better steward our earth, Half the Sky stands to become a classic, spurring us to spare impoverished women these terrors, and elevate them to turn around the future of their nations."
            -Susan Ager, Cleveland Plain Dealer
 
"Stunning . . . [Half the Sky] belongs on the 'must-read' list because it offers perspective, insight, and clear-eyed optimism for why and how each of us can and should meet one of the great moral and humanitarian challenges of our times."
            -Bill Gates, Sr., The Huffington Post