The Complete Robuchon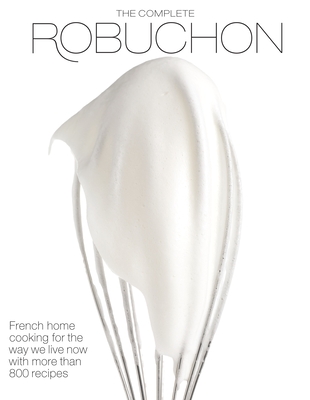 The Complete Robuchon
Knopf Publishing Group, Hardcover, 9780307267191, 813pp.
Publication Date: November 4, 2008
* Individual store prices may vary.
Buy Now
or
Shop Local
Enter your zip code below to purchase from an indie close to you.
Description
An incomparable culinary treasury: the definitive guide to French cooking for the way we live now, from the man the "Gault Millau" guide has proclaimed "Chef of the Century."
Joel Robuchon's restaurant empire stretches from Paris to New York, Las Vegas to Tokyo, London to Hong Kong. He holds more Michelin stars than any other chef. Now this great master gives us his supremely authoritative renditions of virtually the entire French culinary repertoire, adapted for the home cook and the contemporary palate.
Here are more than 800 precise, easy-to-follow, step-by-step recipes, including Robuchon's updated versions of great classics--Pot-au-Feu, Sole Meuniere, Cherry Custard Tart--as well as dozens of less well-known but equally scrumptious salads, roasts, gratins, and stews. Here, too, are a surprising variety of regional specialties (star turns like Aristide Couteaux's variation on Hare Royale) and such essential favorites as scrambled eggs. Emphasizing quality ingredients and the brilliant but simple marriage of candid flavors--the genius for which he is rightly celebrated--Robuchon encourages the beginner with jargon-free, impeccable instructions in technique, while offering the practiced cook exciting paths for experimentation.
"The Complete Robuchon" is a book to be consulted again and again, a magnificent resource no kitchen should be without.
About the Author
Createur du restaurant parisien portant son nom en 1980, Joel Robuchon s'y est fait une reputation mondiale. En 1995, a 51 ans, il a ferme les portes de cet etablissement, pour se consacrer essentiellement a un travail de consultant. En 2003, il est revenu sur la scene: il a ouvert L'Atelier de Joel Robuchon, sorte de bar a tapas de la grande cuisine, qui depuis ne desemplit pas. Il est a la tete de nombreux restaurants dans le monde: Tokyo, Las Vegas, bientot Londres et New York.


Praise For The Complete Robuchon…
FRENCH PRAISE FOR THE COMPLETE ROBUCHON

"Ce n'est pas la technologie qui a inspiré le grand cuisinier Joël Robuchon, mais une fascination pour les techniques cluinaires, qu'il n'a eu, au long de sa carrière, de cesse de maîtriser. Le Tout Robuchon est une explication, une vulgarization au bon sens du terme, de la cuisine du maître, capable de fixer souverainement les saveurs et les arômes, dominant la technique, méfiante envers les exercises de style ou les effets de mode. … Les 660 recettes de Joël Robuchon montrent qu'il est un passeur remarquable, initiateur plus qu'innovateur, l'émotion culinaire resultant de léconomie des moyens mis en oeuvre."
"The great cook Joël Robuchon is inspired not by technology but by his fascination with culinary techniques, which he has continued to acquire and refine throughout his career. Tout Robuchon is an explanation and a popularization (in the best sense) of a master's cooking, full of intense flavors and aromas, beyond technique, leery of stylish exercises and fashionable effects. . . . These recipes show Robuchon to be a remarkable teacher."
- Jean-Claude Ribaut, Le Monde


"Clair et complet, il restitue six-cents recettes, qui se fondent sur quarante ans d'expérience. Très accessible, il a l'avantage de passer en revue autant de preparations simples … que de recettes sophistiquées …, adaptées aux tablées familiales et à vos repas de fêtes."
"Clear and complete, Tout Robuchon is based on 40 years of experience. Very accessible, it offers as many simple preparations as it does sophisticated recipes, adapted for the family table and your holiday meals."
- V. J.-L., Valeur Actuelles


"Couronné "cuisinier du siècle," Joël Robuchon n'a pourtant perdu ni la tête ni le sens de l'essentiel. Adulé de Tokyo à Las Vegas par les clients de ses 12 restaurants . . . . Réunies dans un ouvrage sans fioritures, ses 660 recettes éprouvées . . . . Rassurant et inspirant. … Du steak au poivre à la cuisson des mojettes, tous les classiques d'une bonne maison défilent, de l'entrée au dessert."
"Despite having been crowned 'chef of the century,'… worshipped from Tokyo to Las Vegas by the patrons of his 12 restaurants, … Joël Robuchon has lost neither his head nor his sense of the essential. … The well-tested recipes gathered in this unpretentious work [are] reassuring and inspiring. From steak au poivre to bean cookery, all the classics of good home cooking are here, from starters to dessert."
- Paris-Match


"Qui n'a rêvé d'avoir pour professeur de cuisine un des plus grands chefs? … C'est chose faite avec cet ouvrage qui décortique l'art et la manière de Robuchon pour tous les apprentis chefs. La cuisine façon Robuchon est réllement à la portée de tous ceux qui le veulent."
"Who hasn't dreamed of having one of the greatest of chefs for a cooking teacher? . . . That dream comes true in this work that dissects the art and the methods of Robuchon for everyone learning to cook. Cooking the Robuchon way is now truly possible for anyone."
- Nice Matin


"Un livre de cuisine, un vrai, pas un de ces ouvrages truffes de belles photos et de recettes irrealisables. 800 recettes classees par produit . . . tres simples . . . ou beaucoup plus sophistiquees . . . toutes dans le register classique de la cuisine francaise chere a Joel Robuchon, sont proposes, mais l'essentiel n'est finalement pas la. Il est dans ce milliard d'informations distillees tout au long des 800 pages et qui vont repondre a toutes les questions que le cuisinier de tous les jours se pose."
"A true cookbook, not one of those works truffled with pretty photographs and impossible recipes. 800 recipes grouped by ingredients . . . , from the very simple . . . to the much more sophisticated . . . , all classics of French cookery dear to Joël Robuchon, are presented, but in the end they aren't what's essential here. What is truly valuable is the wealth of information dispensed throughout these 800 pages, which will answer every cook's everyday questions."
- Bourgogne Aujourd'hui


"Un cadeau de Joel Robuchon . . . ecrites dans un langage simple et comprehensible . . . tout y est. … Merci pour cette nouvelle bible."
"A gift from Joël Robuchon . . . written simply and comprehensibly. . . . Everything is here. Thanks for this new bible!"
- l'Alsace


"La cuisine d'un grand chef a la portee de tous."
"A great chef's cooking at everyone's fingertips."
- Marie Claire Idees