A Country Called Home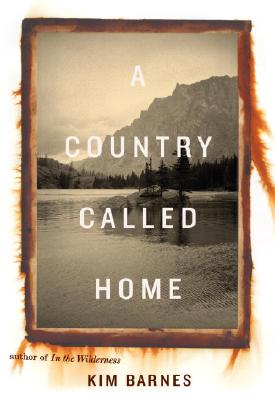 A Country Called Home
Knopf, Hardcover, 9780307268952, 288pp.
Publication Date: September 30, 2008
* Individual store prices may vary.
Buy at Local Store
Enter your zip code below to purchase from an indie close to you.
or
Not Currently Available for Direct Purchase
Description
With her acclaimed memoir In the Wilderness Kim Barnes brought us to the great forests of Idaho, where geography and isolation shape love and family. Now, in her luminous new novel, she returns to this territory, offering a powerful tale of hope and idealism, faith and madness.

It is 1960 when Thomas Deracotte and his pregnant wife, Helen, abandon a guaranteed future in upper-crust Connecticut and take off for a utopian adventure in the Idaho wilderness. They buy a farm sight unseen and find the buildings collapsed, the fields in ruins. But they have a tent, a river full of fish, and acres overgrown with edible berries and dandelion greens. Helen learns to make coffee over a fire as they set about rebuilding the house. Though Thomas discovers he can't wield a hammer or an ax, there is a local boy, Manny—a sweet soul of eighteen without a family of his own—who agrees to manage the fields in exchange for room and board. Their optimism and desire carry them through the early days.

But the sudden, frightening birth of Thomas and Helen's daughter, Elise, changes something deep inside their marriage. And then, in the aftermath of a tragic accident to which only Manny bears witness, suspicion, anger, and regret come to haunt this shattered family. It is a legacy Elise will inherit and struggle with, until she ultimately finds a hope of her own.

In this extraordinary novel, Kim Barnes reminds us of what it means to be young and in love, to what lengths people will go to escape loneliness, and the redemption found in family.
About the Author
Kim Barnes is the author of the novel Finding Caruso and two memoirs, In the Wilderness: Coming of Age in Unknown Country—a finalist for the 1997 Pulitzer Prize—and Hungry for the World. She is coeditor with Mary Clearman Blew of Circle of Women: An Anthology of Contemporary Western Women Writers, and with Claire Davis of Kiss Tomorrow Hello: Notes from the Midlife Underground by Twenty-Five Women Over Forty. Her essays, stories, and poems have appeared in a number of journals and anthologies, including The Georgia Review, Shenandoah, MORE magazine, and the Pushcart Prize Anthology. She teaches writing at the University of Idaho and lives with her husband, the poet Robert Wrigley, on Moscow Mountain.
Praise For A Country Called Home…
A Kansas City Star Best Book of the Year
A Washington Post Best Book of the Year
An Oregonian Top Ten Northwest Book of the Year

"Gorgeously written . . . lush and memorable. . . . A Country Called Home contains whispers of its literary ancestors but issues its own rich-throated cry into the wilderness." –Kansas City Star

"In the literature of the American frontier, few setups are as fertile and reliable as the Easterner come West. . . . Because [Barnes] knows the territory so intimately, A Country Called Home is filled with exquisitely etched landscapes. The novel brims with the smell of brambles and berries along an Idaho riverbank, the gritty feel of the dust in an abandoned homesteader's shack, the sounds of grouse and quail in the fields." –The New York Times Book Review

"Casts light on the yearning, restless human heart. . . . Powerful." –San Francisco Chronicle

"In the tradition of the great Western writer Willa Cather, Kim Barnes has written a novel as deeply rooted in the soil of her native Idaho."–The Oregonian

"Quietly haunting…. [Barnes's] descriptions of the rugged landscape quiver with stark beauty, wisdom and redemptive grace, much as her characters do." –The Washington Post

"The idealistic dreams and careless attitudes of the 1960s echo through this powerful novel…. Barnes captures Northwest country with a poet's eye." –Seattle Post-Intelligencer

"Brilliant. . . . One of three epigraphs, from master writer John Gardner, reads 'The fall from grace is endless.' And so it is with Manny, Thomas, Helen and Elise, who are always and slowly losing the battle not just with nature, but with themselves." –St. Louis Post Dispatch

"A Country Called Home, like many Western works of its kind, is a story of perseverance. Barnes's characters, all carrying their own secret pain, barely keep their heads above the waters that rage around them, literally and figuratively. . . . An elegy of sorts, to the power of the natural world, the lives it so indifferently claims and the grace with which those affected respond to its blows." –The Oregonian
"A Country Called Home is poetically written. The vivid descriptions of the land paint a romantic portrait of the wilderness, where the couple dream they'll find their ideal life but soon discover that nothing comes easy." –Las Vegas Review-Journal

"Barnes's prose is lovely, often incantatory, as she weaves the story of the troubled Deracotte family." –New West

"At the heart of this disturbing novel set in the Idaho wilderness is the desperate hunger of its characters to escape ennui and emptiness–in short, to find love. . . . Written in beautiful poetic prose, A Country Called Home is highly recommended." –The Tennessean

"The country through which Kim Barnes characters' travel in this novel of spiritual and emotional searching is a landscape eroded by grief and yearning and ultimately shame for our dissolution from our gods.  I finished reading A Country Called Home some time ago and still cannot quite move on from the experience." –Mark Spragg, author of An Unfinished Life

"A Country Called Home feels like a classic. . . . An engrossing, sometimes heartbreaking read with a leavening of hopefulness, Kim Barnes's new novel is not to be missed." –Bookreporter

"Kim Barnes's new novel is an exquisitely complex story, by turns pointed and poignant, about everything that matters: family, loyalty, religion, memory, love. With a master's skill Barnes paints a world tinged with loss, adeptly depicting sentiments left unspoken, relationships stunted by the hard winds of grief and guilt, and singular moments full to brimming with natural beauty and grace."  –Brady Udall, author of The Miracle Life of Edgar Mint

"Barnes's use of language is stunning, making you want to reread paragraphs out loud to someone else so they can enjoy it with you." –Sacramento Book Review

"A Country Called Home is a weave of human longings, accurate in its rendering of the ways they accumulate. . . . Give it a while, watch it come to life, and you'll find yourself rationing the pages, wishing it was longer." –William Kittredge, author of The Willow Field

"A seductive book of love and obsession. . . . Some books are easily put down, but the best of them, like A Country Called Home, won't let go of you." –Claire Davis, author of Winter Range