Too Much Happiness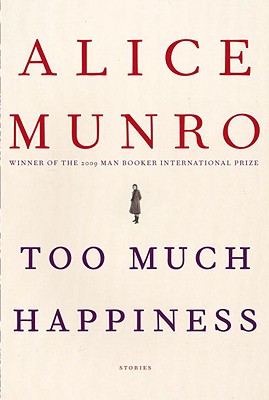 Too Much Happiness
Alfred A. Knopf, Hardcover, 9780307269768, 303pp.
Publication Date: November 17, 2009
* Individual store prices may vary.
Buy at Local Store
Enter your zip code below to purchase from an indie close to you.
or
Buy Here
Description
Ten superb new stories by one of our most beloved and admired writers--the winner of the 2009 Man Booker International Prize.
In the first story a young wife and mother receives release from the unbearable pain of losing her three children from a most surprising source. In another, a young woman, in the aftermath of an unusual and humiliating seduction, reacts in a clever if less-than-admirable fashion. Other stories uncover the "deep-holes" in a marriage, the unsuspected cruelty of children, and how a boy's disfigured face provides both the good things in his life and the bad. And in the long title story, we accompany Sophia Kovalevsky--a late-nineteenth-century Russian emigre and mathematician--on a winter journey that takes her from the Riviera, where she visits her lover, to Paris, Germany, and, Denmark, where she has a fateful meeting with a local doctor, and finally to Sweden, where she teaches at the only university in Europe willing to employ a female mathematician.
With clarity and ease, Alice Munro once again renders complex, difficult events and emotions into stories that shed light on the unpredictable ways in which men and women accommodate and often transcend what happens in their lives.
"Too Much Happiness "is a compelling, provocative--even daring--collection.
About the Author
Alice Munro est nee en 1931 au Canada. Elle est l auteure d une douzaine de recueils de nouvelles et d un roman, traduits dans le monde entier. Laureate de nombreux prix, dont le Man Booker International Prize, elle a notamment publie, aux Editions de l Olivier, "Fugitives" (2008) et "Du cote de Castle Rock" (2009). Elle a recu le Prix Nobel de Litterature en 2013.
Praise For Too Much Happiness…
"Filled with subtle and far-reaching thematic reverberations. . . . [Munro has] an empathy so pitch-perfect. . . . You [are] drawn deftly into another world." —The New York Times Book Review

"Profound and beautiful." —Francine Prose, O, The Oprah Magazine

"Alice Munro has done it again. . . . [She] keeps getting better. . . . Her brush strokes are fine, her vision encompasses humanity from its most generous to its most corrupt, and the effect is nothing short of masterful." —The San Francisco Chronicle

"Richly detailed and dense with psychological observation. . . . Munro exhibit[s] a remarkable gift for transforming the seemingly artless into art . . . [She] concentrate[s] upon provincial, even backcountry lives, in tales of domestic tragicomedy that seem to open up, as if by magic, into wider, deeper, vaster dimensions." —Joyce Carol Oates, New York Review of Books
 
"A perfect 10. . . . With this collection of surprising short stories, Munro once again displays the fertility of her imagination and her craftsmanship as a writer." —USA Today
 
"Masterly. . . . [A] remarkable new book." —The Los Angeles Times
 
"Daring and unpredictable. . . . Reading Munro is an intensely personal experience. Her focus is so clear and her style so precise. . . . Each [story is] dramatically and subtly different." —The Miami Herald
 
"A brand-new collection of short stories from Alice Munro—winner of a Man Booker Prize—is always cause for celebration, and Too Much Happiness doesn't disappoint. It dazzles. The 10 spare, lovely tales are . . . brimming with emotion and memorable characters. . . . Munro's are stories that linger long after you turn the last page." —Entertainment Weekly, Grade A
 
"Finely, even ingeniously, crafted. . . . Deliver[ed] with instinctive acuity." —The Seattle Times
 
"Rich. . . . Truthful, in the deepest sense of the word. . . . Reading an Alice Munro short story is like sinking into a reverie. She expertly captures the shadings and byways of associative thought. . . . [Munro] will surely be remembered as the writer who took the short story to the depth of what short fiction can plumb." —The Kansas City Star, Best 100 Books of 2009
 
"Rich and satisfying. . . . A commanding collection and one of her strongest. . . . Short fiction of this caliber should be on everyone's reading list. Munro's stories are accessible; she simply writes about life. . . . Honest, intuitive storytelling that gives the short story a good name." —Chicago Sun-Times
 
"There's never too much happiness in a Munro collection, just sentence after sentence to die for." —Louisville Courier-Journal
 
"[Munro is] universally acknowledged as one of the greatest short-story writers of our time. . . . [Her] work [is] at such a high level. . . . These stories are extraordinary, ample with the shrewdness and empathy that we have come to take for granted in Munro. . . . Her most distinguishing characteristic as a writer is . . . her extraordinary intimacy with her characters." —The New Republic
 
"Coherent and compelling. . . . Munro manages to turn the sentimental into the existential." —The Philadelphia Inquirer
 
"Stunning. . . . An unexpected gift. . . . Here we have 10 perfectly honed pieces, each a study of the human psyche in hard-to-imagine circumstances that Munro presents, seemingly effortlessly, in an economy of words and sentences." —The Buffalo News
 
"As always in her distinctive stories, Alice Murno's style is vivid, her attention tireless, her curiosity omnivorous, and her sentences drawn from the freshest of springs." —The Washington Post
 
"If there's a better short story writer working today than Alice Munro, I haven't read her. In story after story, Munro manages to compress whole lives and emotional arcs into 20 or so shapely pages, long enough to engage us in their world but short enough to absorb in a single sitting or commute. Her prose is spare without feeling rushed or cryptic, at once lucid and subtle." —Heller McAlpin, The Christian Science Monitor
 
"I sit still for Alice Munro's expository passages every time. She lays down such seemingly ordinary but useful sentences, one after another after another. . . . I stay to marvel. . . . Is there anyone writing short fiction today in English who has more authority?" —Alan Cheuse, NPR
 
"Beautiful. . . . With great insights into human nature." —The Grand Rapids Press
 
"All varying degrees of excellent. . . . A work of supreme observational power, employing Munro's deft, controlled sentences in the service of essaying characters who don't realize they're living their lives on the brink until revelation rushes over them." —The A.V. Club
 
"Another piercing collection. . . . It's a testament to Munro's mastery that she can make the lurid sing with nuance and explicability. . . . Her ear for dialogue is unerring. . . . Whatever format you favor in storytelling, go ahead and enter Too Much Happiness.  It will carry you safely through the gates, and no doubt send you looking for other castles constructed by the stunning Alice Munro." —The Plain Dealer
 
"Shows Munro's skills at their best." —The Pittsburgh Post-Gazette
 
"Outstanding. . . . [Munro] writes concise descriptions that bring characters and settings to life. . . . [and] throws in observations that serve as nuggets of wisdom." —The Wichita Eagle
 
"Consistently engrossing . . . Thoughtfully wrought. . . . [The] material is given piercing clarity by the resolute simplicity and restraint of Ms. Munro's prose. . . . She can raise hackles on the back of your neck with a precisely phrased unadorned verb or noun. . . . The Munro magic is showcased brilliantly." —The Washington Times
 
"The unanticipated is in full force here, fresh and exciting. Munro seems to say that mundane lives constructed of order and routine are still governed by random acts. She hides human complexity in the ordinary until it surfaces in unimagined ways." —The Providence Journal
 
"As poignant [and] chilling as they come. . . . Why [Munro] is rightly regarded as a master of the form is her deliberate, suspenseful layering of characters and circumstances. . . . Every story in Too Much Happiness is, in a sense, a life story. . . . It's as if the characters are reading along with these mini life lessons, emerging with enviable wisdom and perspective." —The L Magazine
 
 
"Munro is the master of the inevitable surprise. . . . [She] has an uncanny ability to take us inside a character's mind." —The St. Petersburg Times
 
"Few writers can match the clarity and immediacy of Munro's descriptions whether she is portraying a subsiding marriage, a treacherous childhood, or the erotic and intellectual sojourn of a 19th century Russian mathematician." — The Boston Globe
 
"These ten short stories cement the capstone on what fellow Canadian Margaret Atwood has described as Munro's ascent to 'international literary sainthood'. . . . The title story . . . is, in length and scope, Munro's most ambitious story to date. . . . May this house of hers, and its autumnal gardens, continue to be harvested to glorious effect." —The Oregonian
 
"Intrigue and manipulation fill the vividly drawn stories in this collection." —The Sacramento Bee
 
"More occurs in Munro's short stories than in most novels. . . . The pieces here . . . are thrilling permutations of her recurring themes: love, regret, the re-framing of one's own personal narrative over time." —The New York Post
 
"More than virtually anyone else's, Alice Munro's stories unfold in surprising ways that nonetheless seem perfectly right. They are marvels of unhurried compression in which precision looks casual, in which everything is clearly in its place, though no one else might think to put it exactly thus." —Minneapolis Star Tribune

Praise from fellow writers:

"Her work felt revolutionary when I came to it, and it still does." —Jhumpa Lahiri

"She is one of the handful of writers, some living, most dead, whom I have in mind when I say that fiction is my religion." —Jonthan Franzen

"The authority she brings to the page is just lovely." —Elizabeth Strout

"She's the most savage writer I've ever read, also the most tender, the most honest, the most perceptive." —Jeffery Eugenides

"Alice Munro can move characters through time in a way that no other writer can."—Julian Barnes

"She is a short-story writer who…reimagined what a story can do." —Loorie Moore

"There's probably no one alive who's better at the craft of the short story." —Jim Shepard

"A true master of the form." —Salman Rushdie

"A wonderful writer." —Joyce Carol Oates
Wednesday, Dec 30, 2009
Too Much Happiness, the newest collection of short stories from the master of the form, features a cast of lovers and losers, husbands and widows, scientists and woodworkers. "Is there anyone writing short fiction today in English who has more authority?" asks reviewer Alan Cheuse. More at NPR.org