Bloodroot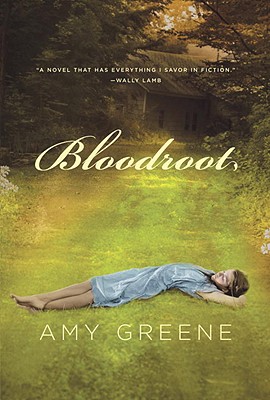 Bloodroot
Knopf, Hardcover, 9780307269867, 304pp.
Publication Date: January 12, 2010
* Individual store prices may vary.
Buy at Local Store
Enter your zip code below to purchase from an indie close to you.
or
Not Currently Available for Direct Purchase
Description
Named for a flower whose blood-red sap possesses the power both to heal and poison, Bloodroot is a stunning fiction debut about the legacies—of magic and madness, faith and secrets, passion and loss—that haunt one family across the generations, from the Great Depression to today.

The novel is told in a kaleidoscope of seamlessly woven voices and centers around an incendiary romance that consumes everyone in its path: Myra Lamb, a wild young girl with mysterious, haint blue eyes who grows up on remote Bloodroot Mountain; her grandmother Byrdie Lamb, who protects Myra fiercely and passes down "the touch" that bewitches people and animals alike; the neighbor boy who longs for Myra yet is destined never to have her; the twin children Myra is forced to abandon but who never forget their mother's deep love; and John Odom, the man who tries to tame Myra and meets with shocking, violent disaster. Against the backdrop of a beautiful but often unforgiving country, these lives come together—only to be torn apart—as a dark, riveting mystery unfolds.

With grace and unflinching verisimilitude, Amy Greene brings her native Appalachia—and the faith and fury of its people—to rich and vivid life. Here is a spellbinding tour de force that announces a dazzlingly fresh, natural-born storyteller in our midst.
About the Author
Amy Greene was born and raised in the foothills of East Tennessee's Smoky Mountains, where she lives with her husband and two children.
Praise For Bloodroot…
"Some novels are so powerful, so magical in their sweep and voice, that they leave you feeling drugged. Close the pages and the people in them keep right on talking to you. Amy Greene's debut novel, Bloodroot, set in the bone-poor hollows of the eastern Tennessee mountains, is such a book. . . . I found myself close to tears at several turns—devastated along with the characters by another crazed loss—and yet never depressed. Greene's writing is so pure and effortless, so evocative of a far-off place, that the beauty of her words transcends whatever miseries her characters must overcome. . . . Greene, who grew up in the Smoky Mountains, captures what poverty looks and feels and sounds like. Her descriptions of a life lived by the railroad tracks rival any corner scene from The Wire. The vernacular is effortless and thick . . . This is a terribly sad, breathtakingly good read. Greene, get to writing another one quick."
—Karen Valby, Entertainment Weekly, Grade: A

"Stirring . . . The wild beauty of Appalachia is the backdrop for Bloodroot, Greene's entrancing debut novel told in six alternating voices over four generations. . . . The novel's charm comes from its hints of magical realism. Women with 'gifts'—to heal, make love potions and put curses on their enemies—add color."
—Carol Memmott, USA Today 
 
"Masterful . . . Deep in Appalachia, where children run barefoot through the trees and the scent of wood smoke fills your nose, there's a place called Bloodroot Mountain, the fictional setting of Amy Greene's intricately layered debut novel . . . The book is narrated by six characters across four generations . . . voices [that] weave together a textured patchwork of life in a world geographically isolated but full of humanity. . . . A fascinating and authentic look at a rural world full of love and life, dreams and disappointment."
—Nicole Cammorata, The Boston Globe  

"Four generations come to life in this beautiful and haunting debut novel by a daughter of Appalachia. It's about family, forbidden love and magic—and Greene's prose will cast a spell on you."
 —Glamour
 
"Bloodroot is a marvel of a first novel, its world deftly conjured, with a mood and magic all its own. I don't know what captivated me more, the vividness of its voices or its evocation of a corner of the American landscape both foreign and familiar—but I was riveted from start to finish."
—Arthur Golden, author of Memoirs of a Geisha
 
"Amy Greene's Bloodroot can stand proudly beside Alice Walker's The Color Purple and Jeannette Walls's The Glass Castle, two works which likewise examine the isometric push of the human spirit against the immovable forces of tyranny and poverty. Greene's novel has everything I savor in fiction: flawed but sympathetic characters, a narrative as unpredictable as it is engaging, and a setting rendered with such a vivid palette of local color detail that you'd swear you were there."
—Wally Lamb, author of The Hour I First Believed

"Brooding, dark and beautifully imagined . . . If Wuthering Heights had been set in southern Appalachia, it might have taken place on Bloodroot Mountain, where Amy Greene's debut novel by the same name unfolds. . . . Greene, a native of eastern Tennessee, has filled her book with the sights and sounds—and the 'granny women,' or healers—of the wild, untouched landscape of her childhood. These wise women have 'the touch': a gift for working with herbs, curing disease, delivering babies and foreseeing the future. Used for good, the touch is a benign power in harmony with nature, but it can 'draw ugly things to you if you're not right with the Lord.' The Bell sisters of Bloodroot Mountain once performed everyday magic that earned them respect for miles around. But a jealous cousin cursed them long ago, and the only one who can lift the family's run of bad luck is a baby 'born with haint blue eyes, a special color that wards off evil spirits and curses.' When blue-eyed Myra Lamb comes into the world, her grandmother Byrdie sighs with relief that the spell has finally ended. Myra has inherited her great-great aunts' gifts, and soon shows an ability to commune with birds, horses and other wild creatures: A neighbor finds her asleep in the leaves one day, a kaleidoscope of butterflies covering her like a blanket. But like many a human girl, Myra falls for the wickedly handsome John Odom . . . and she's willing to do whatever it takes to win him—even if it means resorting to a love charm she knows is taboo . . . From then on, the touch swirls through Bloodroot like a deadly undercurrent that drags Myra under, along with everyone she touches, thwarting their efforts to love and be loved. . . . Bloodroot is a finely crafted, mystical look at a vanishing culture and its healers, once revered for their wisdom and faith. . . . This is rough magic, unromanticized and fierce, that came down from the Scots-Irish who first settled the high hills, bringing their folklore and spells with them in hopes of surviving a harsh environment. Through examining the many nuances of the touch, the author also mines the elusive connections between people and what happens when those connections fail—or are never developed properly."
—Gina Webb, The Atlanta Journal-Constitution 

 "Compelling . . . Greene lovingly describes [Appalachia's] mountains and hollows, its waters filled with bluegills. There's also much talk of healing and magic and backwoods folk wisdom. But this story is really about the fraught, sometimes dangerous bonds between children and their mothers, and the spillover of violence from one generation to the next. . . . [Greene] succeeds in capturing the intimate relationship her characters have with the natural world. . . . In unadorned but assured prose, [she] takes her readers to the hardscrabble world of life in a blue-collar Appalachian town . . . Greene captures well the electric emotional snap of a woman about to break free from an inheritance of violence and poverty."
—Lisa Fugard, The New York Times Book Review 

"Bloodroot is the name of a flower with blood-red sap, and it can both cure and poison someone. It grows wild on the mountains, which is at the center of this four-generation novel set in Appalachia. Appalachia also happens to be Ms. Greene's home from childhood, and in her pages, the culture that comes to life is as haunted and mesmerizing as a fairy tale or a dream, as evil as a vile curse, and as beautiful as that ephemeral bloodroot flower.  I thought, is Greene channeling Flannery O'Connor or James Dickey or William Faulkner in terms of this dark and mad side of Southern culture? Amy Greene, I would imagine that you will continue to write about the very place that you are from. I hope you do!"
—Jacki Lyden, "Weekend Edition" (NPR) 
 
"The story itself transcends its bucolic setting . . . Taking cues from the William Wordsworth poem 'Tintern Abbey,' [Greene] creates indelible, endearing images of the mountains, the small towns and the townsfolk."
—Rege Behe, Pittsburgh Tribune-Review 
 
"Powerful . . . Greene points to Cormac McCarthy as her major literary influence, and there are dozens of passages [in Bloodroot] that are reminiscent of McCarthy's early Appalachian fiction. But Bloodroot reminds me even more of Jane Hamilton's The Book of Ruth or especially of Harriette Arnow's 1954 classic The Dollmaker, which begins with a bittersweet homage to an older, Edenic Appalachia . . . [A] spot-on account of a land and its people . . . It is the unmistakable authenticity of her voice—coming from a part of America that rarely gets heard—which makes Greene worth reading. . . . Bloodroot rings true."
—Mike Fischer, Milwaukee Journal-Sentinel

"Beautiful . . . A big, ambitious book . . . An epic—a story of madness and magic that spans four generations, an emotionally tangled tale that requires six disparate voices to tell and offers no easy resolutions to the conflicts of the heart. . . . [Myra Lamb] is both larger than life—the wild child of Wordsworthian nature—and the all-too-real victim of limiting circumstances. [A summary of the novel] seriously misrepresents the deft touch and light hand with which Greene conveys mountain lore. The novel is charged with an atmosphere of magic and mystery, but it is simultaneously so firmly grounded in the soil and stones of Bloodroot Mountain that the supernatural operates subtly, almost unconsciously. . . . What's much clearer is the authenticity of the voices here—all speaking the same Appalachian dialect and yet identifiably distinct from each other, a true feat of ventriloquism for a first-time novelist—and the profound love of the land that pervades the narrative. . . . This is Romanticism with a capital R—with its belief in the wisdom of children, its celebration of the natural world, and its shroud of mist and mystery. Bloodroot captures profoundly [a] vanishing mountain world."     
—Margaret Renkl, Chapter 16
 
"Once or twice a year, I pick up a novel and just know it's gonna be big. I had that feeling with Kathryn Stockett's The Help as well as The Story of Edgar Sawtelle by David Wroblewski. This year, watch out for young and gifted Amy Greene. Bloodroot is her first novel, but Greene's prose makes you feel like she's been at it for decades. . . . Begun near the Depression all the way to modern times, Bloodroot spins a web of tragic history, mountain lore, and forbidden love amid the beauty of east Tennessee's hill country. At the eye of the storm is Myra Lamb, a waifish girl born with 'haint' blue eyes and the ability to 'touch' people and animals alike. . . . Myra's grandmother Byrdie will steal your heart. . . . Bloodroot will sweep you away to a time and place like no other."
—JC Patterson, Madison County (MS) Herald 

"Romantic, riveting and beautiful: Bloodroot demonstrates how the soul of one woman can possess the spirit of many. . . . With a literary style reminiscent of Toni Morrison, Greene shows readers how extreme, inescapable, unremitting adoration can transform your whole being. Filled with passion and poetry, Bloodroot is an exciting beginning for a literary career."
—Amber Amey, Sacramento News and Review

"Greene's debut novel shows three generations of an eastern Tennessee family struggling against abusive men and narrow values that try to destroy their unusually active spirits. In the 1960s, Byrdie raises her granddaughter Myra on Bloodroot Mountain. She can tell early on that Myra has 'the touch,' an extra sensitivity passed down by the women of their family . . . The narration of Part One alternates between Byrdie and Myra's friend Doug, who loves the wild girl but knows she'll never be his. . . . Myra is swept up in a passionate romance with John Odom . . . Desire turns into violent possessiveness. . . . [A] fractured chronology builds suspense, allowing for red herrings and foreshadowing like Myra's box holding a ring with a man's finger still attached. . . . Pitch-perfect voices tell a story loaded with lyric suffering and redemption: Bound to be a huge hit."
—Kirkus Reviews

"This stunning debut novel is a triumph of voice and setting. Following one family from the Depression up through the present, the story is . . . set in a remote region called Bloodroot Mountain, so named for the rare flower that grows there, which can both poison and heal. The family's struggles with poverty and human cruelty and their search for connection are set against the majestic Appalachian landscape, which is evoked in the simplest and most beautiful language. At the center of this dramatic story is Myra Lamb . . . born with sky-blue eyes and a talent for connecting with animals and people. Allowed to run free on the family's mountaintop, Myra is a charismatic figure who eventually draws the romantic interest of John Odom, the wealthy son of business owners in town. Their marriage, which starts out with so much promise, gradually turns abusive . . . The long repercussions of their violent relationship, on both Myra's children and Myra's own sanity, are played out through the decades as each family member speaks to the lasting effects of John Odom's hot temper. With a style as elegant as southern novelist Lee Smith's and a story as affecting as The Color Purple, this debut offers stirring testimony to the resilience of the human spirit."
—Joanne Wilkinson, Booklist (starred, boxed review) 

"I couldn't get my nose out of Amy Greene's debut novel about life on a remote Appalachian mountain. Told in alternating voices of a family over four generations, it's the story of Myra Lamb, who has inherited her grandmother's 'touch'—an ability to bewitch people. Grandmother Byrdie raises Myra . . . until the girl turns wild, marries the wrong man, has twins, Johnny and Laura, and gets in deep, deep trouble. She is 'put away,' the kids stuck in foster homes. Will they, finally, be reunited with their mother and finally know her story? Will they ever be able to say, 'It's not forgetting that heals. It's remembering?' Bloodroot is a magical story, a story of passion, madness, a mystery, and a wild and tempestuous place."
 —Ann La Farge, Hudson Valley News 
 
"Bloodroot is a literary page-turner filled with characters—and a place—so real that they threaten to burst from the seams of the book and take over. I am haunted by Myra and her children, by the longing and grace of this book's language. But most of all I am haunted by the beauty of this lovely debut novel, a beauty as rare and hard to find as the elusive white-flowered plant for which it is named. Bloodroot is the best Appalachian novel to come out of the region in a long, long while, ushering in a fresh new voice that speaks for a whole generation."
—Silas House, author of Clay's Quilt and A Parchment of Leaves

"Haunting . . . Woven into [Bloodroot] is mountain magic, family history, rural poverty and each generation's effort to make things better for their children. The central character, Myra Lamb, is raised by her grandmother on the mountain they both love, but she eventually leaves it for the passion she feels for John Odom, a dark character whose abusive nature dramatically changes Myra's life and her children's as well."
—Susan Alexander, Knoxville News-Sentinel 
 
"It's spooky what Bloodroot did to me: it caused me to have a vision of Amy Greene typing at supernaturally speedy speed, thousands of beautiful novels just like this one purring out and away from her fingers. And there I am, in a rocker by a sunny window, forevermore reading them. That would heaven to me. The sound of her book's voices ring perfect."
—Carolyn Chute, author of The Beans of Egypt, Maine
 
"Brilliant . . . A tapestry of voices and lives so rich and intricate that each and every storyline holds the reader spellbound. It is a story of generations and the place that gave them birth, a story of love and loss, and sacrifice and forgiveness.  The voices ring as true and intimate as any I have ever heard. Hats off to Amy Greene, an immensely talented writer."
—Jill McCorkle, author of Going Away Shoes
 
"Amy Greene is a born storyteller who depicts the voices and folkways of Appalachia with both eloquence and verisimilitude. A striking debut by a gifted writer."
—Ron Rash, author of Serena
 
 
 
Sunday, Feb 21, 2010
Amy Greene's debut novel, Bloodroot, tells the story of a family in Appalachia that's been living under a curse for generations. Greene, a native Appalachian, married and had children while she was young says she wanted to convey a sense of isolation through her writing. More at NPR.org