Kearny's March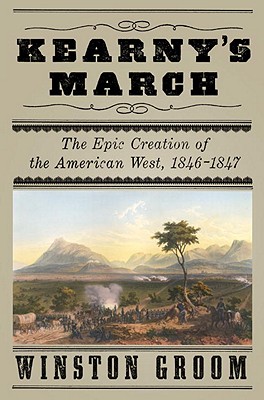 Kearny's March
The Epic Creation of the American West, 1846-1847
Knopf Publishing Group, Hardcover, 9780307270962, 336pp.
Publication Date: November 8, 2011
* Individual store prices may vary.
Buy at Local Store
Enter your zip code below to purchase from an indie close to you.
or
Buy Here
Description
In June 1846, General Stephen Watts Kearny rode out of Fort Leavenworth, Kansas, with two thousand soldiers, bound for California. At the time, the nation was hell-bent on expansion: James K. Polk had lately won the presidency by threatening England over the borders in Oregon, while Congress had just voted, in defiance of the Mexican government, to annex Texas. After Mexico declared war on the United States, Kearny's Army of the West was sent out, carrying orders to occupy Mexican territory. When his expedition ended a year later, the country had doubled in size and now stretched from the Atlantic to the Pacific, fulfilling what many saw as the nation's unique destiny—and at the same time setting the stage for the American Civil War.
 
Winston Groom recounts the amazing adventure and danger that Kearny and his troops encountered on the trail. Their story intertwines with those of the famous mountain man Kit Carson; Brigham Young and his Mormon followers fleeing persecution and Illinois; and the ill-fated Donner party, trapped in the snow of the Sierra Nevada. Together, they encounter wild Indians, Mexican armies, political intrigue, dangerous wildlife, gold rushes, and land-grabs. Some returned in glory, others in shackles, and some not at all. But these were the people who helped America fulfill her promise.
 
Distilling a wealth of letters, journals, and military records, Groom gives us a powerful account that enlivens our understanding of the exciting, if unforgiving, business of country-making.
About the Author
Winston Groom, a bestselling author, wrote the acclaimed Vietnam War novel "Better Times Than These", the prizewinning "As Summers Die", "Gone the Sun", and "Only. "He coauthored "Conversations with the Enemy", which was nominated for a 1984 Pulitzer Prize. His best known works are the #1 "New York Times "bestsellers "Forrest Gump "and "Gumpisms: The Wit and Wisdom of Forrest Gump". The phenomenal hit film "Forrest Gump "garnered six Academy Awards, including Best Picture and Best Actor. Groom is also the author of "Shrouds of Glory", an account of Confederate General John Bell Hood's decisive actions in the lost great campaign of the Civil War. He lives in Point Clear, Alabama.
Praise For Kearny's March…
Praise for Winston Groom's Kearny's March:

"Readable and engaging. . . . Groom is a masterful storyteller. . . . Told wonderfully, drolly by Groom. . . . Informed, reliable, shrewd and insightful, but laid-back. . . . Graceful and succinct. . . . Kearny's March is for those who long to relive those exciting and dangerous days—and more particularly for those happy just to read about them. Groom fleshes his story out with enough extravagant, flawed personalities to cast a Shakespearean comedy."
—Dallas Morning News 
 
"Vivid. . . . Groom's retelling of the Year of Decision is brisk, unblinking, unsentimental. . . . This is not a tale for dainty or euphemistic narration, and Groom knows warfare at first hand."
—The Weekly Standard
 
"Groom describes the hardships of [Kearny's] trail beautifully. . . . The exploits of many of the colorful characters in this history are often breathtaking. . . . A grand story. . . . Groom has developed his powers of storytelling—characterization, concision, and scene-by-scene description—to a high art."
—Tuscaloosa News
 
"Thrilling. . . . Groom is a graceful, fluid wordsmith with a gift for crafting history. . . . An altogether superior read. . . . [Groom] engages, informs and entertains the reader all at once, so that one comes away from his nonfiction books feeling good about what's been so effortlessly learned. . . . The book's main focus is the incredible march west by Gen. Stephen Watts Kearny in 1846, but significant parallel themes include the Mexican War, the Mormon exodus, the Santa Fe and Oregon trails, the Donner Party, and the conquest of California. These are all well-known events and have been oft-related through the years. But Groom's achievement is to interweave them all seamlessly and sweep the reader along like an aspen leaf in a Rocky Mountain stream. . . . Groom is not only a good writer, he's a fine historian into the bargain."
—Mobile Press-Register 
 
"Groom has done a sprightly job of chronicling this important but little-studied conflict."
—Larry McMurtry, Harper's 
 
"A vivid recounting of the seminal year that transformed the adolescent United States into a two-ocean nation. . . . [Groom] presents this story with novelistic flair. . . . Replete with adventure and harrowing tales. . . . There is drama aplenty, with backstabbing by everyone—American, Mexican and Indian. . . . It has all the components needed to make for an epic, and it reads easily. . . . True to his nature, Groom breathes life into the complicated players of his story. . . . An intrigue-filled account. . . . If you like a tale of high adventure, a fun read that is action-packed and informative, then pick up Kearny's March. . . .  Provides a big-picture view of the motivations of men and the nation writ large at a transformative time in this country's history, while painting a sterling portrait of not only a time but a place—the early American West."
—The Washington Independent Review of Books
 
"Energetic, enthralling narrative history. . . . Written with novelistic appreciation for character and ambition, Groom's military histories are vibrant, kinetic, and popular."
—Booklist
 
"An intriguing, international drama. . . . Groom brings to life the events of 1846-47."
—Library Journal
 
"A masterful blend of scholarly research, colorful description, and a confident, enthusiastic style of narrative writing that adds freshness and immediacy to a true-adventure saga."
—Alabama Writers' Forum
 
"Valuable, lively, brave in scope, and fast-paced. . . . Despite the fact that the subject is a relatively conventional military history, Groom has done it extravagant justice."
—The Olympian
 
"Galloping popular history, guaranteed to entertain. . . . Groom follows Kearny's 2,000-mile march from Fort Leavenworth, Kansas, to California, providing wonderful stories about the soldiers' progress through a rugged, wildly changing landscape."
—Kirkus Reviews