American Icon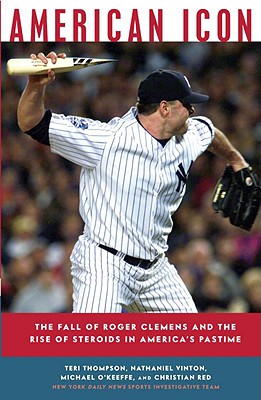 American Icon
The Fall of Roger Clemens and the Rise of Steroids in America's Pastime
Knopf, Hardcover, 9780307271808, 464pp.
Publication Date: May 12, 2009
* Individual store prices may vary.
Buy at Local Store
Enter your zip code below to purchase from an indie close to you.
or
Not Currently Available for Direct Purchase
Description
It was an epic downfall. In twenty-four seasons pitcher Roger Clemens put together one of the greatest careers baseball has ever seen. Seven Cy Young Awards, two World Series championships, and 354 victories made him a lock for the Hall of Fame. But on December 13, 2007, the Mitchell Report laid waste to all that. Accusations that Clemens relied on steroids and human growth hormone provided and administered by his former trainer, Brian McNamee, have put Clemens in the crosshairs of a Justice Department investigation.

Why did this happen? How did it happen? Who made the decisions that altered some lives and ruined others? How did a devastating culture of drugs, lies, sex, and cheating fester and grow throughout Major League Baseball's clubhouses? The answers are in these extraordinary pages.

American Icon: The Fall of Roger Clemens and the Rise of Steroids in America's Pastime is about much more than the downfall of a superstar. While the fascinating portrait of Clemens is certainly at the center of the action, the book takes us outside the white lines and inside the lives and dealings of sports executives, trainers, congressmen, lawyers, drug dealers, groupies, a porn star, and even a murderer—all of whom have ties to this saga. Four superb investigative journalists have spent years uncovering the truth, and at the heart of their investigation is a behind-the-scenes portrait of the maneuvering and strategies in the legal war between Clemens and his accuser, McNamee.

This compelling story is the strongest examination yet of the rise of illegal drugs in America's favorite sport, the gym-rat culture in Texas that has played such an important role in spreading those drugs, and the way Congress has dealt with the entire issue. Andy Pettitte, Jose Canseco, Alex Rodriguez, and Chuck Knoblauch are just a few of the other players whose moving and sometimes disturbing stories are illuminated here as well. The New York Daily News Sports Investigative Team has written the definitive book on corruption and the steroids era in Major League Baseball. In doing so, they have managed to dig beneath the disillusion and disappointment to give us a stirring look at heroes who all too often live unheroic shadow lives.
About the Author
Michael O'Keeffe, Christian Red, Teri Thompson, and Nathaniel Vinton (shown left to right) are the New York "Daily News "Sports Investigative Team, which has been at the forefront of the issue of performance-enhancing drugs since the team's inception in 2000. One of the only investigative units of its kind in American sports journalism, the I-Team has won more than a dozen major awards for its work.
Praise For American Icon…
"A definitive examination of illegal drug use in America's pastime . . . Richly detailed, the muscular narrative often reads like a thriller . . . this is an intricate and compelling case in which there are no heroes, but a notable villain—the League itself—whose lax approach to the issue ensures baseball's steroids era isn't over." —Publishers Weekly (starred)

"Of all the books I've ever read about baseball, I'd say this is as thoroughly researched as can be and right now it stands as the definitive book about the steroid era." —Mike Pesca, NPR: Morning Edition

"Gripping . . . nimble . . . the authors have turned the sprawling story of steroid-use into a sleek narrative that reads like an investigative thriller, peopled by a Dickensian cast of characters, from big-name ball players and their high-powered lawyers to small time bodybuilders and gym owners, from federal investigators and members of Congress to denizens of "the violent criminal underworld of muscle-building drug distribution. As in Bob Woodward's inside-Washington books, the narrative of 'American Icon' draws upon lots of official documents—in this case sworn depositions, medical records, courtroom transcripts, records from criminal investigations, as well as the groundbreaking articles these reporters did for The Daily News, and hundreds of interviews, both on the record and off." —Michiko Kakutani, New York Times

"Graphic . . . damning." —David M. Shribman, Bloomberg

"The account often reads like a detective novel, with the authors revealing the underbelly of professional baseball—the furtive injections, "gravy trainers" (sports hangers on), secret mistresses, drug transactions, and smarmy agents that pervade the sport. Things turn ugly when federal authorities put the squeeze on McNamee, and Clemens self destructs by lashing out at McNamee and demanding a congressional hearing. The journalism demonstrated here hits the bar set by another baseball/steroids book, Game of Shadows (2006), and it builds a daunting case against Clemens." —Jerry Eberle, Booklist (starred)